The Magic of Gelli® Plate Printing
If you want to learn what is a Gelli® plate and how to create amazing backgrounds and prints for any type of project you are in the right place! 
This class will take you step by step into the wonderful and fun world of mono printing!
You will discover what is Gelli® printing
Find out what supplies you need 
Learn what types of tools you can use
Familiarize yourself with the basic and advanced printing techniques
Overcome your fear of taking the first step
Learn how to use mono printing in a variety of projects
Bind your own art journal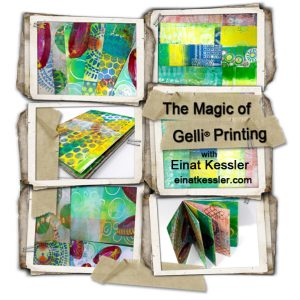 This is a great class for beginners and anyone who wants to start experimenting and creating mono prints!
>> 3 step by step video tutorials

>> 15 different Gelli® plate prints

>> complete art journal

>> Online classroom with a student's forum
>> Lifelong access
> Watch it as many times as you like, pause and re-watch at any time
All for only $20!
Ready to start mono printing?!
** Please allow up to 24 hours in receiving the classroom invitation due to time differences.
Frequently Asked Questions about My Online Classes
Q: How do I buy a class?
A: You can browse the list and see the descriptions of the classes. To buy a class, click on the Buy it button. You will be taken to your PayPal account page to complete the purchase.
Q: What payment options do you offer?
A: We accept PayPal. You can link your PayPal up to your bank account or a credit card.
Q: I have a problem with the PayPal button and/or payment page. How can I fix it?
A: If you're using Chrome try switching to Explorer. If the problem persists contact PayPal support service.
Q: How do I access my class after I buy it?
A: Once you have completed your purchase you will get an invitation to the classroom and class forum. You'll have access within 24-48 hours.
Q: How long do I have to access the classroom?
A: You have a lifetime access.
Q: I bought a class, can I share it with a friend?
A: No, that's unethical.
Q: I have technical problems!
A: You have a FAQ section in the classroom, but if you can't find a solution email me and I'll do my best to help. Please bare in mind I'm not a technical guru 🙂 Note that the classes will work well on your computer with a high-speed internet connection. They are not guaranteed to work on tablets, but we have tested them on our iPad and they worked well. Also note that the class forum doesn't work very well with Safari.
Q: In what language are the classes?
A: The classes are in English. There is no written transcript of the videos.