I'm so excited!!! I'm finally launching Einat Kessler Foam-binations with ArtFoamies, my new stamp line. These are not ordinary stamps, they are not silicone or rubber stamps. They are foam stamps made for acrylic paints! Have you tried to stamp your project with acrylic paints using your rubber or acrylic stamps and couldn't? Did you want to use acrylic paints to stamp wood or plastic and couldn't? Did you try to create patterns with stamps and acrylic paints and couldn't? If you did THESE ARE FOR YOU!!
These are not those boring kids foam stamps, ArtFoamies stamps are high quality foam stamps with deep cutting and crisp image. All designs are hand drawn by designers!
And now I'm launching my foam stamps line: FOAM_BINATIONS!
What so special about Einat Kessler Foam-binations with ArtFoamies?
These are not just high quality stamps you can use with acrylic paints, sprays or inks these are unique stamps you can assemble yourselves! Each stamp set is interactive and has parts that can be used alone or assembles with other parts. All sets are interchangeable, meaning you can use different pieces from different sets to assemble your stamp.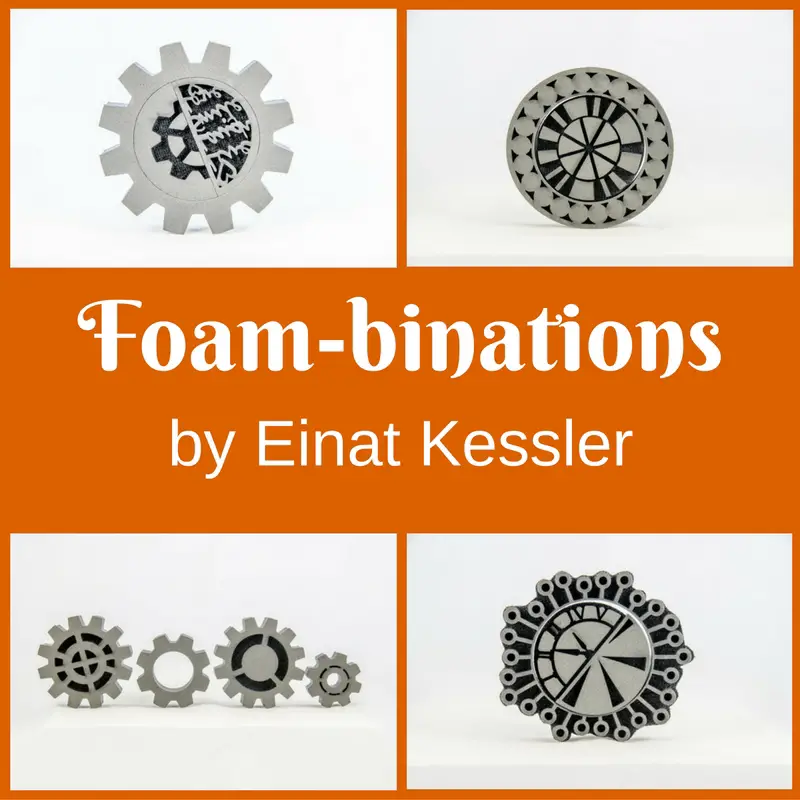 So let's recap!
Foam-binations are interactive and interchangeable
Foam-binations can be used with acrylic paints, inks, fabric paints, sprays and any medium
Foam-binations are perfect for mixed media projects, art journaling and all paper and canvas project. As well as wood, plastic, glass, fabric and metal. Just use the right paint or medium!
Foam-binations come in all sizes, including big stamps so they are perfect for backgrounds and large spaces as well as cards and small projects.
Foam-binations are easy to use, washable and lightweight (so inexpensive to ship)
Here's the first video tutorial for Foam-binations! Check out how to use them and what you can do...
If you want to buy your Foam-bination sets, visit the ArtFoamies website!
But wait!! You can win a set! During this week's special launch of Einat Kessler Foam-binations with ArtFoamies you can win one of four sets I'll be giving away!
To do that you'll have to:
LIKE my FB page
Leave a comment on one of the blog posts (there will be 5 throughout the week)telling me what do you think of the stamps.
Share!! Your friends will not want to miss this launch too.
The more comments you leave (only one comment per day per post) the more chances you have to win!!
The winner will be posted on next Friday's blog post!
Join the new VIP Room where every month you'll get new class grade video tutorials, be the first to hear about new products and get access to printables, patterns, have more chances to win fabulous giveaways and much, much more!
Don't miss out! Keep up with all the crafty goodness by subscribing to the Einat Kessler creative newsletter
Have fun creating!