Hi dear crafty friends!
Today I want to share with you an ongoing project of mine - Wall of Inspiration: My Canvases Collection. During the past few years I've been creating little canvases for my inspiration wall. This wall in my craft room, above my desk is basically an inspiration source for me. When I'm stuck I look up and I always get an idea.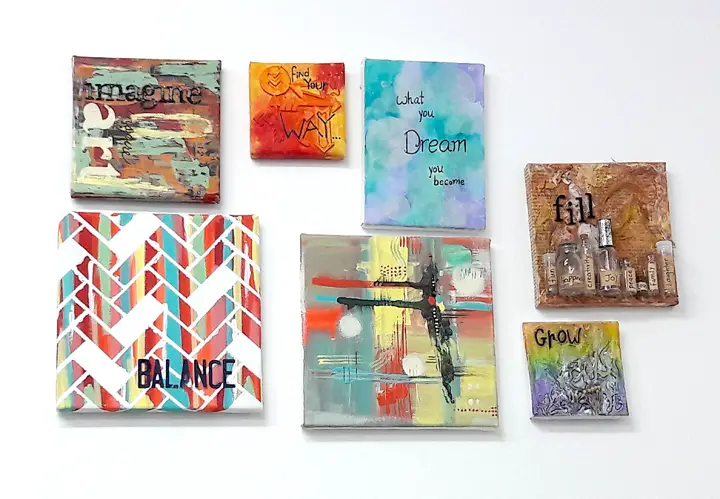 Wall of Inspiration: My Canvases Collection
As it so happens I have a tutorial for each of these small canvases! Here's the complete list:
This canvas has an interesting herringbone pattern and a contrast of colors versus white blocks of paint. I wanted to try this pattern for a long time and finally found the opportunity to do it.
in this new small canvas for my wall of inspiration I tries a new technique with hot glue.
"Abstract painting does not depict a person, place or thing in the natural world, even in an extremely distorted or exaggerated way. Therefore, the subject of the work is based on what you see: color, shapes, brushstrokes, size, scale and, in some cases, the process". Beth Gersh-Nesic Art History Expert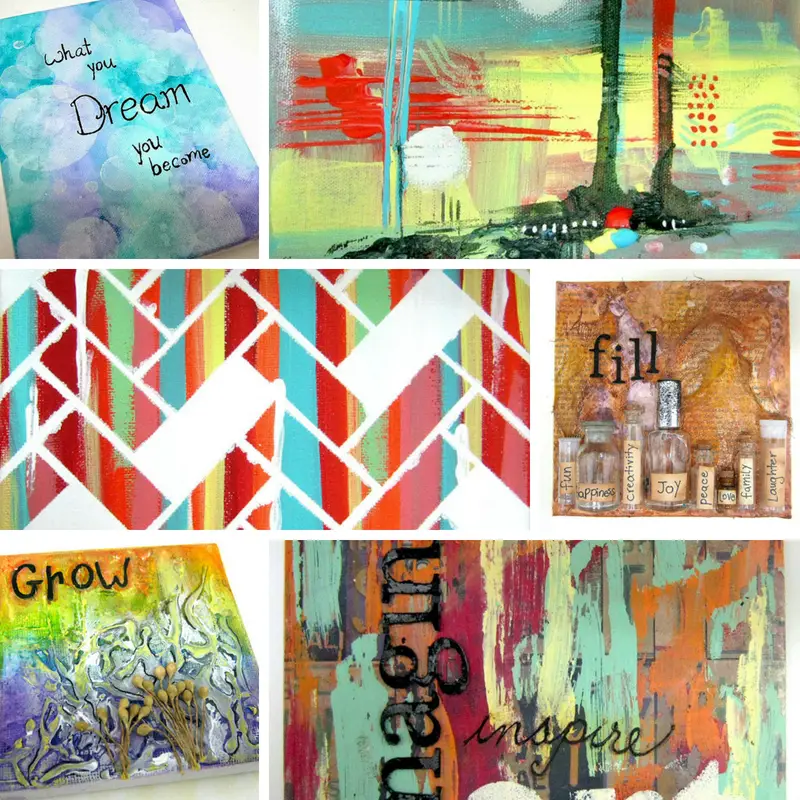 I created a very muted background with a bokeh effect with a colorful background with purple and teal colors in a cloudy dreamy look.
Mixed media canvas – Fill Your Life
Sometimes it's really fun taking things literally. Especially art. Usually art is something expressive that you can take to different directions and interpret how you want. But this mixed media canvas means exactly what it says…
If you're like me you really like easy and fun techniques to create striking effects. Well, this peeled paint technique is not new but it's always great to use both on paper and on canvas.
I really hope that this Wall of Inspiration: My Canvases Collection will inspire you too. Be proud of your creations! Hang them on the wall and enjoy them!
Don't miss out! Keep up with all the crafty goodness by subscribing to the Einat Kessler creative newsletter
Have fun creating!