MEET EINAT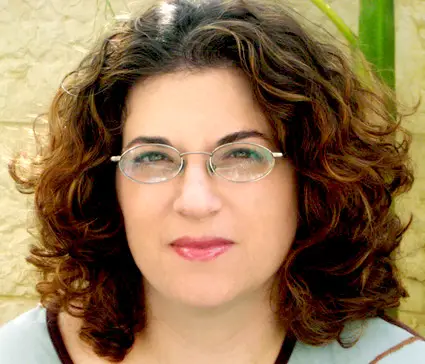 H
i crafty friends! I'm Einat Kessler, creative professional, mixed media artist, scrapbook and paper designer, altering enthusiast and class instructor from Israel.
As a little girl I remember sitting in my grandparents living room with a huge scrapbook on my knees (I was only 6 years old so the scrapbook seemed larger than it really was), looking through the photos of faraway places my grandparents visited. As a master bookbinder, my grandfather built a new scrapbook from scratch for every trip he and my grandma took. After the book was ready he filled it with photos, postcards, images he cut from magazines, tickets and lots more. I thought it was pure magic.
Years later when my first son was born my grandfather suggested I create a scrapbook for him. This was the first scrapbook I created. In those days there were no scrapbooking supplies in the stores here I had to be creative and create everything from scratch. One day while on-line I searched the word scrapbooking and BAM!! A whole new world just gushed into my life! I was completely hooked!
Slowly the new hobby took over my life until I decided to quit my job and open my own business. I started a blog, a Facebook page and a YouTube channel. Today my brand has evolved beyond scrapbooking to include mixed media, DIY projects, altering and recycling, classes and workshops, Etsy shop and more. I love sharing what I do with as many people as possible so I offer free tutorials on my YouTube channel and blog.
Short Bio
Please feel free to use this bio if you are linking to this website thank you!
When she was a young girl Einat used to sit on the carpet at her grandparents' house with a huge scrapbook on her knees looking through it with amazement. These albums, created from scratch by her grandfather took her imagination to faraway places and sparked her creativity years later. When her first son was born her grandfather suggested she would create a scrapbook to document his life. Einat was bit by the scrapbooking bug and the rest is history.
Today Einat is a versatile designer, who dabbles in various crafts from scrapbooking and altered art to mixed media and 3D paper crafts. She teaches online classes and design for several companies. She shares her projects and designs on her blog, FB page and very successful YouTube channel.