5 minute crafts are sometimes exactly what you need to create something easy and fast. Today in 5 minute craft - metal embellishment that you can create for any project. You can turn in into a piece of jewelry by piercing a hole in the bottle cap and add a necklace or by attaching a pin and turning it into a broach. It can be a metal embellishment for a printer's tray, a mixed media canvas or even a scrapbook layout. The best thing is it takes even under 5 minutes to create it.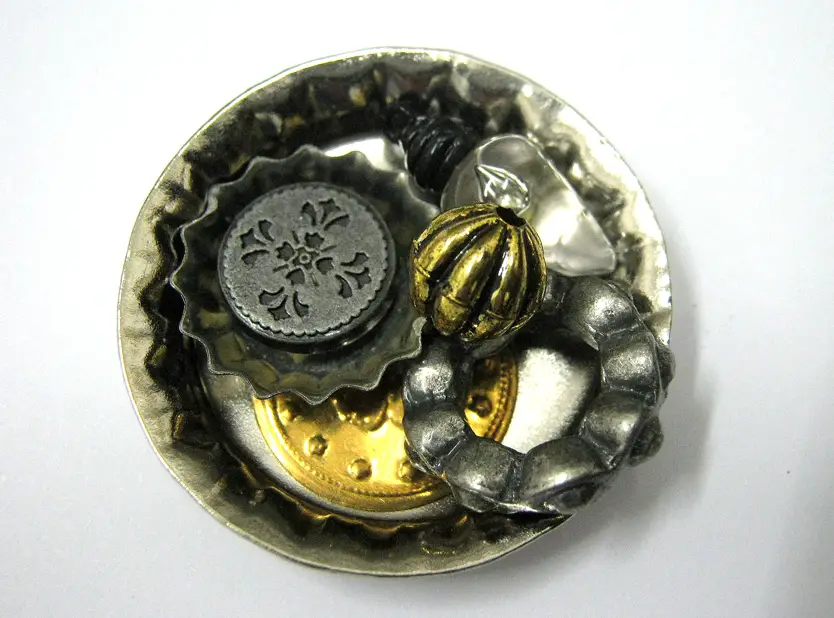 Metal Embellishment in under 5 Minutes
All the supplies I used to create this metal embellishments can be found at craft stores, I got mine at Michael's. I used beads, bottle caps and other metal pieces I got at the jewelry section. As long as you use metal supplies and not paper you can easily achieve this look. You can also use any findings you might have in your stash, washers, little metal bits from the hubby's tool box (before you accuse me of sexism, it can be your tool box too :)). You can even add screws or other DIY supplies. The idea is to layer them on a surface like a bottle cap. It can be in any type of bezel you have in any size or shape.
When you have time, look through your stash and take out everything you find, Then create as many embellishments as you can. Be creative with the combinations of material, color and size or shape. Then you'll have a stash of ready made embellishments for whatever project you need!
Check out the VIP Room, a monthly members-only creative club.
Don't miss out! Keep up with all the crafty goodness by subscribing to the Einat Kessler creative newsletter
Have fun creating!