This simple Star mini album is one of the easiest mini album to make but the effect is definitely a wow effect. The fun thing about it is that you can do it with your kids or grandkids and watch their eyes open with wonder. All you need for this project are 3-4 A4 (8 1/2″ X 11″) papers. They don't even have to be double sided. It's actually a great project to use some of your unwanted papers. I took a few 12×12 papers I didn't need and cut them to size.
I was going over my archives, doing a little spring cleaning and came across this project from a long time ago. I remember the nice lady who showed me how to create this simple star mini album. I lost touch with her and can't remember her name. As you know I don't like to keep things to myself so I decided to share it with you.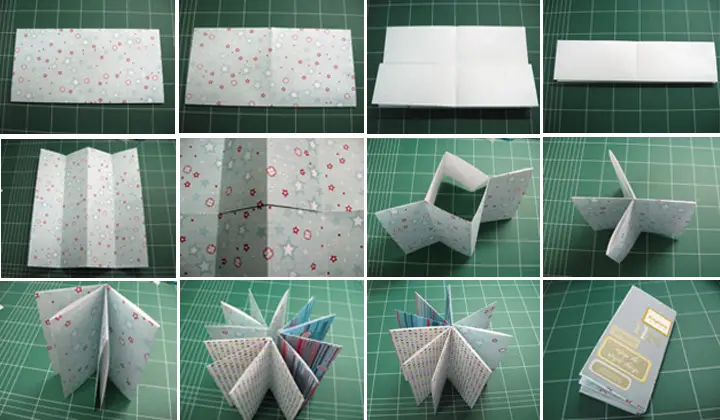 Simple Star Mini Album
I think the photos explain it very well but I'll be happy to answer any question you have. Just leave them in the comments.
This simple star mini album is best displayed open. This way you can enjoy the star effect you get with all the pages go around like a big shiny star. I remember this was one of the projects i really liked making because it made me think how much i love paper. It looks like a fragile, tearable thing with nothing mush to offer but paper is not only amazing it's so versatile and pretty. I'm sure I don't need to tell you these things because you are paper fans like me, otherwise you would not have been here right?
What was the project that made you a paper fan?
Join the new VIP Room where every month you'll get new class grade video tutorials, be the first to hear about new products and get access to printables, patterns, have more chances to win fabulous giveaways and much, much more!
Don't miss out! Keep up with all the crafty goodness by subscribing to the Einat Kessler creative newsletter
Have fun creating!