I usually design layouts for other people. They're either my clients who order custom made scrapbooks, or my kids whom their photos make the most of our family's scrapbooks. So I hardly design a layout with my photo. This time I made an exception. I designed a layout for my baby photos.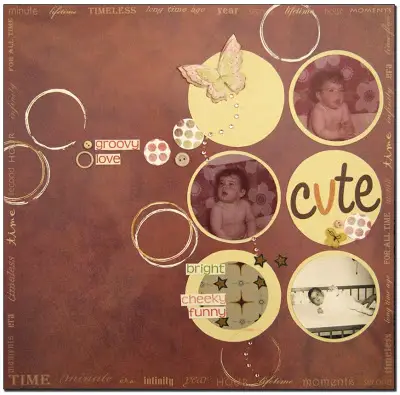 The paper I used is a paper of my own design. It is called Words and it is part of the TIME line. The Time line incorporates two themes: time and masculine. The different papers have more of a masculine feel to them and they all have time theme on them. This paper has words around all four sides, all of them relate to time.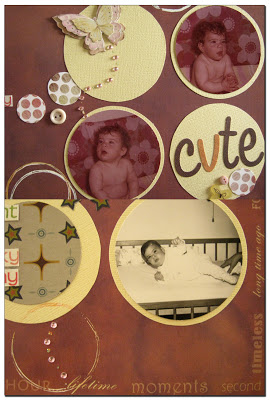 But despite the masculine vibe this paper fitted perfectly to my photos. I am a big fan of circles so I decided to cut all the photos into circles and go from there.
I added embellishments and some more circles. I also used a toilet paper roll to stamp some circles with acrylic paint. So what do you think am I cute or what?
and a few challanges:
* Mission to create: Mission 18
* ScrapFit: Workout #21
* Pixie Dust Studio: Challenge #24
* Totally Gorjuss: Challenge #32
* Design Dollies: colors
* Just Scraps: Challenge #10
Einat