Hi dear crafty friends!
I have a confession to make... I collect craft tips to make my life easier 🙂 I've already shared 15 Craft Tips that will make your life easier and 12 More Craft Tips That Will Make Your Life Easier in the past and you loved them. So today I'm sharing Craft Tips that will make Your Life Easier - part 3!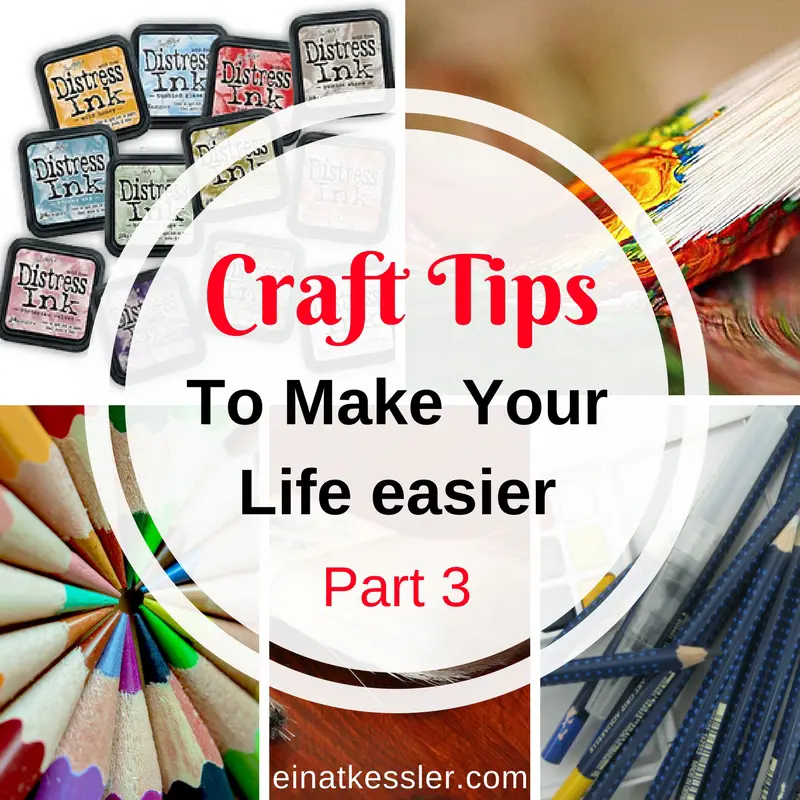 Craft Tips that will make Your Life Easier - part 3!
1. To maximize your craft space organization store your important items at eye level. Keep your secondary items down low so that you can simply bend down to get them. Lesser used items should go up high, perhaps even where you need a step stool to access them. You have a lot of vertical space in a room – use it!
2. If you don't have an embossing mat or misplaced yours use plumbers gasket with embossing folders instead. That will eliminate any folder lines.
3. Sharpen your Fiskars trimmer blade with a nail file and extend its life!
4. If you have large dimensional stickers that are too big for small shapes cut them in half! Cut them while they are on the sheet so it'll be easier than cutting them when the adhesive is exposed.
5. Store your ribbons on a paper towel holder. When you hang it on a wall it's easy to cut the ribbon exactly where you want. 
6. Did you notice that after awhile your stamps stop clinging to your acrylic block? That is because they get a layer of dirt, skin and other materials from crafting. Clean them with hand sanitizer and restore them to their original state. Your stamps will be clinging easily!
7. Fill a cake piping bag with modeling paste and create your own patterns without stencils!
8. I like to use tape on my art journals for texture or in the center for extra strength of the binding. The problem is that tape gets really sticky and doesn't release properly. My solution: freshen up old tape by microwaving for 10 seconds. Heat softens the adhesive for easy release!
9. If you need a smaller tip on your glue bottle don't buy a new bottle! Wrap the tip with tape and cut the edge as small as you need. Remove the tape when you finish!
10. You've stamped an image and spent an obscene amount of time coloring it in, ever so carefully…and then you slip outside the lines. Don't throw it away and start over! Simply color over the ink with a white gel pen and let it dry — no one will ever know the difference.
I hope you liked these Craft Tips that will make Your Life Easier - part 3! and found them useful. Please share your craft tips in the comments so we can all benefit from each other's experience.
Have you Joined the VIP Room? You have only until the end of the month to join and be forever locked on the current monthly fee. On May 1st The VIP Room will close its doors! Dob't miss this chance! In the VIP Room you'll get new class grade video tutorials, be the first to hear about new products, get access to printables and patterns, have more chances to win fabulous giveaways and much, much more!
Don't miss out! Keep up with all the crafty goodness by subscribing to the Einat Kessler creative newsletter
Have fun creating!