Hi dear crafty friends!
Today I want to share with you Mixed Media Fabric Art Journal Pages that I've created for my art book.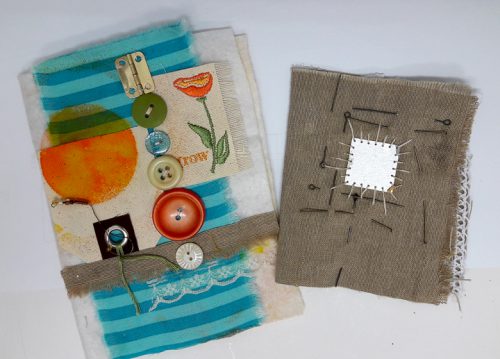 Mixed Media Fabric Art Journal Pages
Fabric pages in an art book are unique and special addition. These pages are a textural contrast from paper and add a softer look to the book. Other than a change in texture fabric pages usually include techniques like sewing, embroidery and have different materials on them like lace and buttons. I really love adding fabric pages to my art book.
An art book is basically an art journal that we create from scratch and is bound in a book form. The idea is to express ideas, feelings, dreams and fears on one hand and create art on the other on separate paper pieces in different sizes and patterns. Those pieces of papers are divided into signatures that are stitched together into a book. A signature is a group of about 2-3 folded papers. I've created several signatures for my art book and when I'll finish I'll stitch all the signatures together and create a book with a hard cover.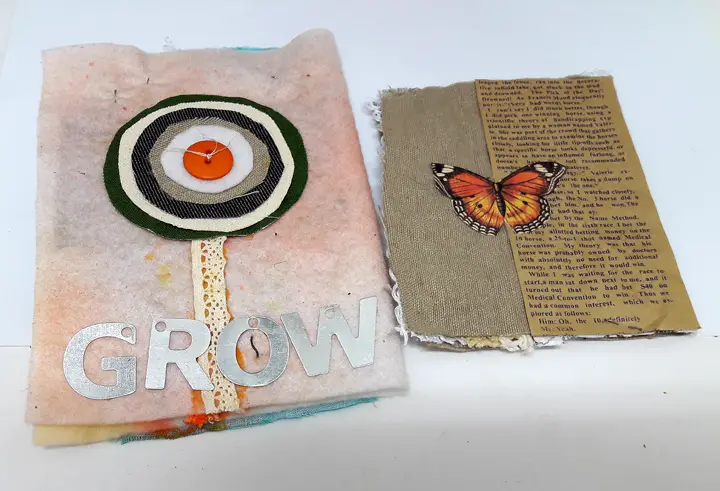 The first step in creating an art book is to decide the size of the pages. This size will be the maximum size. all smaller sizes are acceptable. All types of paper are acceptable. If you want to use paints, sprays or other wet mediums the paper needs to be thick, like a watercolor paper.
Fabric is such a fun material to work with so I created these two signatures using different fabrics and different techniques and materials on them. I added traditional mixed media materials like spray but also things like felt, buttons and even jewelry making supplies that work well with fabric.
I hope you found these  Mixed Media Fabric Art Journal Pages inspiring and maybe try to include fabric in your mixed media projects. The full tutorial for these pages and the entire book is in the VIP Room Creative Club. Click HERE to join today!
Don't miss out! Keep up with all the crafty goodness by subscribing to the Einat Kessler creative newsletter
Have fun creating!