I am a big fan of recyceling. I love altered art and the fact that you can take something and turn it to something completly different. Every week I throw the milk carton and think to my self, if only I could do something with it…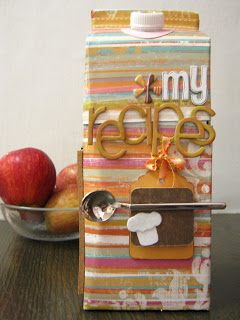 and then I thought of a great ides: A recipe box! I will turn the milk carton to a special place for my recipes.
All the recipes will be written on cards and they will be organized, standing up right, in the box.
After I washed it I covered it with paper. I cut the box on three sides, leaving the back intact. Keeping it closed was tricky, I wanted it to be nice but strong, so I decided to use a ribbon that can be tied and opened. The only question was how to connect the ribbon to both sides.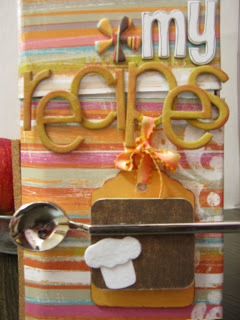 For the bottom part I used a chipboard tag and for the upper part I used chipboard letters to spell "recipes", the letter P was the other hole. I embellished it with a real teaspoon and a small cook's hat. On the other side there is a little notice board for notes and the other side is embellished with circles with a cooking theme.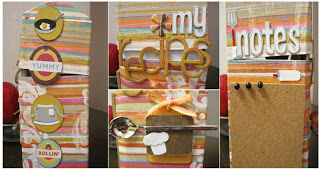 Einat