As you all know I have two beautiful boys that I love to infinity. I love making lo's with their photos but every now and then I really want to make a flowery, girly lo. My mom is turning 60 in the summer and since I'm really busy I have already started working on her special birthday scrapbook. That means I get a chance to make those flowery girly lo's with my nieces' photos. This is a DT lo for My Punch's Kit of the Month Club and it's full of handmade flowers, butterflies and angels and a cute title.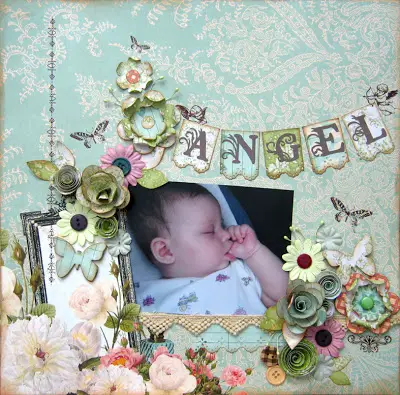 I created the flags by cutting squares from scraps of paper and punching them with border punch. I added a string and angel rub-ons that will hold it.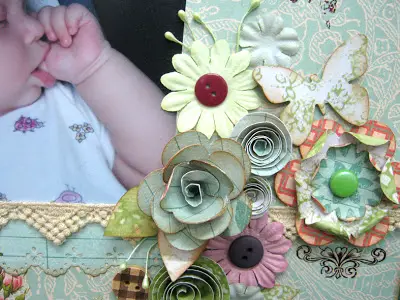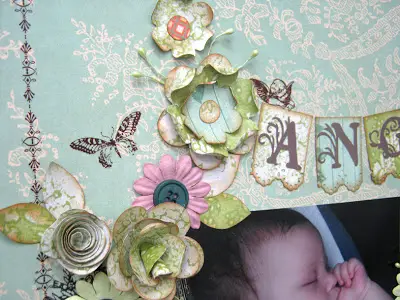 A few challenges:

Paper Sundaes: Feminine Flair
Sketchy Colors: Sketch
The Pink Elephant #139: inspiration photo
The Shabby tea room #105: Spring is near
Tuesday Throwdown #88: New Life
My mum's craft shop #47: Spring is springing
Scrapalicious USA: Anything goes
C.R.A.F.T: Inspired by a song
Totally Paper Crafts: Favorite Things: flags and hand made flowers
Crafty Catz Weekly: Special lady
2 Sisters challenge: Spring Colors
Allsorts challenge: Say it with flowers
Gingerloft challenge: spring
Our Creative Corner: Tic Tac Toe: flowers, stickers, blue
Totally Gorjuss: Anything goes with a button
Have fun creating!
Einat