Hi dear crafty friends
Today I want to share with you a special Art Journal Page: I'm Fine. This page is a little different. It's not colorful. happy or optimistic it's the exact opposite. It has no smart quotes or message it is real, raw and revealing. It's basically what an art journal is supposed to be.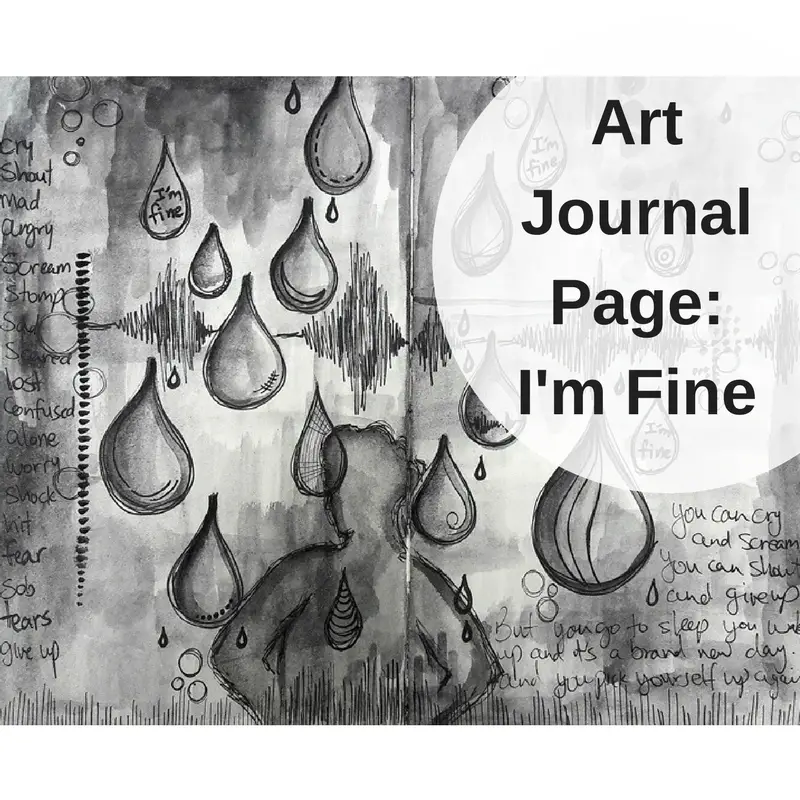 Art Journal Page: I'm Fine
I thought long and hard before sharing this page with you. It's a very personal page that captures a certain period in my life that is difficult for me. It's difficult to talk about it so creating is a great outlet for everything that is going inside of me. But do I feel sharing it in public? I decided I do and I will. I'm a real person and sometimes I have bad days and difficult issues to deal with that overwhelm me so I want to share that too. Not just the happy fun days but also the other side of my life, of anybody's life.
This is what an art journal is supposed to be. A place to express your feelings, good or bad, somewhere to vent, fall apart and cry. I decided to do what I preach and show you that imperfect, emotional and personal pages in your art journal are not just an option they're a must. A real art journal is expressing who you are and what you're dealing with and not just having fun with techniques and materials.
I created this page with water colors, black pen and a stencil. There are a lot of details on it and I won't go into what each of them mean because it's a little too personal although I think you can understand for yourselves. Thank you for containing this and for understanding.
Have you Joined the VIP Room? Where every month you'll get new class grade video tutorials, be the first to hear about new products and get access to printables, patterns, have more chances to win fabulous giveaways and much, much more!
Don't miss out! Keep up with all the crafty goodness by subscribing to the Einat Kessler creative newsletter
Have fun creating!