Today I'm sharing an Art Journal Page with Two Color Background. This is a simple technique yet I really like the effect it gives. The two color background is the perfect background for journaling or pages with half and half themes.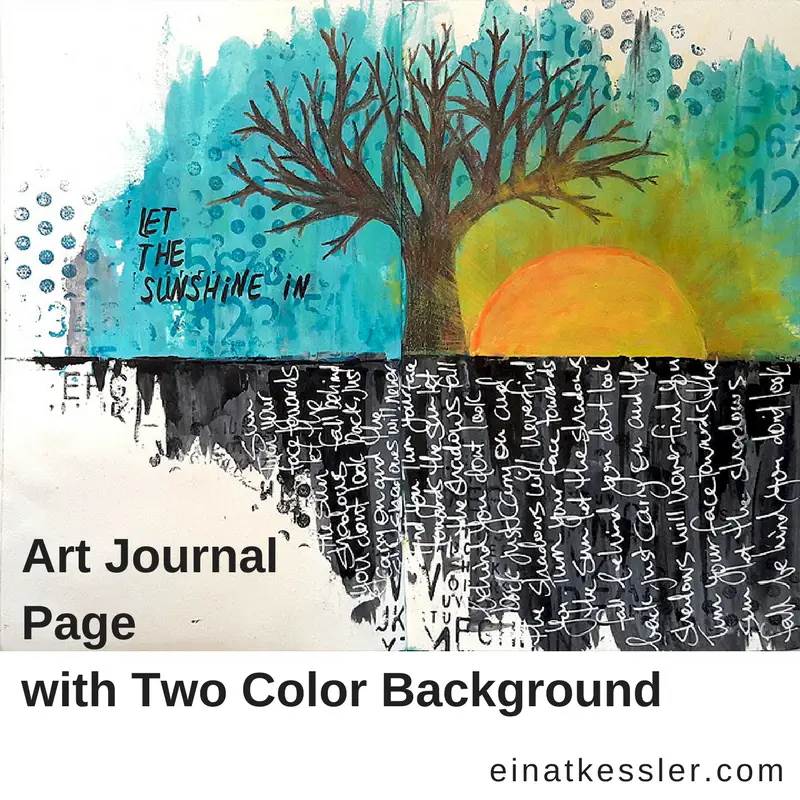 Art Journal Page with Two Color Background
My page is basically a reflection of day and night or if you want the two parts of any person's soul. It has a bright side and a dark side. I first started with applying acrylic paints in two colors: blue and black. The best way to do that is to use an old credit card to spread the paints on the page without even reaching the edges.
The next step was to add a little stamping to the background making sure it's in the same colors as the paints. I added a yellow bright sun with yellow acrylic paint. Then I added a tree which I drew by hand and painted with colored pencils. On the bottom part I wrote the lyrics of a song that I like with a white pen. Finally I added the quote "Let the sunshine in" from the musical Hair.
I like the clean look of this page. No fancy techniques or lots of layers just paint, drawing and text. You can create your version of this idea and if you don't know how to draw you can always stamp or add images from papers.
Join the VIP Room where every month you'll get new class grade video tutorials, be the first to hear about new products and get access to printables, patterns, have more chances to win fabulous giveaways and much, much more!
Don't miss out! Keep up with all the crafty goodness by subscribing to the Einat Kessler creative newsletter
Have fun creating!