It's time for a new Sizzix blog hop! This time our challenge was to design a rectangular box. Every time I design one of Eileen's Dies I simply can't wipe the smile of my face. They are so cute, and so much fun to play with. I love boxes, especially if they're small and I can put cute little things in them. I knew exactly what to do with this box. It will be my HAPPY BOX, where I can put things that make me happy.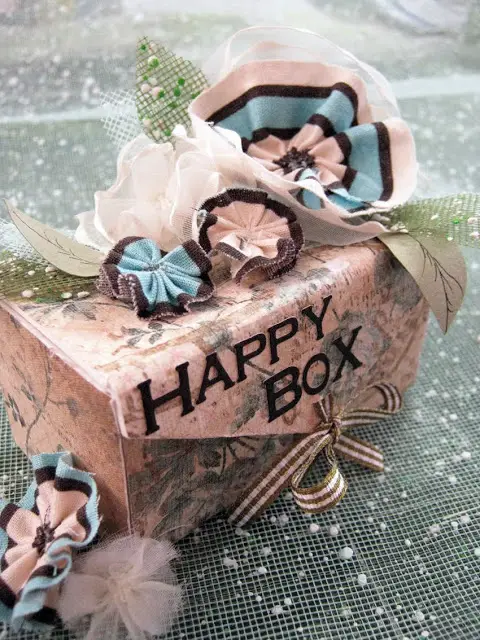 First I covered the box with an amazing K&Company's vintage patterned paper. Then I decided to try something I have never tried before. I wanted to challenge myself, so I sewed flowers from fabric and ribbon, and attached them to the box. I managed to give them a little bit of a sculpted look. I cut the leaves from Mesh and paper and gave them a little wave for a dimensional look.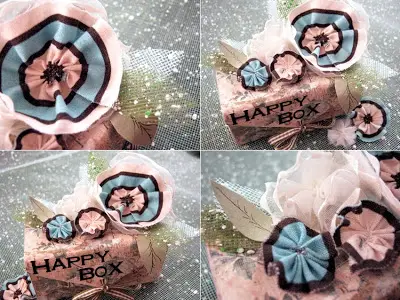 If you enjoyed seeing these ScoreBoard projects on the hop, please leave a comment here or on Eileen Hull's blog so we know you stopped by.
Check out all the other great designs with the links below:
Ann Butler
Candice Windham
Carla Schauer
Cindi Bisson
Eileen Hull
JGoode designs
Julie McGuffee
Karen Burniston
Laura Bray
Lisa Rojas
Lorine Mason
Madeline Arendt
Melony Bradley
Michelle Cummings
Modern Surrealist
Niki Meiners
Roxi Phillips
Sandy Laipply
Sparkle's Studio
Veronica Goff