As part of rediscovering scrapbooking I'm starting a new series Scrapbooking: Back to Basics - Using a sketch is the subject of the day. Remember the days when sketches were so popular? There were so many online websites with sketches to inspire us to create layouts. Unfortunately so many have closed since then and the scrapbooking industry has shrunk. Even though the situation has changed the basic idea is still useful and inspiring and whenever you get stuck a sketch is a really good way to find your way and come up with a great design.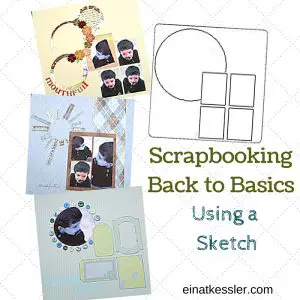 Scrapbooking: Back to Basics Using a Sketch
So let's revive this great idea and remind ourselves how to use a sketch to create a layout. A sketch is basically an idea how to arrange the different elements on your page. The fun part is that you can play around with these elements and change the order a little or follow the sketch exactly. It's up to you! 
Here is a really simple sketch that I made and I want to show you how you can make three different layouts from the same sketch! I made the layouts very simple just to show the differences in the sketch interpretation. Please feel free to add more detail and embellishments to your pages.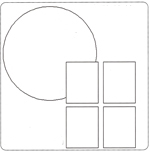 So here is the idea behind scrapbooking back to basics using a sketch. Three different pages with the same cute boy... Each of the layouts has the basic elements of the sketch but they are presented differently. The sketch has two elements: 4 squares and 1 circle. This is where the interpretation cicks in...the squares and circles can be one photo, embellishments or maybe one photo...you decide!

The left layout has a circle photo and 4 tags as embellishments. Three tags are vertical and one is horizontal to make it interesting. Even Though all 4 squares are vertical on the sketch on the layout I turned one of them.
The middle layout has 4 photos and three circles. One of the photos has a mat and is slightly diagonal, again playing with the direction of one of the squares. Instead of one circle I added three circles, one of them as a journaling spot.
On the right layout There are three photos and one circle. I used two little photos and one long one and still got the same squares block. The circle is created from different size words arranged in a circle, looking like a sun.
These are just three interpretations, there is no end to the different options this sketch could be interpreted. It's all up to you!
When was the last time you used a sketch to create a layout? Follow the Scrapbooking: Back to Basics series and restart your memory saving adventure!
Join the new VIP Room where every month you'll get new class grade video tutorials, be the first to hear about new products and get access to printables, patterns, have more chances to win fabulous giveaways and much, much more!
Don't miss out! Keep up with all the crafty goodness by subscribing to the Einat Kessler creative newsletter
Have fun creating!