I got a lot of requests for scrapbooking ideas and techniques so I'm starting a new series: Scrapbooking Tips. Today on the first post in the series I'm sharing Scrapbooking Tips: How to Create Landscape. My goal is to share tips and ideas on creating scrapbooking pages with what you have in your stash. I want to help you use your stash and create affordable, fast and fun pages.

Scrapbooking Tips: How to Create Landscape
Creating landscape with grass, trees and more is very easy and doesn't require expensive materials or fancy techniques.
How to create grass?
For this technique all you need is a green wide ribbon. Pleat the ribbon and adhere it to your page (if you want to create the landscape don't adhere it yet). The pleats create movement like the moving grass.
How to create a tree?
To create a tree use scraps of brown and green card stock. Cut a tree trunk with three branches and ink the edges. Then cut or punch three green circles and ink them too. First adhere the circles to the page and then adhere the trunk. You can add a little bird or a nest on one of the branches.
How to create a landscape?
I created the landscape in layers from a few elements. The first layer is a strip of green paper. On top of the paper I adhered the following elements according to this order: ribbon, pleated grass, picnic word sticker, torn strip of scrap paper. to finish the scene I added flower stickers and buttons.
I hope Scrapbooking Tips: How to Create Landscape was informative and inspiring and that the series will be helpful for you. Please leave me a comment telling me what scrapbooking tips, techniques and ideas you would want to learn.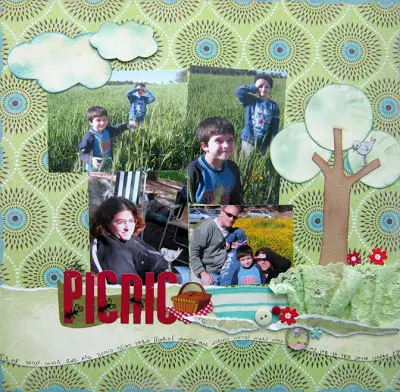 Join the new VIP Room where every month you'll get new class grade video tutorials, be the first to hear about new products and get access to printables, patterns, have more chances to win fabulous giveaways and much, much more!
Don't miss out! Keep up with all the crafty goodness by subscribing to the Einat Kessler creative newsletter
Have fun creating!