Today we continue our series on scrapbooking inspiration. Today's episode: Scrapbooking Tips: Using Basic Shapes. Scrapbooking is all about telling a story that is in the photo. A really easy way to create such a story is to add "chapters". Chapters are basically little parts of the bigger story and the best way to create them is use basic shapes like squares or circles.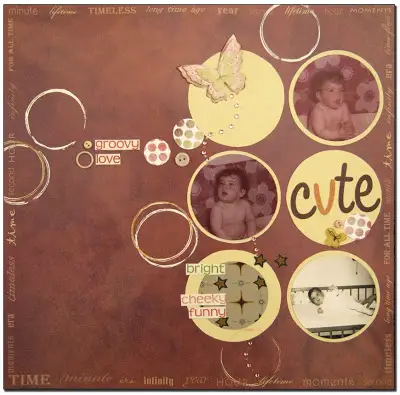 Scrapbooking Tips: Using Basic Shapes
The most common way to create story chapters is squares but I used circles. I think it gives more interest and flow to the page. I created six circles some of them photos and some embellishments. I even added the title on a circle. To add to the main circles I also added smaller paper circles and stamped circles to tie everything together.
You can use the same design with squares or even change the size or number of the basic shapes you add to the layout. It depends on the number of photos and the photos' sizes. Even if you leave your photos in their original size you can still add basic shapes to the background or as embellishments.
Join the VIP Room where every month you'll get new class grade video tutorials, be the first to hear about new products and get access to printables, patterns, have more chances to win fabulous giveaways and much, much more!
Don't miss out! Keep up with all the crafty goodness by subscribing to the Einat Kessler creative newsletter
Have fun creating!