Hi dear crafty friends!
Today I'm sharing another of my Scrapbooking Tips: Using Interactive Elements. I get asked a lot how to add interactive elements to a scrapbooking layout especially with the page protector getting in the way. It's actually much easier than you think if you cheat a little.
Scrapbooking Tips: Using Interactive Elements
The idea behind interactive elements is that there are moving parts on your page. Something on the page can be opened, turned or moved in any way. That adds interest, sophistication and fun to the page. It works great on mini album pages but when you want to add it to a 12x12 layout you have a problem with the page protector. There are two ways to solve this problem. The first,which I like less and is more tricky is to cut the page protector and allow the moving part to be on the outside. For example if you have a flap gently pull it out through the slit and it will open and close on the outside of the page protector. The reason I don't like this solution so much is that it's always hard to know where to cut and you have no margin for error because the slit has to be exactly where the interactive element is.  
The other solution is to create an appearance of an interactive element but without the moving part. For example on this page I created windows and a door with photos of my kids showing through them. However the windows or door can't be opened and closed because they are inside the page protector. However because it's obvious that windows and doors can be opened and closed it created the illusion of movement in our mind and the effect works. Of course this solution is not ideal because it can't be created with pockets, inserts or flaps, for that you would need to cut the page protector or add it to a mini album.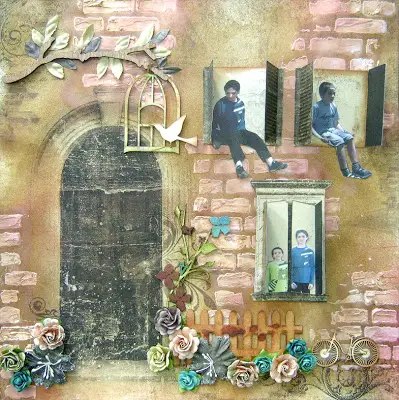 Have you Joined the VIP Room? Where every month you'll get new class grade video tutorials, be the first to hear about new products and get access to printables, patterns, have more chances to win fabulous giveaways and much, much more!
Don't miss out! Keep up with all the crafty goodness by subscribing to the Einat Kessler creative newsletter
Have fun creating!