Hi dear crafty friends!
Are you tired of Halloween projects already? If not then I have one more for you: Spooky House from Two Boxes. Graphic 45 DT Project. When you design for Graphic 45 it goes without saying that Halloween is a big thing and you need to come up with a fantastic project. Well... last year I think I did just that!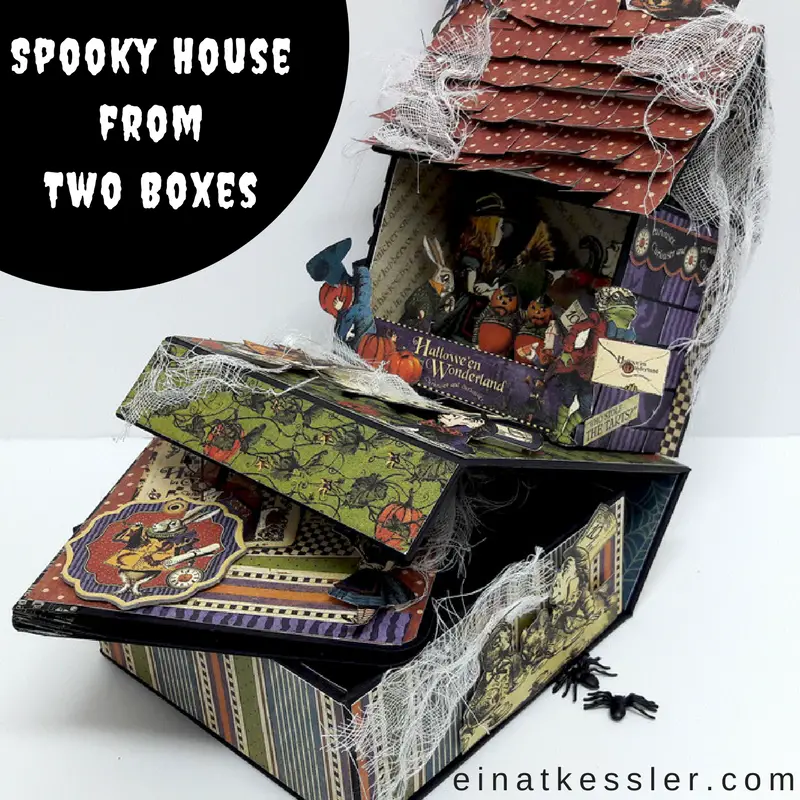 Spooky House from Two Boxes. Graphic 45 DT Project
This spooky house is made from two boxes. The base is made from a Mixed media 5x5 box and the little house on it is made from a ATC book box. The bottom part was easy to make. The box is already black so all I had to do is cover all the sides with the amazing Halloween in Wonderland papers. The house on the top was a little more work. I used the lid of the box as a roof and secured it in its place. Then I cut all the roofing tiles and attached them to the roof.
After attaching the two boxes together I started embellishing them both. I added fussy cut images with foam tape for extra dimension all around the boxes. For an extra spooky effect I also added some texture with bandages on the roof and the base box. Inside the house I created a Halloween scene from images I cut out of the papers. They are secured to the back wall with chipboard. The final thing was to add a little mini album to the bottom box because it was still possible to open and close it!
BTW if you like this house and would love to have it then it's for sale on my Etsy shop... You can visit this link: https://www.etsy.com/il-en/listing/533802413/graphic-45-halloween-in-wonderland?ref=shop_home_feat_3
Have you Joined the VIP Room? Where every month you'll get new class grade video tutorials, be the first to hear about new products, get access to printables and patterns, have more chances to win fabulous giveaways and much, much more!
Don't miss out! Keep up with all the crafty goodness by subscribing to the Einat Kessler creative newsletter
Have fun creating!