Hi dear crafty friends!
Today I want to share with you a different creation that I call: Steampunk Girl Reverse Canvas. The reason it's different is that it's weird, unusual and some would say spooky or even ugly.It is definitely not everybody's cup of tea but I sometimes like creating these strange pieces of art. I would love to know waht you think...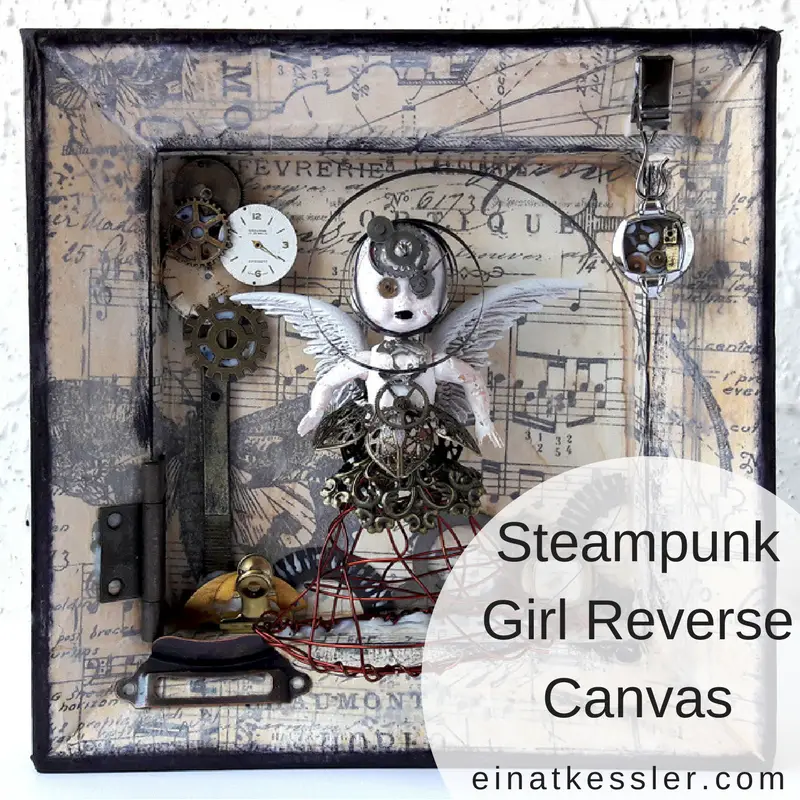 Steampunk Girl Reverse Canvas
This piece started with a canvas I reversed and covered with tissue paper and then sprayed with very light colors. That was the frame for the girl, angel or ghost, you decide. BTW this is the fun part of art when every one sees something different! I created the steampunk girl from an old doll I had. I took out her legs, cut off all her hair and painted her with white gesso. Then I made her a wire skirt with a metal top. and added steampunk pieces to her head, face and body. 
When she was ready I attached her to the canvas and added the wings. Then I added more steampunk details as a tree and background. She turned out better than I saw her in my imagination. She's part girl, part angel, part ghost and even part demon. Everything you need for a good piece of art...

What do you think?
Have you Joined the VIP Room? Where every month you'll get new class grade video tutorials, be the first to hear about new products and get access to printables, patterns, have more chances to win fabulous giveaways and much, much more!
Don't miss out! Keep up with all the crafty goodness by subscribing to the Einat Kessler creative newsletter
Have fun creating!