last week I had an amazing morning with some creative friends. We all created canvases and mine was a steampunk mixed media canvas, of course. You all know how much I love steampunk and metal so it was obvious my canvas will go that way. I didn't make a video of the process but I did remember to take some photos to share with you so you can create one too.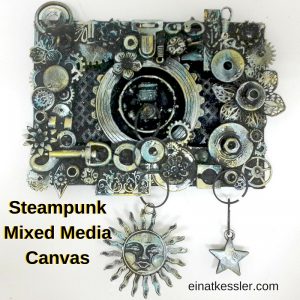 Steampunk Mixed Media Canvas
First you need a canvas. Any size will do. I created a reverse canvas which means I didn't work on the front but I turned it and worked on it like I would on a shadow box. I picked the main metal pieces that I wanted to add and build the canvas around.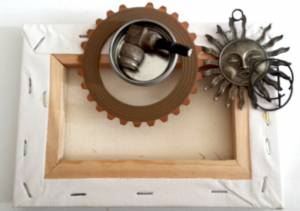 The next step was to cover the staples and create an even edge with modeling paste. I used a palette knife to apply a thick layer of modeling paste. Since it takes a long time for the thick layer of paste to dry you can use it as a binding agent and embed the embellishments in the paste and when it'll dry the paste will hold it in place.
I added some chipboard pieces on the back side of the canvas to create texture and an interesting background to my center piece and other embellishments.
The next step was to start adding metal pieces and build the canvas. I started with the center of the canvas and added a little circle box with a large cogwheel around it. In the center of the box I added a long metal piece that will later be a hook to hang the sun on. After adding the main pieces I started adding the smaller pieces around the canvas.
After you are happy with the result and you finished adding all the details to the canvas let it dry completely. Only after it's completely dry you can start covering the entire canvas with gesso. I used black gesso. Make sure to cover everything, all the nooks and crannies and don't leave any white spots. You can cover the canvas with white gesso and then paint it with black acrylic paint or spray. 
Learn more about gesso and other acrylic mediums
After the gesso is completely dry you can start the fun part of rubbing all the embellishments with Inka Gold. I used a few colors (Inka Gold is the brand name it comes in many different colors). The Inka Gold makes each embellishment pop out and stand out in contrast to the black background. 
Finally I added the sun and the star and the canvas was ready. This steampunk mixed media canvas will hang proudly on my studio wall! What a day this was creating a steampunk mixed media canvas AND hanging out with good friends!
Check out more steampunk projects
Have you ever created a steampunk project?
Join the new VIP Room where every month you'll get new class grade video tutorials, be the first to hear about new products and get access to printables, patterns, have more chances to win fabulous giveaways and much, much more!
Don't miss out! Keep up with all the crafty goodness by subscribing to the Einat Kessler creative newsletter
Have fun creating!