This is a layout with an old photo of my mom and I titled Cherish. I was really cute once wasn't I J ? I have already started working on my mom's 60th birthday scrapbook, so I try to create a layout every time I find the right materials and mood for one of the photos.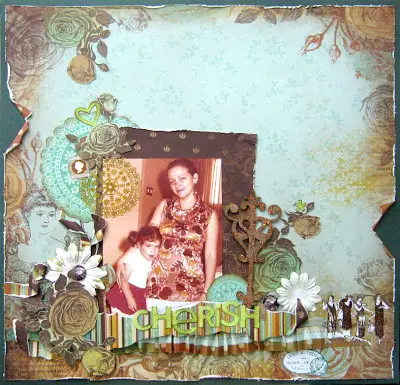 This layout has a few easy fun techniques to have fun with paper:
1.       Cut images: sometimes there are really pretty images on pattern papers that can be cut and use as embellishments. On this layout I cut some roses and doilies.
2.       Add texture: paper is flat but you can always add texture by crumpling it, folding it or creating accordion like creases.
3.       Create different finish: instead of a clean straight edge tear the paper and ink it.
4.       Add height: create layers in different height by adhering pieces of paper with dimensional adhesive.
5.       Have fun with shapes: make paper curls by twisting strips of paper.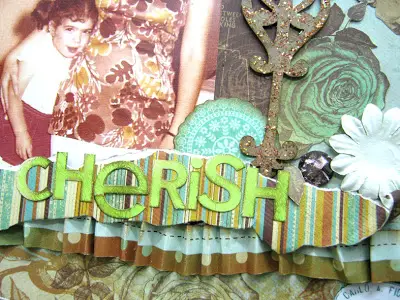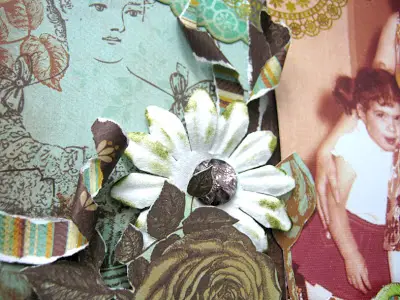 A few challenges:
One Stitch at a Time #105: Girly
Scrap Whispers: Sketch #124
Kaboodle Doodles #111: How cute is that?
The Crazy Challenge #111: Go Green
My Time to Craft #175: Doilies and Flowers
Top Tip Tuesday: Mother's Day
Aud Sentiments #50: Song Title
Divas by Design #27: Distressing
Fab 'n' Funky #113: In honor of Mum
Scrapalicious USA: A cut above
Polka Doodles #12: Mother's Day
Sugar Creek Hollow #3: Layers
Scrap it Girl: Recycle  
Have fun creating!
Einat