Last time I shared with you how to "stretch" your products and how to use existing embellishments to create even more embellishments. Today I want to share how to stretch your paper. How to take a pattern paper and use its pattern to create a LO.
I used a paper from the lost and found collection by My Mind's Eye. I got the inspiration from the paper itself. When I saw the squares on the paper I immediately thought to use them as frames. However, there were only two squares and I wanted to use three photos.
So I took a tag from the same collection and cut out the frame. This way I had another frame and I could also use the tag for a different LO.
Then I cut out the inner part of the frames, creating a hole in the paper. I adhered the photos to the paper from its backside, so the frame will have a more real look. I used the written sentiment on the paper as a title and added embellishments.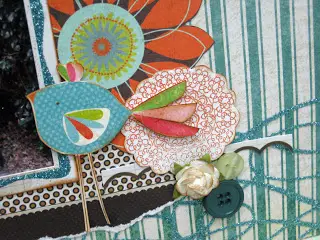 That's it! My LO was done. A really inexpensive, interesting, rich LO that was created by using elements on the paper instead of adding extra ones.
Einat