Hi dear crafty friends!
I often get asked about binding mini albums. There are lots of ways to bind a mini album and today I want to share with you a Washi Tape Binding Mini Album Tutorial. This binding technique is great for small mini albums that don't have a lot of pages and are not too bulky. All you need for this binding technique is a wide washi tape and some cardstock.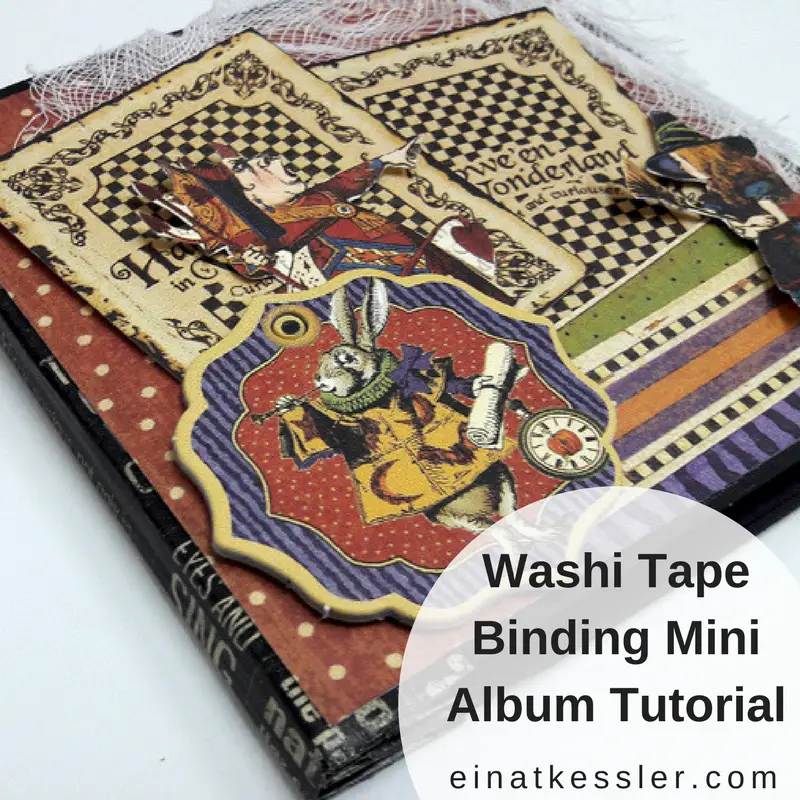 Washi Tape Binding Mini Album Tutorial
When you create a mini album you usually create the mini album first and then bind it allowing it room to expand. This is necessary for photos and journaling and of course interactive mechanisms. In this album we do the same however the spacers we insert to allow room for the album to expand are not necessary.  This method of binding is the most basic method there is and can be applied with larger albums. If you do bind larger or bulkier albums with this method you'll have to use a stronger material than Washi Tape for the binding.
Washi tape is basically a paper ribbon with adhesive on its back. Usually the adhesive is not very strong and the paper is very thin. This results in a very weak tape that can not hold a lot of weight. That's why it's only suitable for small mini albums.
I used this method of binding on a small Halloween mini album I created with Graphic 45 papers. This mini album fits inside a box and is designed to be light and small. Here's the step by step photo tutorial on how to create and use the Washi Tape Binding Mini Album Tutorial.
Check out How to Create a Washi Tape Binding Mini Album by Einat Kessler on Snapguide.
Have you Joined the VIP Room? Where every month you'll get new class grade video tutorials, be the first to hear about new products, get access to printables and patterns, have more chances to win fabulous giveaways and much, much more!
Don't miss out! Keep up with all the crafty goodness by subscribing to the Einat Kessler creative newsletter
Have fun creating!