10 DIY PAPER FLOWERS
LIMITED TIME OFFER!
10 DIY Paper Flowers eBook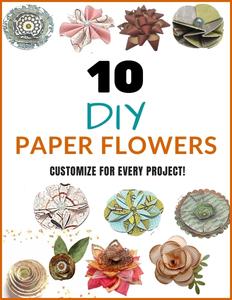 Make paper flowers for every paper project, card, scrapbook page and more. Customize it to your project and never run out of paper embellishments again!

$78 VALUE!

You'll NEVER see this offer for this price again... it's 80% off!!
Paper flowers are the most popular embellishment for all paper project and even mixed media or home decor.
This eBook will not only teach you to make your own paper flower embellishments but it will save you a lot of money. Instead of buying flowers you will make them yourself and have an endless supply of customized, perfectly matched flowers for every project!