Hi dear crafty friends!
Today I'm sharing How to Create Odd Shape Mini Album Pages using my Flip Flop Mini Album as an example. It's really fun to create mini albums that have pages in different shapes. Shapes that are not squares or rectangles, shapes that are more interesting and unusual like circles or even in a shape of a flip flop.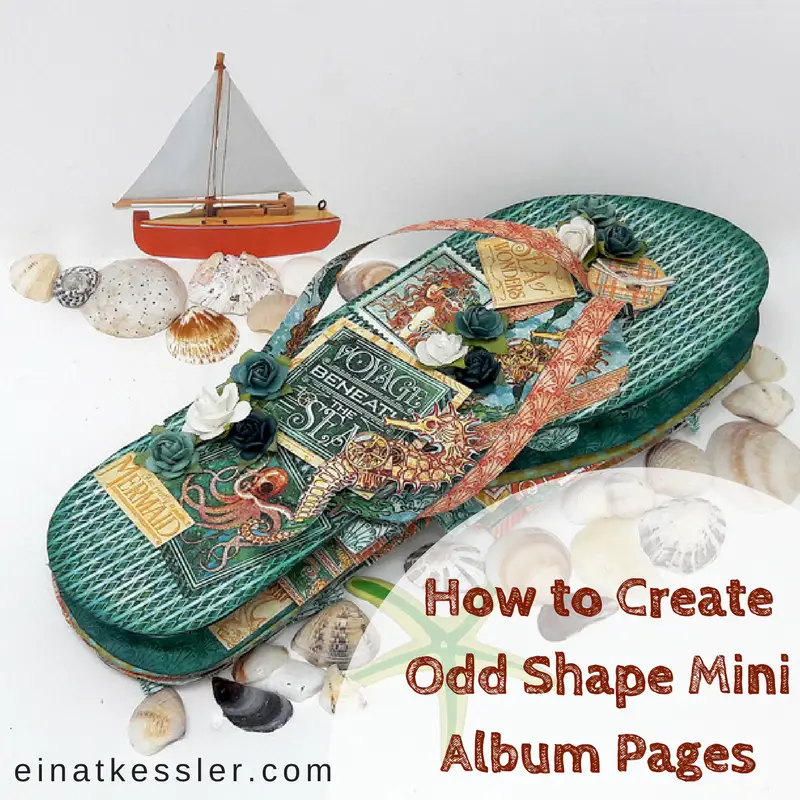 How to Create Odd Shape Mini Album Pages
Here are my tipson How to Create Odd Shape Mini Album Pages
1. Don't let the shape confuse you
Sometimes when you have to create or embellish a page that had an unusual shape you find yourself intimidated or frozen. Because we're used to working on squares a different shape can be confusing. But don't let that discourage you! Whatever the shape of the page is limit yourself to it's boundaries and work within them.
2. Match your embellishments
Usually when a page has a different shape it effects what you can or can't put on it. Curved lines like in this flip flop mini album don't match the straight lines of an envelope or tag or do they? Use smaller shapes that would fit the space you have and attach them in an angle so they'll fit the curved edge. It's OK if the embellishments stick out a little bit as long as they don't interfere the binding.
3. Use the same collection
Use the same paper collection for the pages an the embellishments. This way you'll be able to cut out images and shapes to match the theme and colors of the pages. Try to find shapes that have the same characteristics as the page. For example:circles, curved shapes and images that are not squares. They will fit your pages perfectly.
4. Adjust size
If you want to use a square that is too big for the page adjust its size by cutting it or folding it. This way you'll be able to create interactive mechanisms like flaps and inserts for the mini album.
The full Flip Flop Mini Album tutorial is available in the VIP Room! If you want to create this album all you need to do is join the VIP Room and have unlimited access to this video tutorial and many more! Join TODAY! For only $5 a month you'll have access to this mini album AND over 50 video tutorials too. Each week new content is posted and you will enjoy not only video tutorials but also free printables, project ideas, tips and inspiration, giveaways, special deals and much more! Join the VIP Room today so you won't miss out!
Don't miss out! Keep up with all the crafty goodness by subscribing to the Einat Kessler creative newsletter
Have fun creating!