STEAMPUNK 101 – THE COMPLETE GUIDE TO STEAMPUNK ARTS & CRAFTS
LIMITED TIME OFFER!
STEAMPUNK 101
The complete guide to steampunk arts and crafts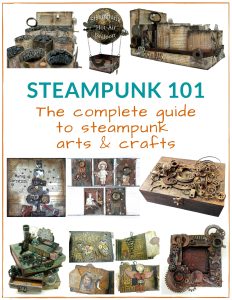 Discover the magical world of steampunk art!
Contrary to what you might think steampunk is a style of craft that can fit everyone. It's all a matter of degree.
If you really think about it. it's just a fancy way to make a project that looks rusty, industrial and metallic.
In this book you'll find:
$87 VALUE!
You'll NEVER see this offer for this price again... it's 72% off!!
Who is this ebook for?
Crafters who love the steampunk style but don't know how to create it
Those who are not sure how they feel about steampunk but are willing to give it a chance
Makers who don't like steampunk but like altered art and recycled art
Crafters who just need a gentle nudge to start making steampunk projects
Those special crafters like you who are looking for a new craft style to learn and a new skill to master
People who care about the environment and are always looking for new ideas how to reuse and upcycle items and objects they have at home
Even if you think you don't like this style or you are a little afraid of it - push your limits and try something new.
I'll take you by the hand and slowly, step by step introduce you to this magical and fun craft style!