Inside: 10 things you can do with a blank canvas. From painting and spraying to collage techniques and stamping - check out all the options!
Raise your hand if you ever found yourself sitting in front of a blank canvas with no idea what to do...
Finally have time to create something and you're in the mood and the house is quiet. You make your way to your craft room, pick a canvas and then... blank canvas syndrome! Nothing...nothing comes to your mind, no idea or inspiration. You look at the empty canvas and your mind goes blank. This happened to me so many times I lost count! So instead of surrendering to this syndrome I made a list of 10 techniques that will help me get things started. I have it on the wall in front of me so all I need to do is look up and be inspired!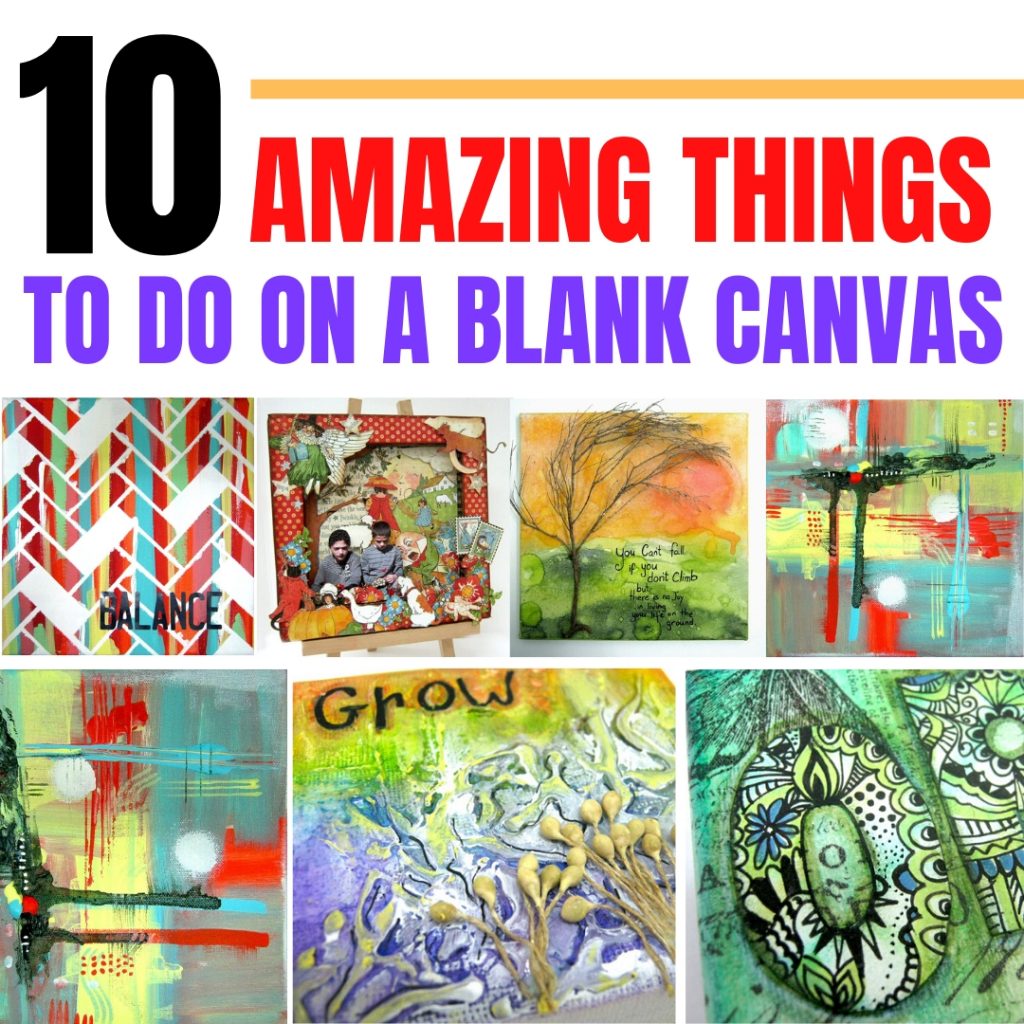 BEST TECHNIQUES TO DO ON A BLANK CANVAS
There are endless techniques and materials you can use on a canvas depending on what you love and what you have in your stash. The most difficult thing is to start, usually after the first step you get in the zone and things start moving. But starting is most often the thing that get us stuck! My list of 10 techniques can be the first step of your canvas project or it can be the last if you decide what you made is enough.
PAINT THE CANVAS WITH A SINGLE COLOR
Pick your favorite color and cover the entire canvas and now there is no more white canvas. The color can be your first layer that you add on it or it can be a background for other mediums like stamping, drawing or doodling. If you feel more creative you can mix a few colors and combine them all.
GO GEOMETRIC
Pick more than one color and use a brush to create lines in any direction, circles in different sizes or even both. if you need more structure you can make your geometric shapes according to a template or use a stencil.
Here's an example of a Herringbone pattern I created with masking tape. Watch video tutorial HERE
MAKE A COLLAGE CANVAS
Go to your paper scraps stash and pick up a few pieces. Tear them in different sizes and start adding them to the canvas creating a collage of papers. You can also cut out images from the papers like flowers, shapes or letters and create a scene on the background.
Check out the video tutorial on how to create this scene on a reverse canvas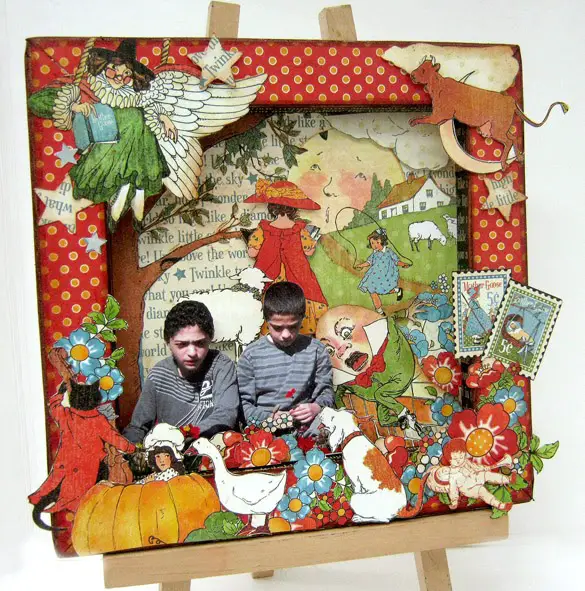 ADD TEXTURE
Cover the canvas with texture instead of color. You can use many thing to create texture like crumbled tissue papers, mesh, bubble wrap, fabric and burlap.
Here I created the texture with a hot glue gun - watch the video to see how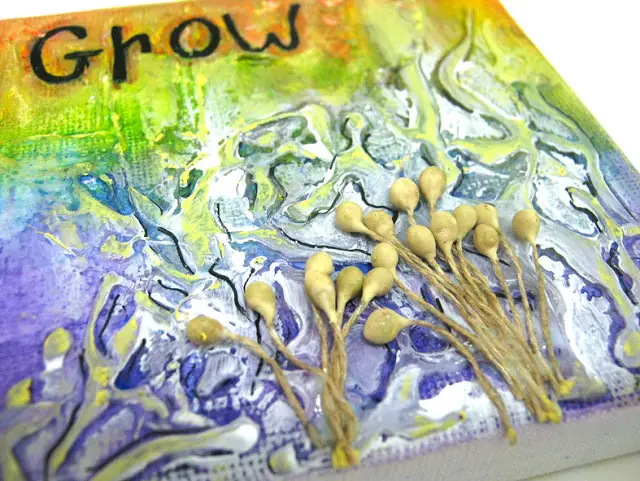 STAMP ON THE CANVAS
Use your stamps to cover the surface with images or patterns. The best stamps to use are large ones that cover a lot of space and are more bold and visible. You can use different colors of ink and even embossing.
After painting it and adding texture I used a background stamp to add a pattern of bricks to the surface of the canvas. Watch the full video tutorial HERE.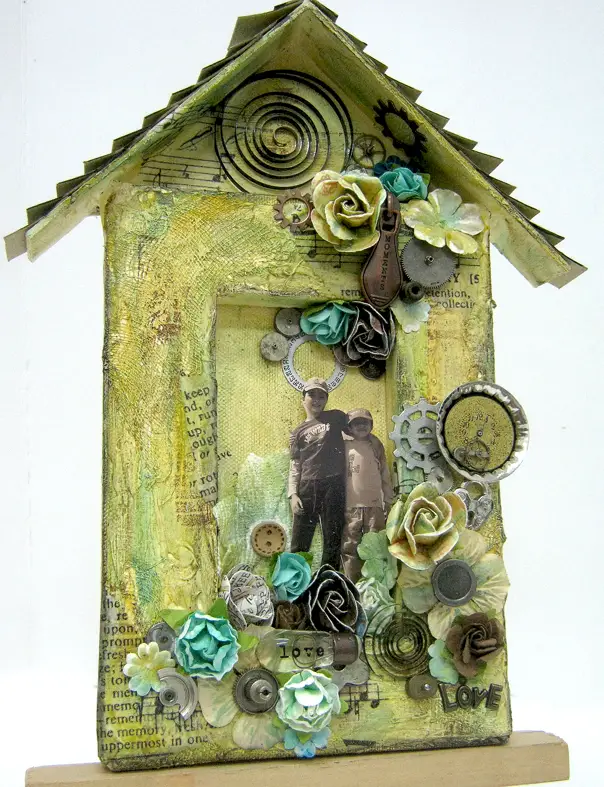 LET IT DRIP
Put some paint on the edge or the center and spray with water until it starts to drip. You can try and give it direction but dripping is mostly unpredictable and you never really know where it's going to go.
SPRAY THE CANVAS
Spray the canvas with a combination of sprays that you like or experiment with new colors. A thick coat will give you a brighter color and better coverage and a thin coat that will be slightly transparent.
In this project you can see how to combine both the dripping and spraying techniques on the same background. Check out the full step by step video tutorial HERE.
ADD WORDS
Write words or a word on the canvas, glue cut out letters or use a stencil. Using words can have a strong effect both in meaning and in shape.
Here I cut out the letters from a white paper and doodled on them with a black pan. Then I attached them to the background. See how HERE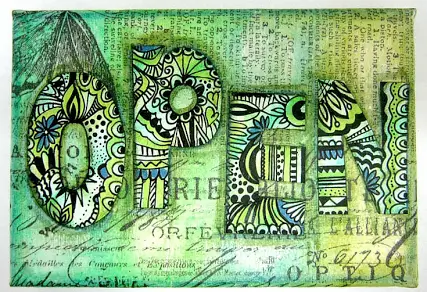 STENCIL
Take out a few stencils and start creating patterns with paint, sprays or ink. Layer a few patterns starting from the larger shapes. Change the color and the medium for more interesting look.
SCRIBBLE AND DOODLE
Use a marker or a thin brush to just scribble directly on the canvas. It doesn't have to have a special meaning or direction just set your mind free and go wild.
In this abstract style project I used different types of brushes and even my fingers to doodle and scribble shapes and lines on the canvas. See how I did it HERE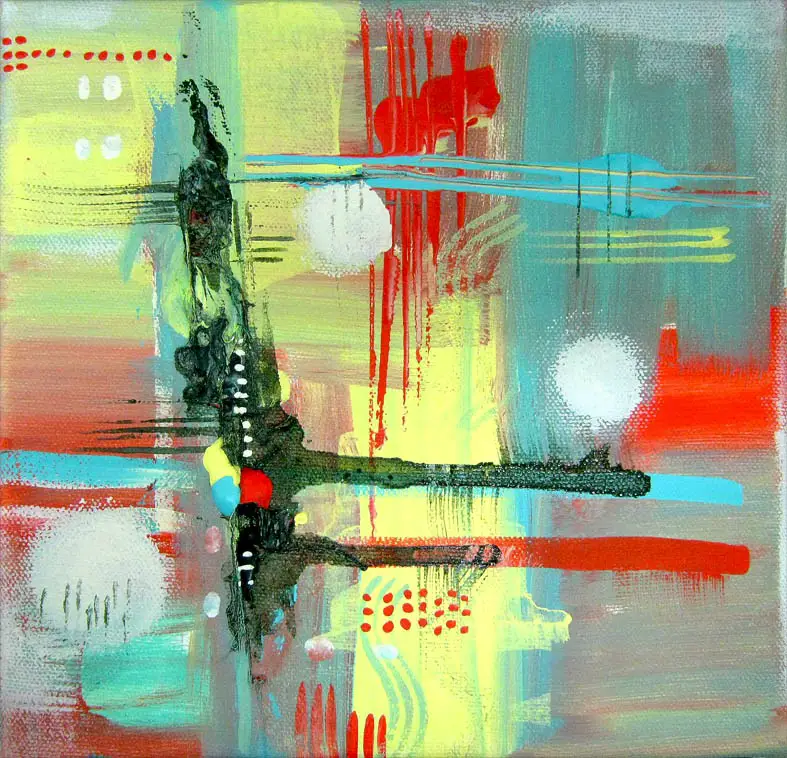 Often we adults are afraid to make mistakes or embarrass ourselves so it's hard to start a project that might turn out ugly or not as we wanted. We judge ourselves too much so the creative process is slowed down and sometimes even stops because we are busier thinking about the result instead of the process. Use these 10 Techniques as a guide to your creativity not only on canvas but on an art journal pages and mixed media projects too.
SHARING IS CARING! - PIN IT!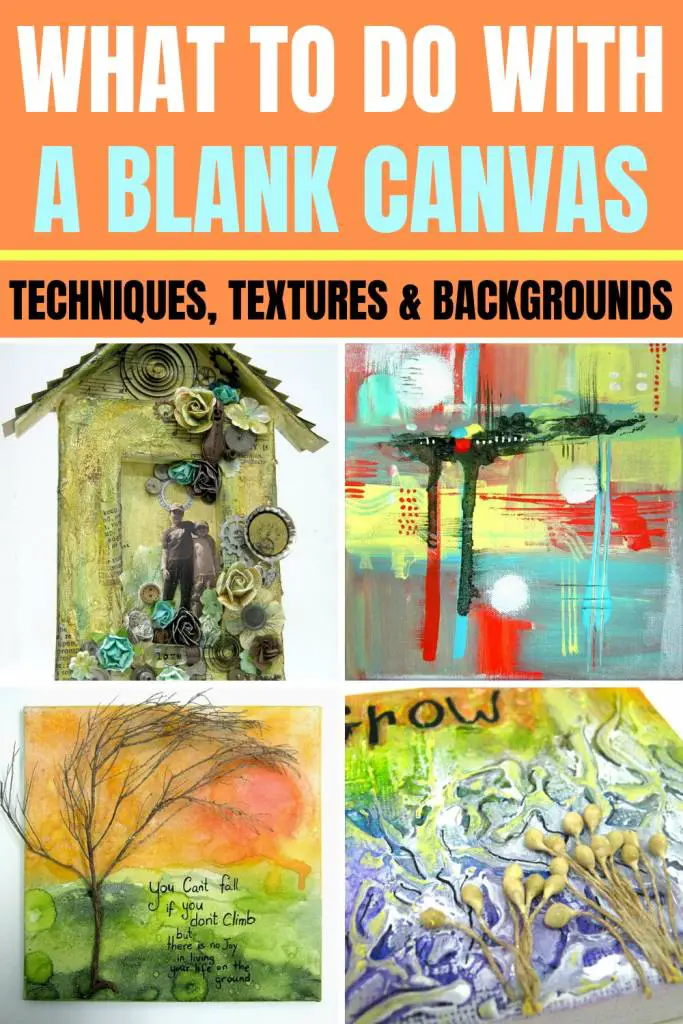 Have fun creating!