Inside: the awesome reasons to make mixed media projects and how to get started with mixed media
Mixed media is all the rage these days but for some people it still remains a mystery. When I talk to crafters about mixed media and ask them if they do any mixed media projects, many of them answer NO. "I just don't know where to start", "I never know what to do exactly" are some of the comments I hear. Mixed media is one of my favorite way of creating so it makes me sad to hear that people struggle with it. BUT... it's true - mixed media is sometimes hard to comprehend and it can be confusing. But I think that if you understand the basics and get excited about it then getting into it will be so much easier!
First thing's first...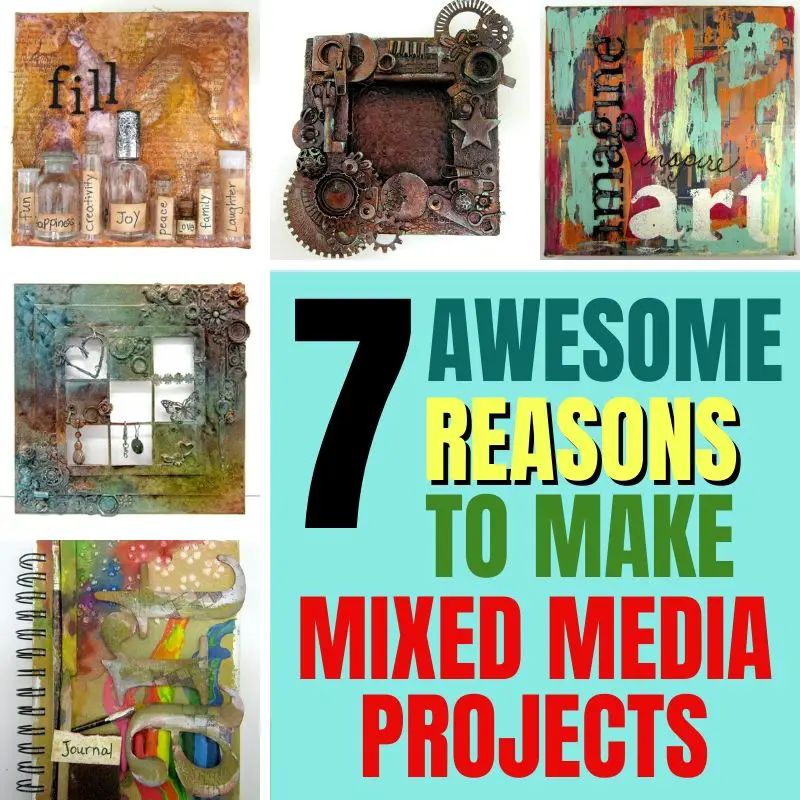 WHAT IS MIXED MEDIA
Mixed media is an artwork in which more than one medium or material has been employed. Assemblages and collages are two common examples of art using different media that will make use of different materials including cloth, paper, wood and found objects.
WHAT ARE THE ESSENTIALS
In order to start with mixed media there are some basics you need to know.  I have created a free mini class that gives a review about mixed media and what you need to get started. Get it here: 4 Essentials You Need to Know about Mixed Media.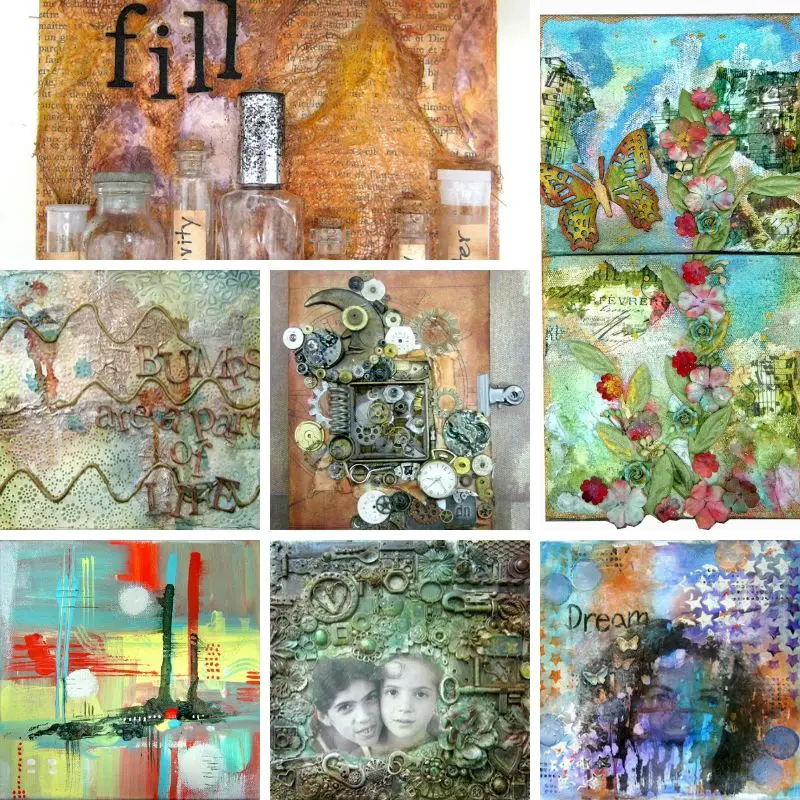 7 REASONS TO MAKE MIXED MEDIA PROJECTS
#1 NO RIGHT OR WRONG
This is one of the most forgiving art forms. There are no rules and everything you do is right. You can mix art mediums and paints, add all types of papers and include found objects, old household items, metal pieces and more. As long as you like it you can't go wrong!
#2 FLEXIBLE RESULTS
If you can't get the effect you want with one medium, use another! There are many techniques and materials to use to reach an effect you want. It's perfect for experimenting and learning about new materials and techniques. For example if you want a raised pattern or texture on the surface you can use a stencil with modeling paste or thick acrylic paint or even heavy gesso - all of these mediums will work. But you can achieve that effect by also attaching chipboard pieces or beads to the surface and covering them with paint. That will give you a great raised surface and texture.
#3 ANYTHING GOES
It's the perfect excuse to collect all kinds of materials, including non traditional crafting items and use it as an art supply in your project. For example: sandpaper, makeup brushes, old napkins and cloths, bubble wrap, old toys, metal parts, buckles and belts, zippers, car light bulbs etc.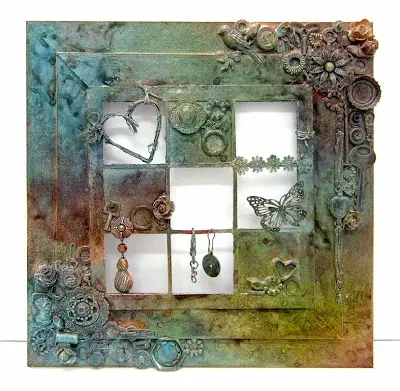 #4 TAKING A RISK
Don't worry...I'm not talking about jumping off a cliff I'm talking about taking artistic risks. It's easier to step outside of your comfort zone when the materials are forgiving and there are no rules. It's also more tempting to try new things and techniques when you can't go wrong.
#5 NO LIMITS
In mixed media there are many materials but endless techniques and you can use more than one technique for each medium. There is no limit to what you can come up with on your own or create with familiar techniques. Unlike other crafts like scrapbooking or card making you are not limited by the size of he page, the base of your project or the amount of dimension you can add. The only limit is the limit of your imagination!
#6 ENDLESS INSPIRATION
Multiple materials can trigger new ideas. You start looking at tools and materials in a new way so you come up with new ideas. For example use an old brush as a focal point on a canvas instead of as a tool to paint, or better yet use that brush as the base for an altered art project! You never run out of inspiration when you can use ANYTHING to make a project!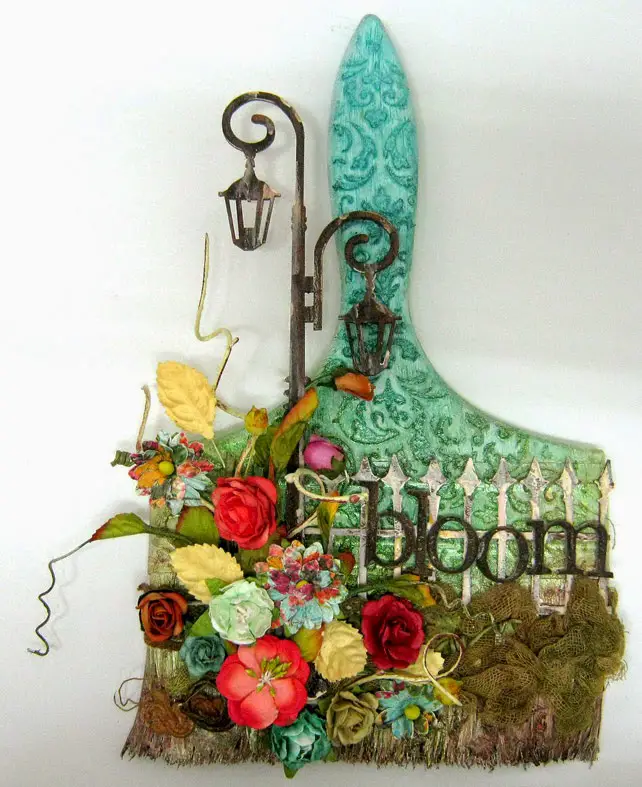 #7 IT IS FUN!
If you hav en't figured it out yet mixed media is so much fun! You can get your hands dirty and create any project you want. The range is huge and you can go easy just by adding a little paints or sprays or you can go all in and make a 3D altered project full of rusty metal and texture. It is all up to you, you choose!
If you're convinced you can find many mixed media tutorials here. Explore these tutorials, find a project you like and start your first project.
If you want a more in depth learning with access to me and the option to ask questions and experiment in a more exclusive and supporting environment you can join the VIP Room where you can find beginners mixed media series and tutorials. Find out more details about the VIP Room here.
Sharing is caring!
PIN IT!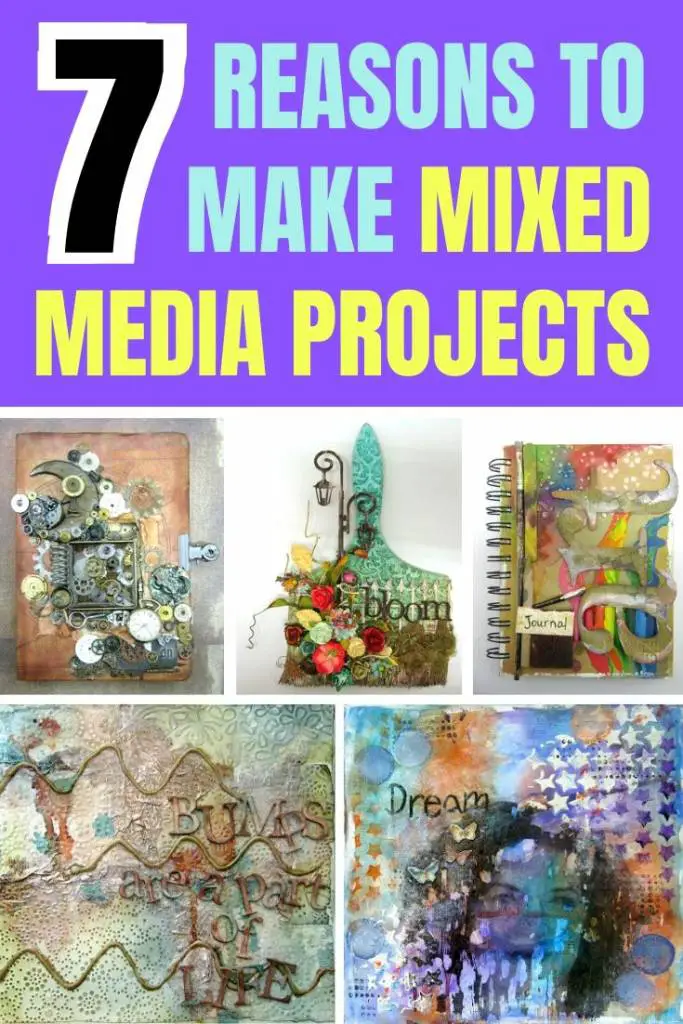 Have fun creating!