Inside: how to make an easy and simple accordion mini albumin a box 
Making mini albums especially interactive mini albums and making boxes are two of my favorite things to make. So I thought why not combine these two passions of mine into one project! This project is especially easy and simple because I've used a ready made box instead of making it from scratch.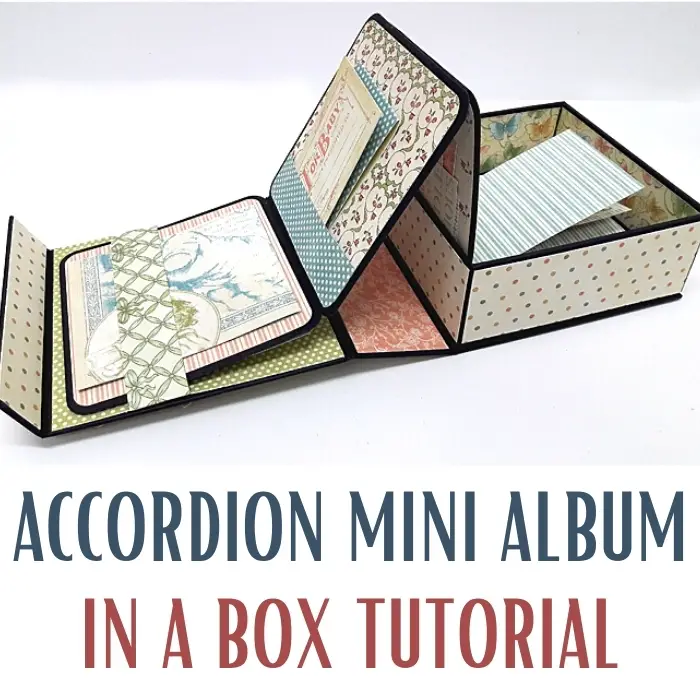 WHAT IS AN ACCORDION PHOTO ALBUM
Accordion mini album is a type o a mini album that is folded in a concertina shape. That allows you to add photos on both sides of the mini album, which adds extra space or phoos and journaling.
PROS AND CONS FOR MAKING A MINI ACCORDION BOOK
PROS
There is room for photos in the front and back of each page.
It can have an unlimited number of pages because it is not limited by a front or back cover.
You can add more pages afte the mini album is finished by simply adding more accordion folded paper to the last album page.
CONS
There is no front or back cover.
The space between the pages is not wide enough for more bulky embellishments or thick interactive mechanisms.
It can be a little cumbersome to look at especially if the accordion is long.
HOW TO MAKE AN ACCORDION MINI ALBUM IN A BOX
Use a ready made box as the box for the mini album and then measure he inside o the box to determine the size of the pages. If you want to make the box yourself you can check out one of my 13 DIY box tutorials
2. Cover the inside of the box with pattern paper. If the walls of the box are high cover them as well. Attach cover papers to the outside o the box too and then embellish the top of the box.
3. Make the mini album by attaching accordion folded papers to each other to make a long accorion to fit inside the box. You can make the mini album from a solid color and then cover it with patern paper or you can creat the mini album with pattern paper from the beginning.
4. If you want add pockets and flaps to the mini album pages to add even more space for photos and journaling.
MEASURMENTS AND INSTRUCTIONS
Here are the steps to create the accordion mini album in a box with Graphic 45 box:
1. Cut five 4" x 1" strips from black cardstock. Fold strips in half.
2. Attach a 5" x 5" square to each side of folded strip. Continue to attach all squares to strips until you have an accordion.
3. Cut 11 squares from pattern paper: 4 1/2" x 4 1/2" in size and cover accordion on both sides.
4. Cover the box with pattern paper.
5. Cut 1" x 7" strip of pattern paper and fold at 1" and 6". Apply glue only on small flaps on edges to create a belly band and attach to backside of cover paper. Attach to inside of box lid.
6. Insert first square of accordion under belly band. Attach last square of accordion to bottom of box.
7. Embellish pages and outside of box.
Sharing is caring - PIN IT!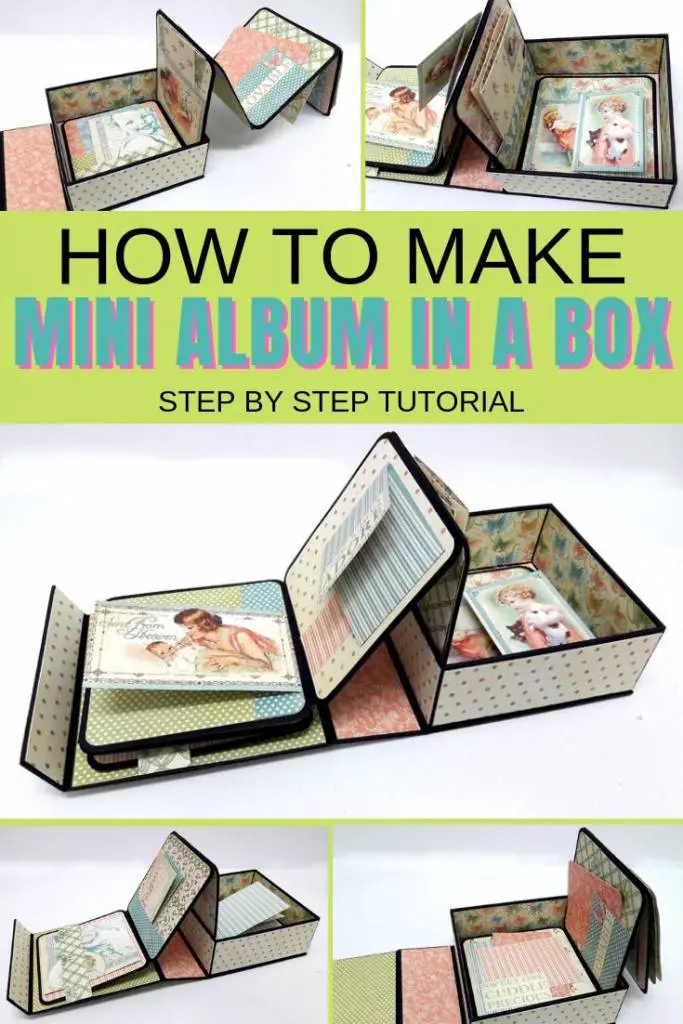 Have fun creating!