Inside: everything you need to know about using cut out magazine photos in art journaling
I'm not embarrassed to admit I don't know how to draw so when I want to add an image or a focal point to an art journal page I need to use a different technique. One of my favorite technique is to use magazine cut out photos in art journaling.
WHY USE CUT OUT PHOTOS IN YOUR ART JOURNAL
Using magazine cut out photos in art journaling is a great and convenient way to add an image to your page:
You have an almost endless selection of images you can add depending on how many magazines you have
All you need to do is cut the images and attach to the page
You have control of the subject, color and size of photos
The paper is usually strong enough to stans other materials and techniques
Magazine cut out photos are a great way to add a focal point to the page when you can't draw or don't have a stamp or stencil
WHAT YOU NEED TO KNOW WHEN YOU ADD CUT OUT PHOTOS TO YOUR PAGE
Inspite of all the benifits of using magazine cut out photos in art journaling there are some important things you need to know:
Magazine paper is usually not lignin free so with time it might fade or change color. To avoid that cover the photo with gel medium to seal it and protect it.
Some magazine papers are of low quality and the photo might smear or bleed when in contact with other materials you use on your art journal page. Try those materials on a scrap piece of the magazine to test the paper quality.
If you plan on publishing your art journal page there might be an issue with copy rights so try not to use complete images only part of a photo.
Since magazine paper is thicker than tissue paper it will be visible when you attach it to the page and will not be embeded as a tissue paper. Try to add texture or color around the edges of the cut out to blur that.
HOW TO USE MAGAZINE CUT OUT PHOTOS ON AN ART JOURNAL PAGE
MAKE THE BACKGROUND
First I started with lots of acrylic paints and different patterns of stencils to create a colorful pattern on the page. I used small and large patterns with contrasting colors. It comes out looking like a big mess but this is how it's supposed to look. To add even more patterns I stamped the page with different colors of ink.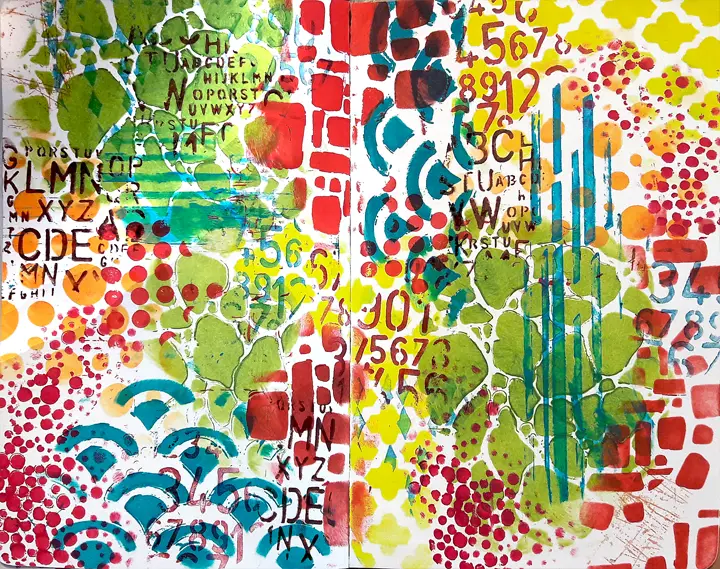 ADD A MAGAZINE CUT OUT PHOTO
Next I cut out two eyes from a magazine and attached them to the page. I used a black and white photo to create contrast with all the colors in the background.
ADD DETAILS AROUND THE CUT OUT PHOTO
In order to make the cut out photo part of the page it needs to match the theme and meaning of the page so you need to add details to compliment it. I added tears under the eyes with a black pen.
COMPLETE THE PAGE
Add more paints, details or other elements you need to complete your page. After that I drew the tears with a black pen I painted around them. I used a small brush to make sure I'll paint in the lines and I used the same colors I used with the stencils. I didn't paint a thick layer so the pattern is still slightly visible.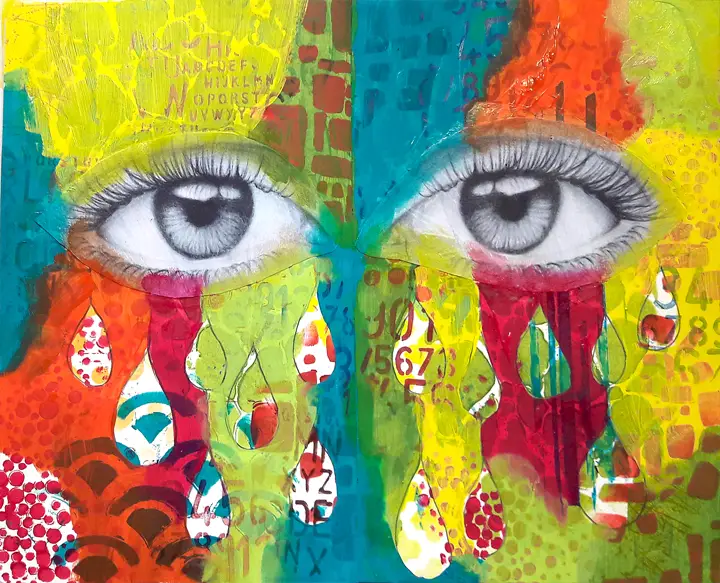 FINAL TOUCHES
To finish the page add more details and a title or text to the page. I drew the tears lines again with a black pen and added some doodling around the eyes. Finally I also added a quote to the page on little pieces of white paper.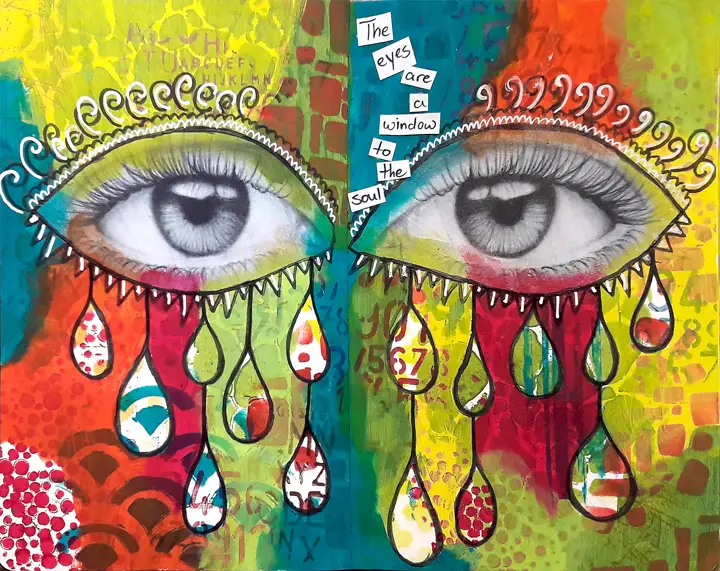 I have a little box with magazine cut out photos so I'll have a selection ready to use when I need it. Whenever I go to the doctor's office or somewhere where I know they'll have magazines I take a small pair of scissors and If I get permission I cut out some images while I wait.
You can also use old photos, books and even download photos from free royalty websites like this as a resource for cut out photos for your pages.
Are you in need for some more art journal page ideas and techniques? Check out the 30 Art Journal Tutorials eBook that has easy to follow step by step art journal page tutorials to make more than 30 amazing art journal pages!
Sharing is caring - PIN IT!
Have fun creating!