inside: best 3 tools to write text on mixed media projects
I made a beautiful canvas with lots of paint layers, stenciling and stamping. Then I added exture with modeling paste and some more stenciling. I wanted to finish the project with a cool quote but I couldn't get it on the project. I ruined 3 pens and still couldn't get my text on the project! Have you wvwe had this problem? I have 3 great ideas how to solve it!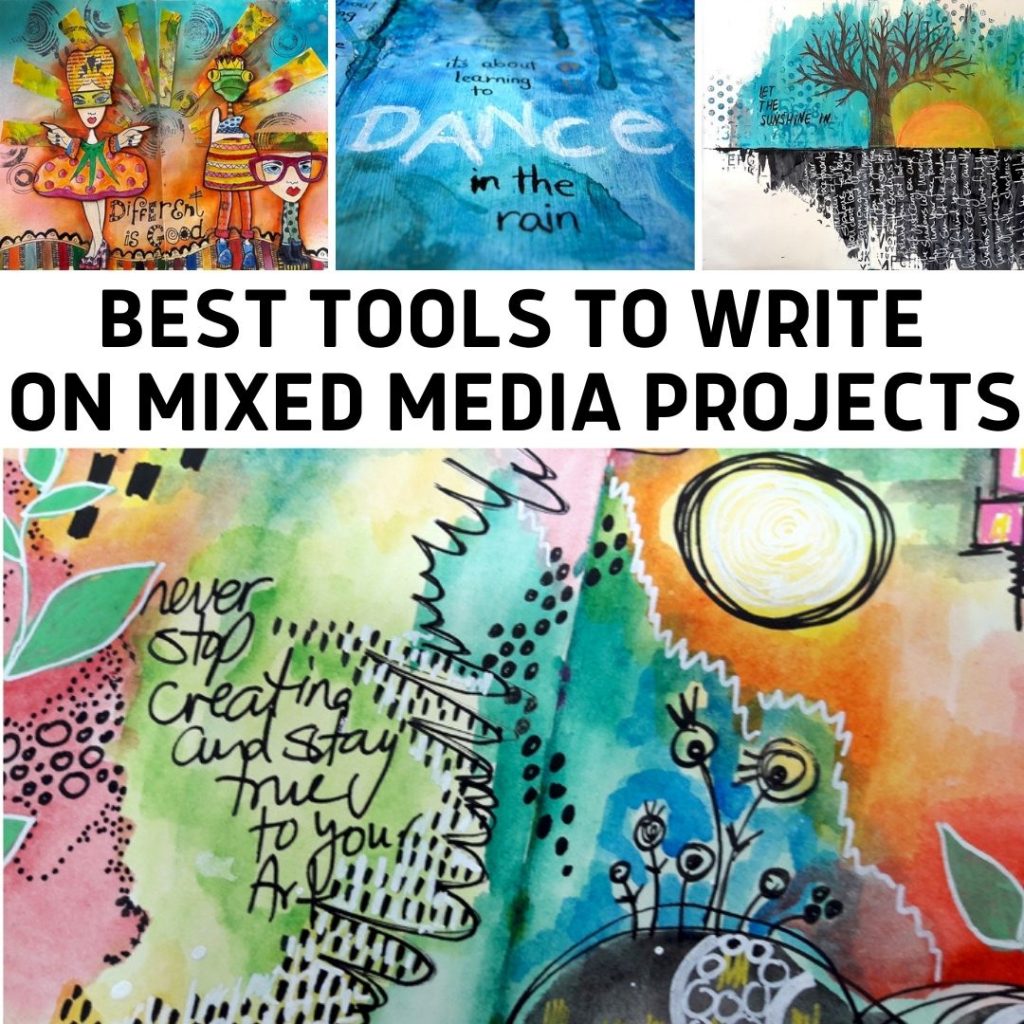 WHY WRITING TEXT ON MIXED MEDIA PROJECT IS A PROBLEM
One of the most popular questions or problems people have when they create mixed media projects is how to write text on their project. When you use acrylic paints, gesso and other mediums on a project most of the pens will not work on these surfaces and you have a problem of writing something.
This happens because:
The surface isn't COMPLETELY dry - and by that I mean it looks dry and sometimes even feels dry but it's not dry all the way through.
Textured surface - for some strange reason pens don't write on textured surface even if it's just slightly textured.
Raised surface - if you have sodt surfece or raised surface like a modeling paste the pen will not write on it.
Pens don't write on paint - this is due to the materials in the paint especially the plastic binding material and alike.
Surface is not paper - in mixed media you work on many surfaces like fabric, canvas or plastic - pens usually don't write on these surfaces.
TOOLS TO WRITE TEXT ON MIXED MEDIA PROJECTS
In order to have a working tool on surfaces other then paper you need something that will not clog or get destroyed in the process. I found a few tools and pens that did write or even drew on mixed media projects with great results!
POSCA MARKER
Posca is a water-based pigment paint marker which can write on any surface. Paint is permanent on porous surfaces, and removable on non-porous surfaces such as glass. It has a range of tips and colors and the drying time is really fast. I love using it not only to write but also to draw and doodle.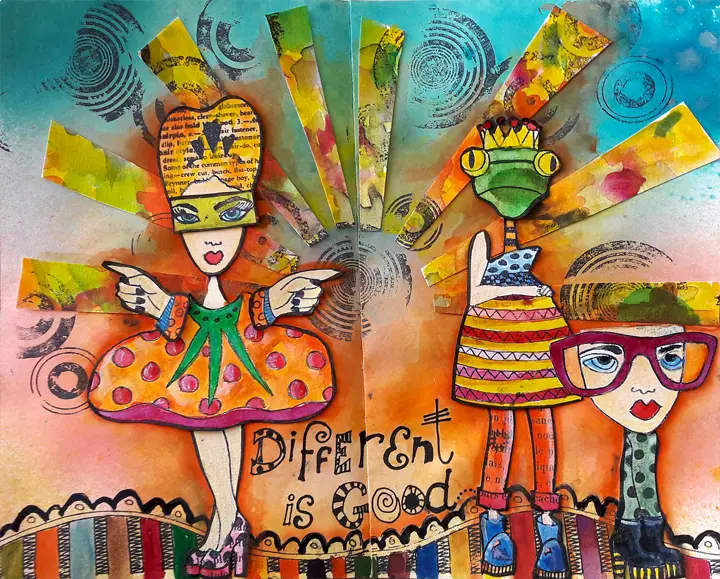 PIGMA PEN
This pen by Sakura is my favorite pen for everything from writing to drawing. It has different sizes of tips including very fine tips which allow you to add very small text to any project. Sometimes you want to add journaling and not a bold title, this pen can do it both. I love working with it on watercolors, paper collages and gelli prints.
NIB PEN WITH INK
This is an old school tool before all the fancy markers and pens were invented. I love to use it because it gives my project a vintage look and a different feeling. It also feels different in my hand and sometimes when I want to take my time I use it. There is no specific benefit to it other than a different feeling when you create. But hey...that's important too right?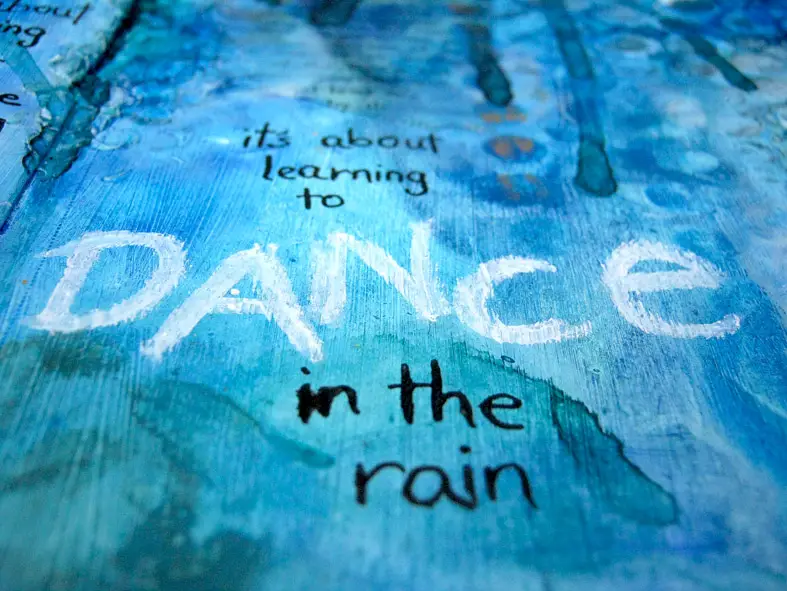 WHAT TEXT TO ADD TO MIXED MEDIA PROJECTS
There are many types of text that you can add to your mixed media projects and art journal pages and I'm not talking about the style of text but the way you say what you want to say. Here are some ideas:
Quotes: saying by other people can sometimes say exactly what we feel. You can find lots of quotes online but my favorite site is BrainyQuote.
Lyrics: everyone has a favorite song with that one line that just pierce your heart...
Proverbs: smart universal sayings that sometimes describe what you want to say but can't say it in your own words.
Thoughts: your thoughts and feelings directly added to art journal pages.
HOW TO USE THESE TOOLS TO WRITE TEXT ON MIXED MEDIA PROJECTS
Handwriting is a personal way to add text to your art journal page. Some people don't like to do that because they think their hand writing is not pretty enough to be displayed. But I disagree because I think that someone's handwriting is their personality, character and should be celebrated.
For more techniques, ideas and tips on adding text to mixed media and art journaling check out this post: HOW TO MAKE EXCITING ART JOURNAL PAGES WITH TEXT
Here are the links to the products in the post:
Sharing is caring - PIN IT!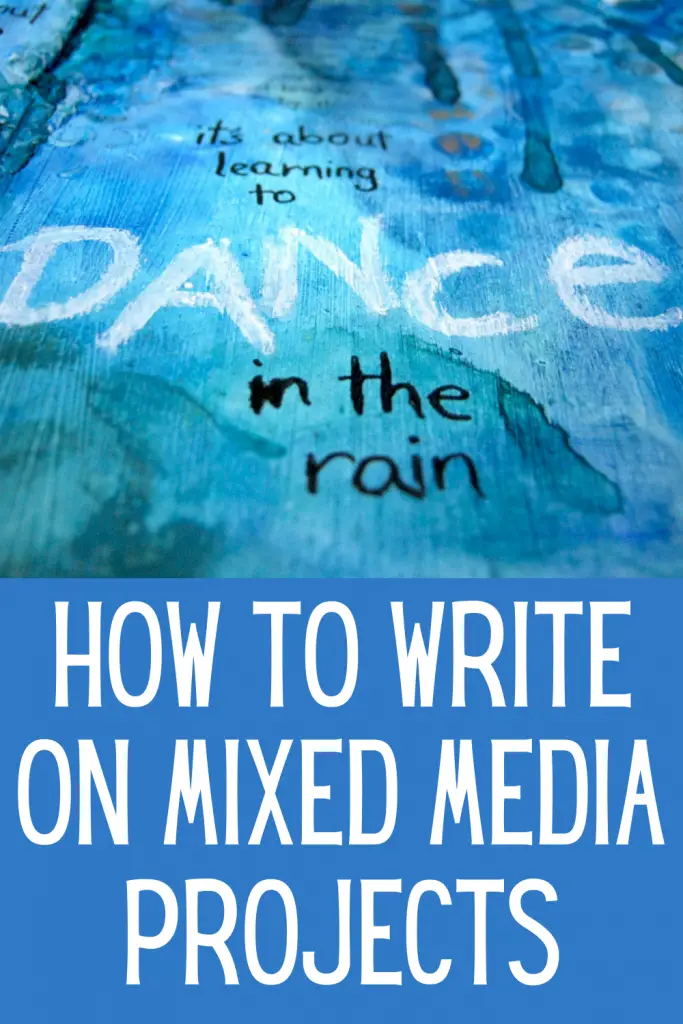 Have fun creating!