Inside: get an early start with your Christmas card making! It's only 5 months away...
Every year I plan to send holiday cards to all my friends around the world who celebrate Christmas and every year it doesn't happen. I always procrastinate and think I have lots of time and then it's already too late. But not this year...this year I'm embracing the Christmas in July tradition and I'm starting early! You might not think about it but Christmas is only 5 months away! Time flies so fast and before you know it winter will be here (I wish) and you'll have many preparations and so little time (I know... trust me). So here's my plan: make a cards every day (I need about 50-60) and be done by fall!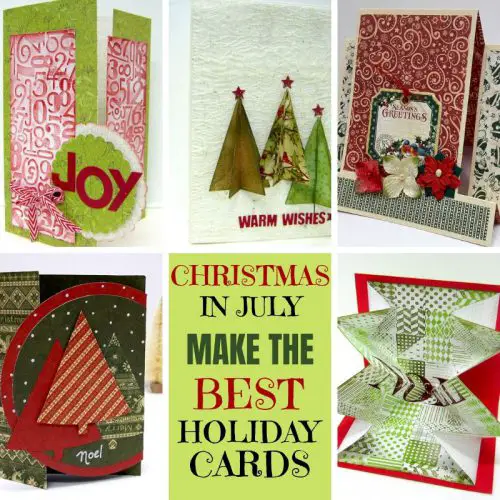 WHAT IS CHRISTMAS IN JULY?
Apparently this tradition started in the US in a girl's camp and then spread across the world. It is mainly popular in the US and in the southern hemisphere, especially Australia because there Christmas is in the summer so they wanted to feel the winter atmosphere that is associated with this holiday. In any case it has grown to be a world wide tradition and if it helps me get ahead of my card making I'm all for it!
CHRISTMAS CARD PLAN
I'm determined to achieve my goal this year so I came up with a Christmas Cards working plan:
Buy a Christmas 12x12 paper stack that you love or if you already have one use it. Using the same papers for all the cards makes the work easier because you don;t have to think about a new design or concept for each card. You already have the color scheme and patterns so that half the work.
Make a list of the types of designs you want to make. Making the same card 50 times seems too boring so I recommend sticking to about 10 Christmas card designs to repeat.
Make at least one card every day if possible then make more.
CHRISTMAS CARD DESIGNS
There are two methods to make Christmas cards:
Complex base and few embellishments: in this card design you invest in creating a striking interactive card base and then add a few embellishments to complete the card.
Simple base packed with embellishments: a card design which is mainly layers of embellishments such as flowers, leafs, mold shapes, season embellishments etc. on a simple cards base.
I prefer the first Christmas card making method because I like interactive designs and it's less expensive. However this method is more time consuming so it's something to consider if time is short.
8 CHRISTMAS CARD IDEAS
DOUBLE GATE FOLD
This is a basic and easy interactive mechanism that can be repeated in different ways by simply changing the front circle. You can change the shape, the size, the colors or the embellishments and words to create different designs of the same card.
To create a double gate fold you need to:
Use a 9x6 double sided cardstock.
Score at 3 and 7 and fold both sides
Add a shape in the front or embellish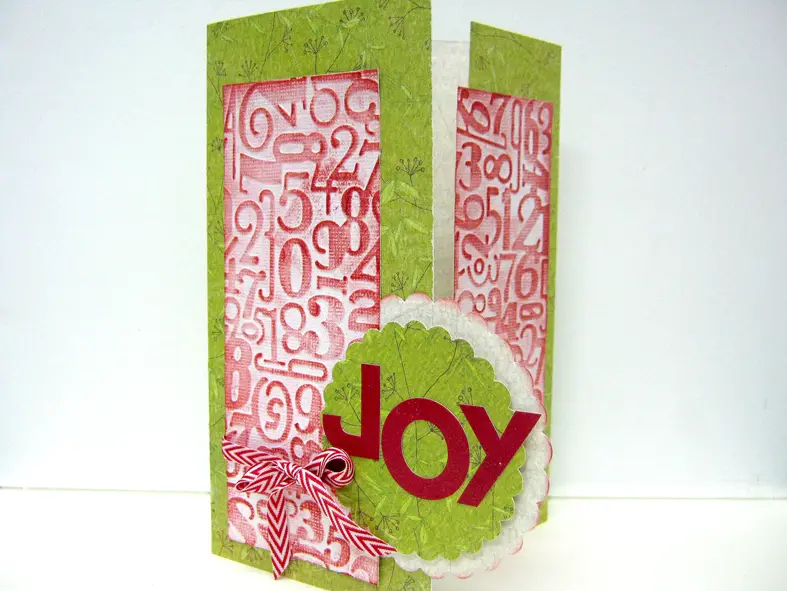 3D TREES CHRISTMAS CARD
Adding dimension to a common holiday shape like the tree can elevate your card and give even a simple card a really unique look.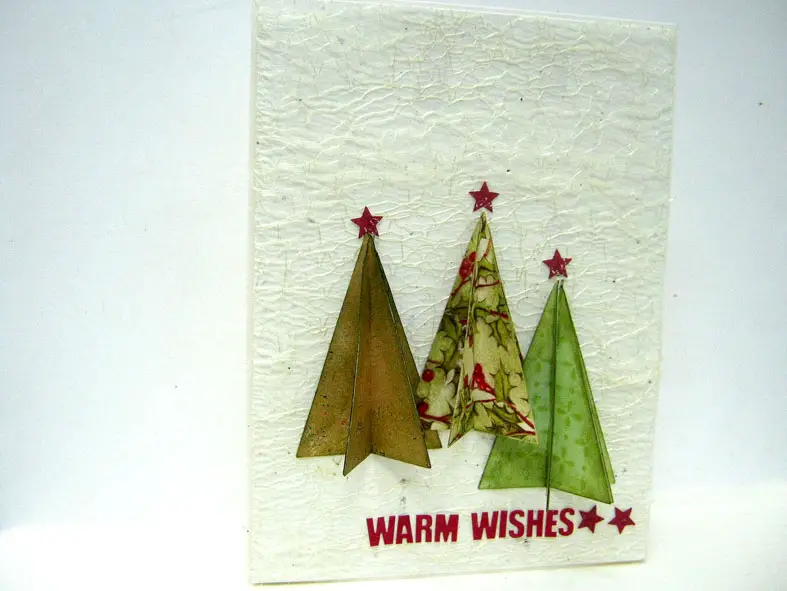 Check out how to make the 3D trees
BASIC ORIGAMI FOR A CHRISTMAS CARD
An origami shape is a really easy way to jazz up a Christmas card with out any special skill but with an amazing effect. You can make the card in any color you want but I recommend to use regular white printer paper for the folds.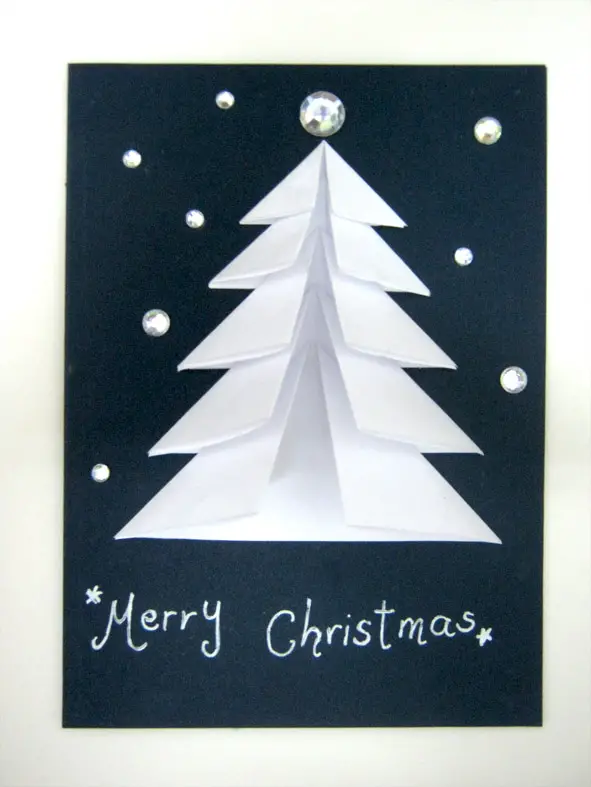 Here's how to create these origami folds on the front of the card
EXPLOSION CARD
This is one of my favorite card and it's very easy to make although it looks very complicated. All you need is a light enough paper to be able to fold and cardstock to create the outside card.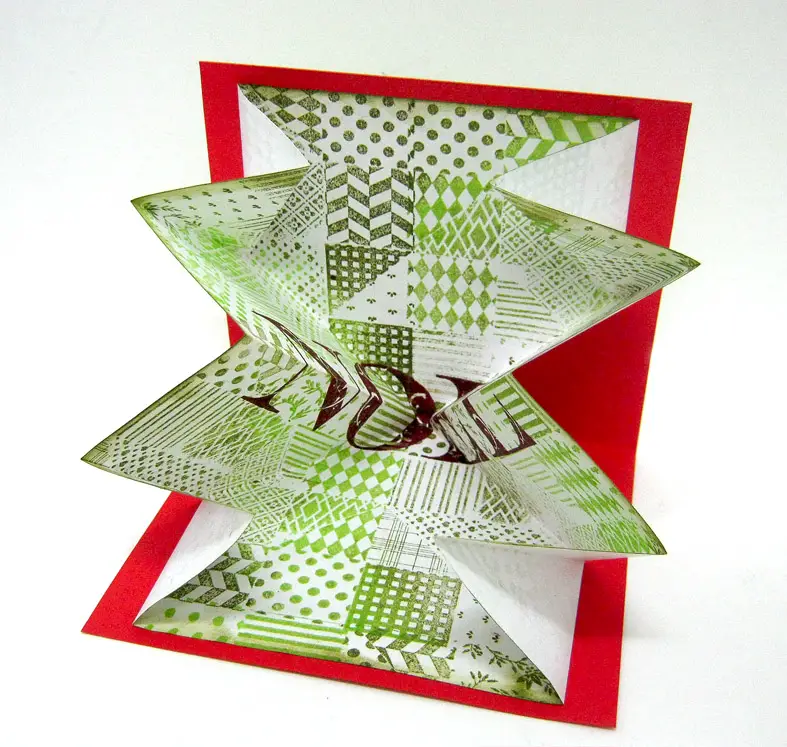 See here how to create this Christmas card
CENTER STEP CARD
Just by making a few folds on the front of the card you can create a really cool effect of steps. There are different type of step cards but this is the basic and easiest one to make.
Find the step by step tutorial here
CIRCLE FOLD CARD
Christmas cards don't have to be square they can be in many other shapes. An unusual shape to a card gives it a whimsical and unique look without adding to many embellishments. Here's an idea for a circle card that is easier to make than you think.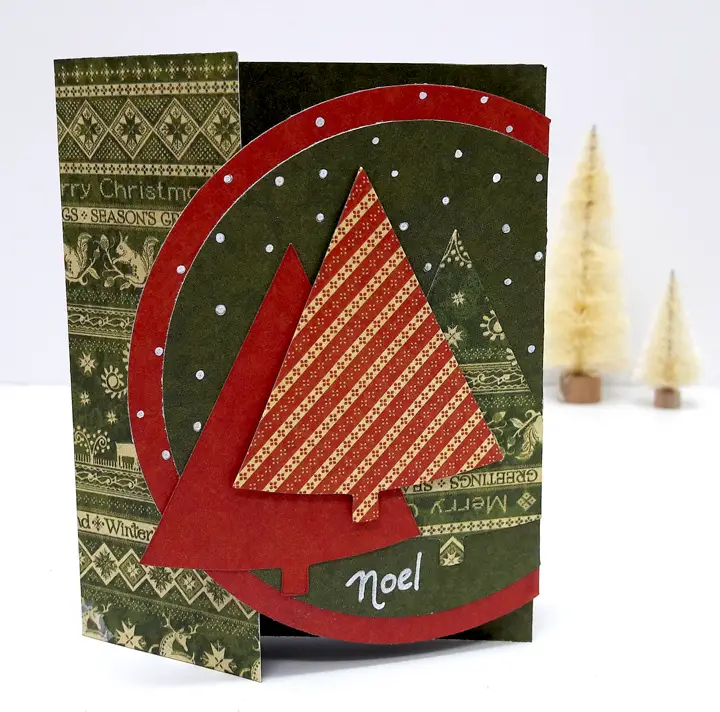 Follow the video tutorial here
Z FOLD CARD
Simply by folding the card in an unexpected way you achieve a new and interesting look to the card. There are many directions to fold a card but a Z fold is perhaps the easiest but with a wow effect.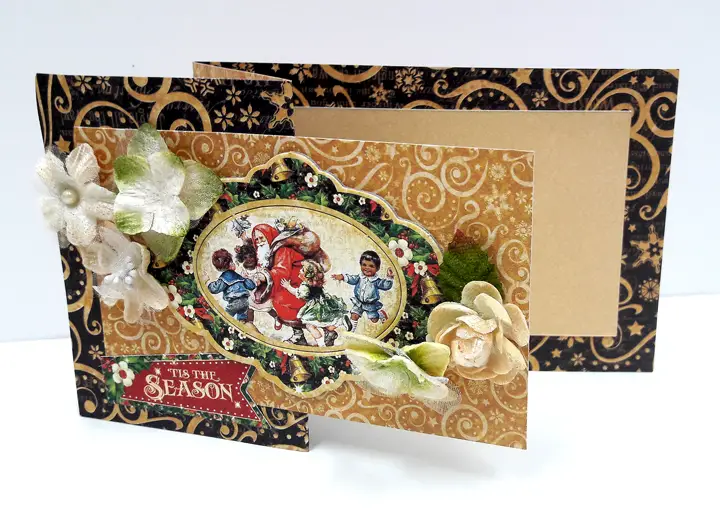 CHRISTMAS CARDS E-BOOK
The good news is that I have 41 more Christmas cards designs and ideas to share with you! They are all part of a new eBook I completed that I initially thought to publish in October but then I thought why wait? There are so many people who celebrate Christmas in July or want to start early. If you want to get your hands on this eBook you better hurry because it will only be available until August!
GET THE 48 CHRISTMAS CARDS IDEA BOOK HERE
Save it for later - PIN IT!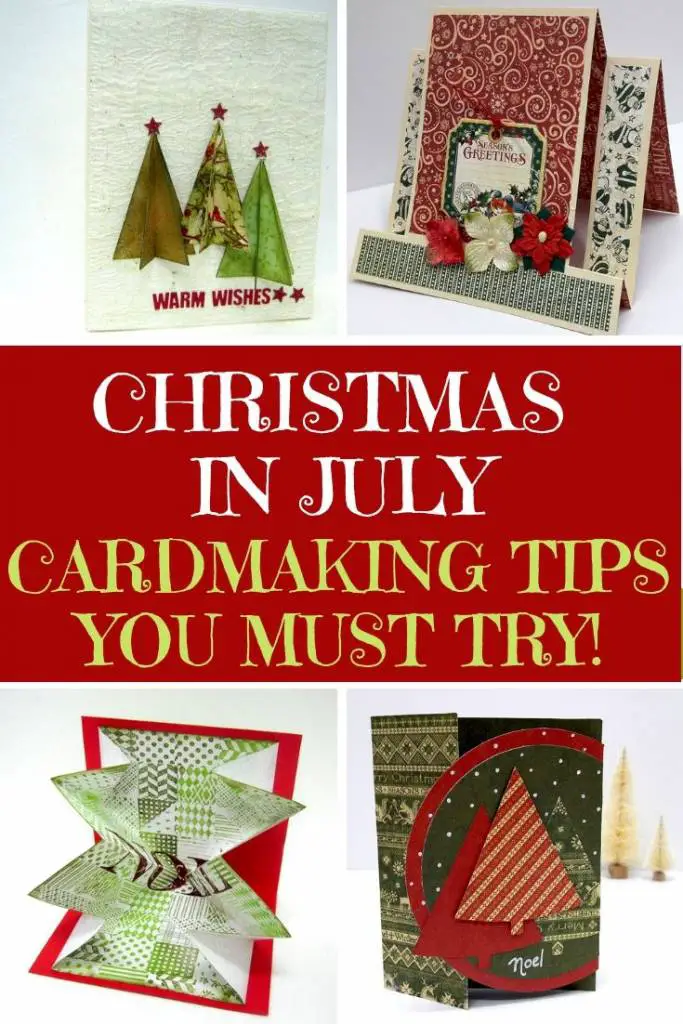 Have fun creating!