Inside: how to make an art journal page with hand drawn shapes
I have a confession... I don't know how to draw! Yes, your read correctly, I don't know how to draw and I'm not ashamed of saying it! I'm a living example how a lack of any drawing skills is irrelevant to making beautiful art journal page because I think we can all agree that I can make beautiful art journal pages. So what's the deal? The deal is that you can make amazing art journal pages with basic sketching or drawing skills like drawing lines, circles and ovals.
Scroll down and see how!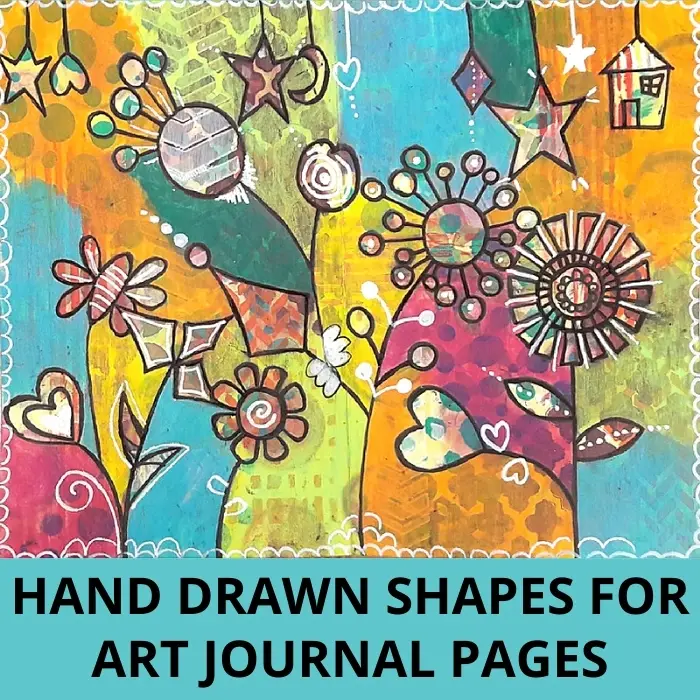 HAND DRAWN IMAGES
Contrary to what you might think everyone can draw! Hand drawn images simply vary from works of art like Picasso to simple basic hand drawn images and shapes so the only question is where are you on this scale.
Like I said before I can't draw but I can make simple images for my art journal pages, cards and other projects.
HOW TO MAKE HAND DRAWN IMAGES
The secret to drawing such shapes is to master three easy steps:
HOW TO MAKE AN ART JOURNAL PAGE WITH HAND DRAWN IMAGES
SUPPLIES
Stencils
Acrylic paints
Flat brush or sponge
Black and white pen
HOW TO MAKE THE PAGE
Start with coloring the entire page with a bright color. I used yellow but you can use any bright color that you want.
Add patterns to the background using stencils and other colors of acrylic paints.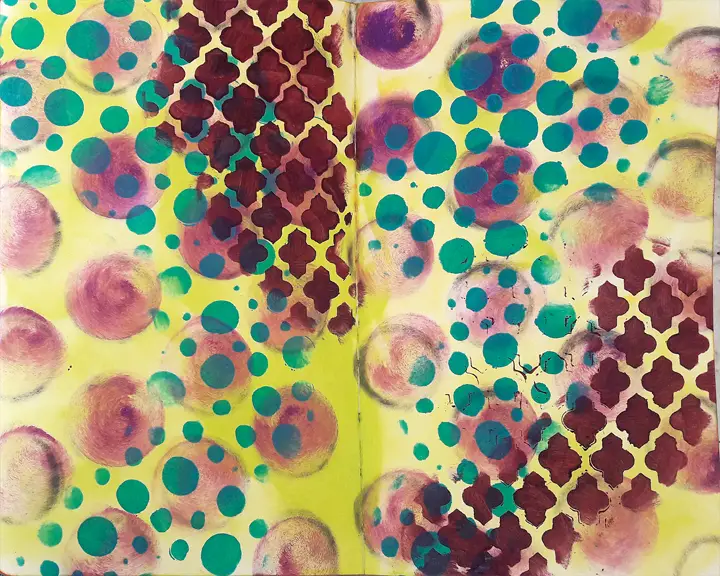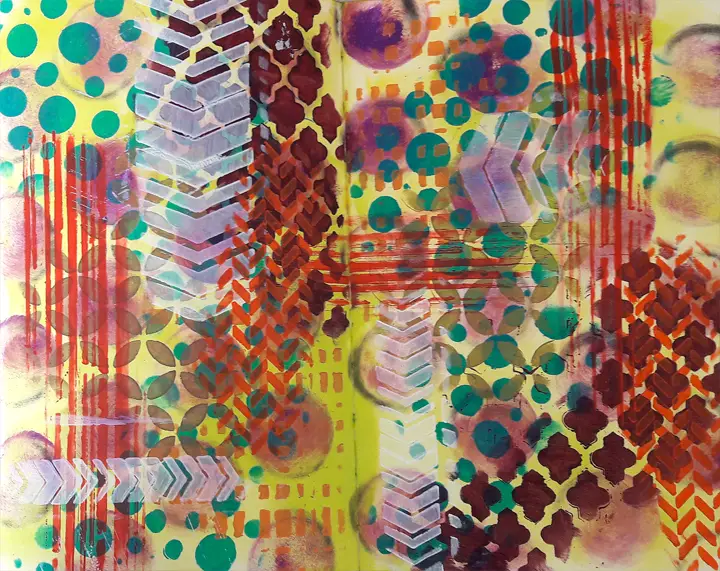 3. Draw images and shapes with a black pen like flowers, stars and other shapes. Make the images large enough to show the patterns that you added in the backgound.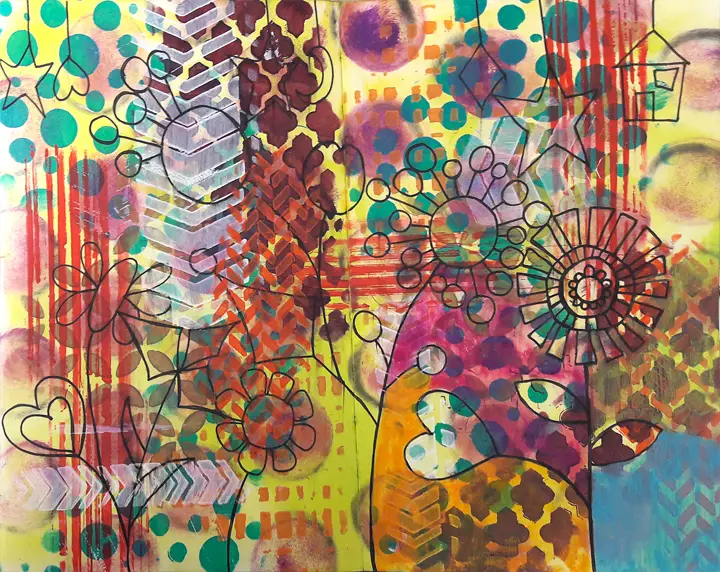 4. Color the spaces around the shapes and cover the background with acrylic paints. In order to hide the background and to have it shown only inside the images I painted the spaces in between with two coats of paint. You can cover the page with a single color or with a few colors. Use the lines of the images to divide the page into sections to paint.
5. Once all the space between the shapes was covered I went over all the shapes with the black pen to make sure they are visible and bold enough. I also added some doodling and details with a white pen.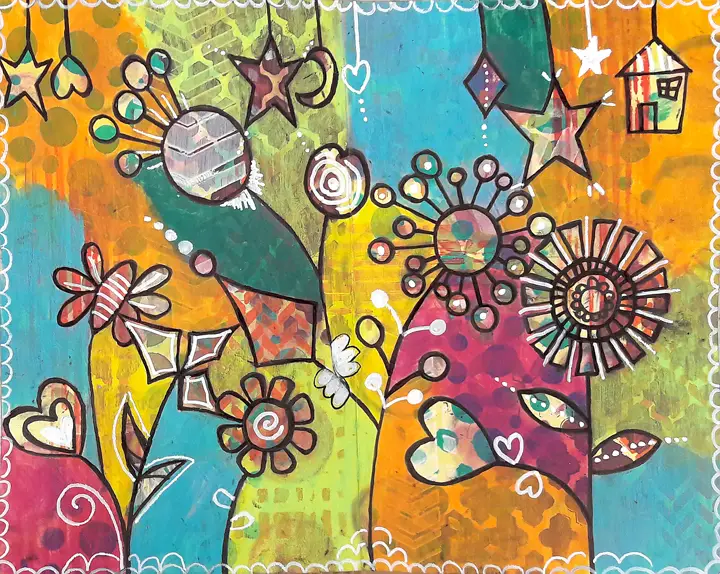 TIPS AND TRICKS TO DRAW SHAPES IN YOUR ART JOURNAL
The shapes don't have to be accurate, symetrical or even.
Practice as much as possible in drawing the lines and combining them into shapes and images.
Make sure the acrylic paint is completely dry before drawing with a pen.
Add little details and shapes with a contrasting color pen like white to make the page more interesting.
For more art journal page ideas check out the 30 Art Journal Tutorials eBook! In the book you'll get 30 tutorials to make amazing art journal pages complete with photos, tips and tricks!
Sharing is caring - PIN IT!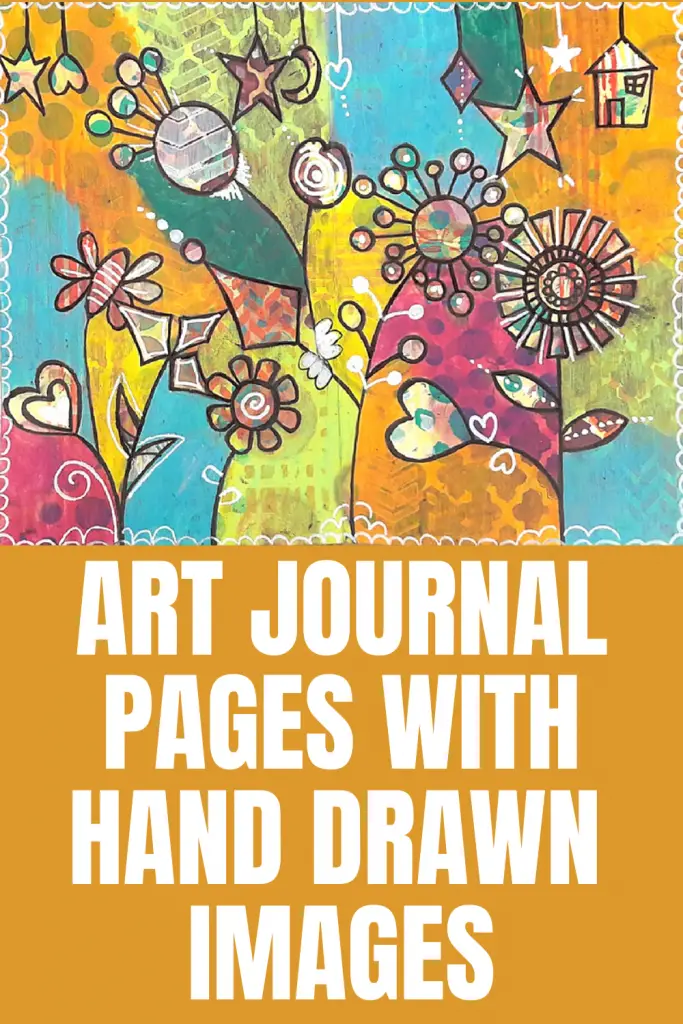 Have fun creating!