Inside: Fun and easy ideas to create summer pages for all your memories from this summer vacation, outdoor trips, days at the beach etc.
Personally I'm not a big fan of summer, which is a little strange when you consider the fact I live in a country that is usually hot. I don't like the heat and the humidity BUT I do love our summer family time and vacations! I'm so lucky that my kids (now 20 and 17 years old) have always enjoyed going on summer activities together and still do! I know it's not a given so even if I don't do any other pages through out the year I always do those special pages with our summer memories.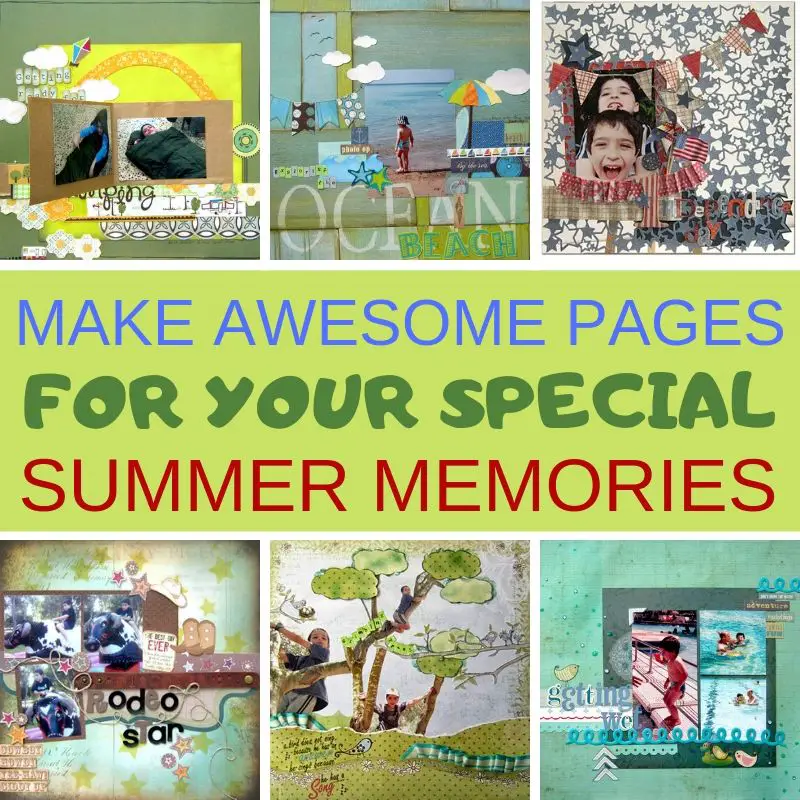 WET SUMMER PAGES
Who doesn't love going to the beach or the swimming pool to cool off in the inviting blue water?  The water is always a great background for taking beautiful photos with a calm atmosphere or a splatter! There are so many activities to capture: swimming, diving, splattering, collecting sea shells, walking on the beach, learning to swim and so many more.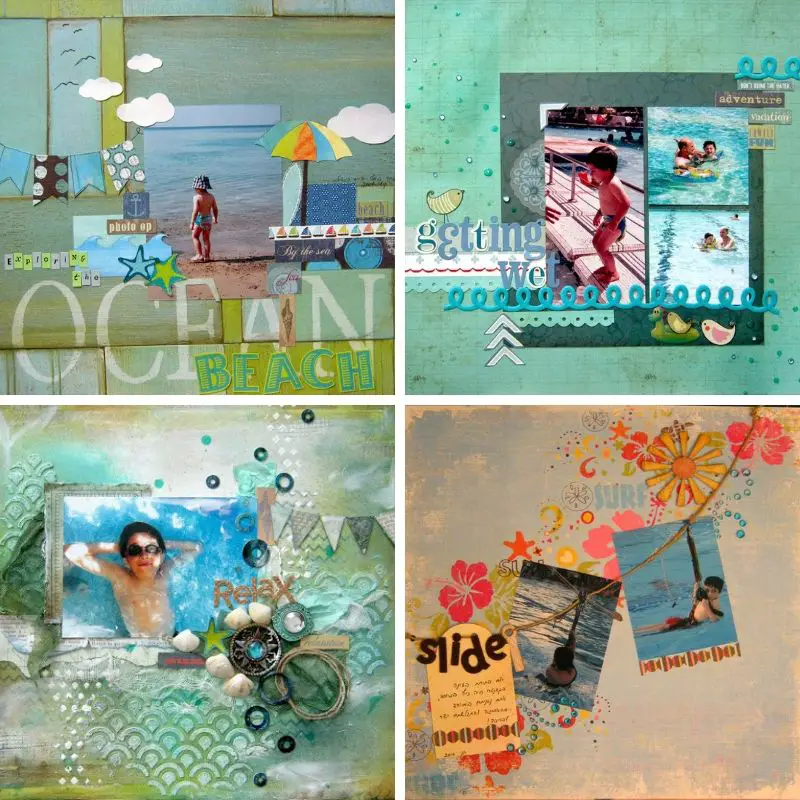 To make wet summer pages do this:
Use papers with water colors like blues, greens and turquoise.
Create movement to mimic the water in lines, curves or waves.
Keep the atmosphere bright and happy with vibrant colors and fun text.
Add water theme embellishments from sea shells or fish from the beach to pool toys or accessories.
Complete your page with summer elements like circles (resemble bubbles), sun, birds, fruit etc.
GOING CAMPING SUMMER PAGES
Not only for boys...camping is a family adventure full of photo opportunities. Building a tent in the woods, cooking dinner on a fire or sleeping under the stars, are all part of the camping fun. I even like to take a picture of the preparations, they are not less fun!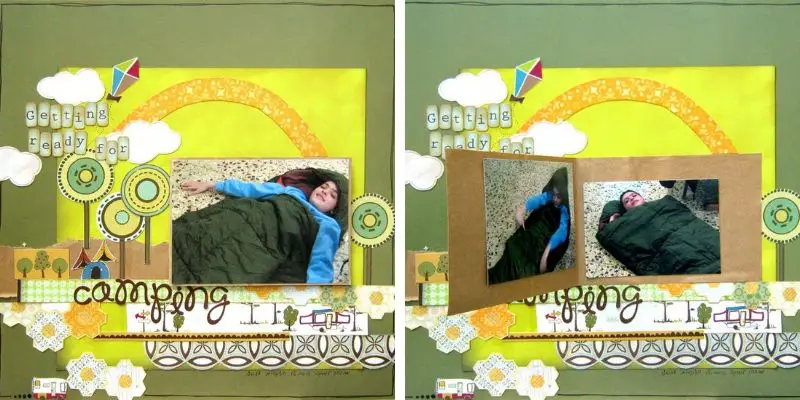 Make an interactive camping summer page:
Make a background with a camping theme using green colors,trees and outdoor embellishments
Fold a 12" x 4 double sided cardstock in half to create a flap. If your photos are smaller measure your paper to fit the height of the photos and two lengths of photos. If the photos are in different sizes measure according to the largest photo.
Attach three camping photos on the outside and inside of the flap. Don't put a photo on the bottom of flap.
Attach flap to page.
SUMMER HOLIDAYS
4th of July is a great photo opp. All the decorations and the fireworks are the perfect backdrop for festive photos and coordinating layouts! I don't live in America so I don't celebrate it but I did make a layout once requested by a magazine.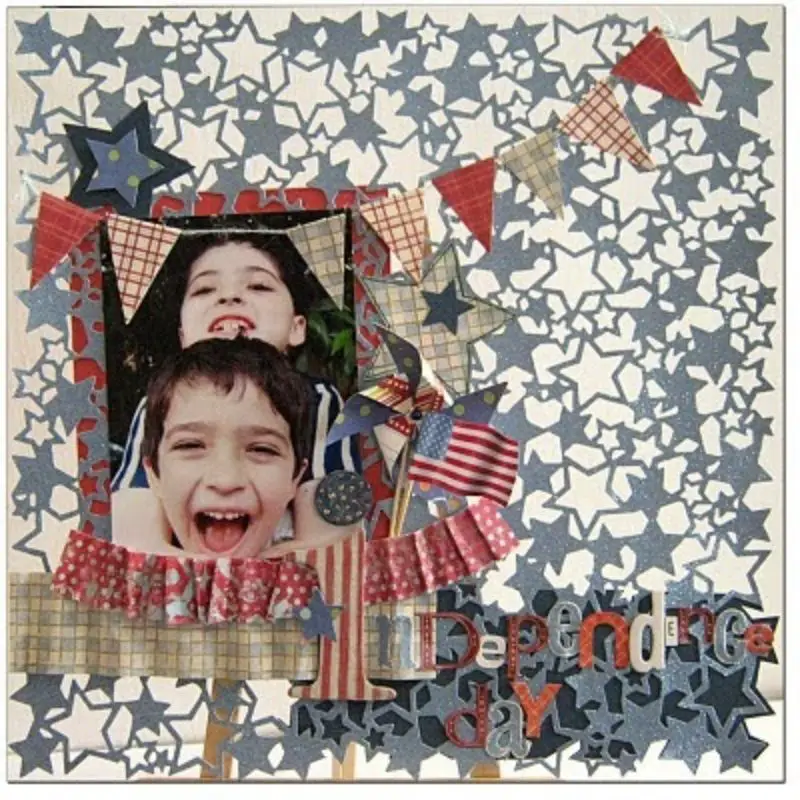 EXPLORING THE OUTDOORS SUMMER PAGES
Hiking, walking, driving are all wonderful ways to spend the day exploring the wonders of nature and being outdoors. Having a picnic or swinging on a hammock are so relaxing and inspiring and can bee a source for funny and goofy photos, especially if the hammock doesn't want to play along...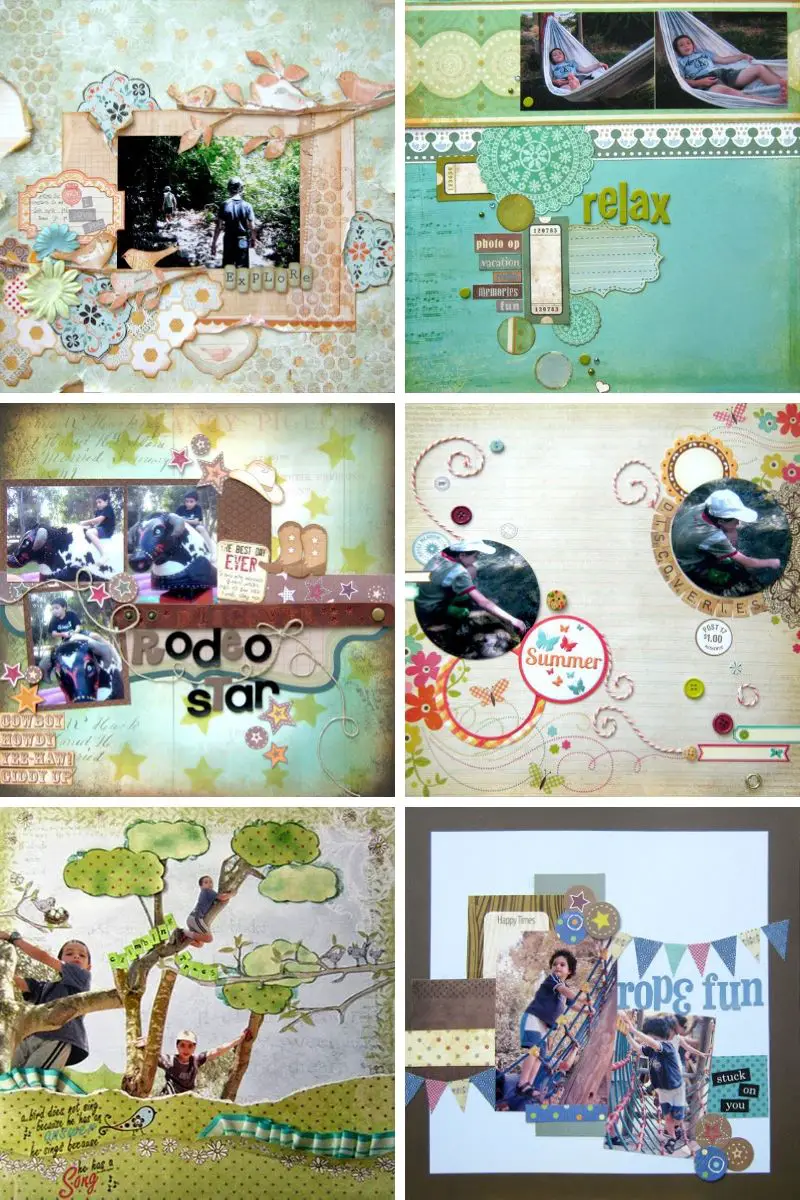 Outdoor summer pages are so versatile it's hard to give one recipe for all. But here are a few points you want to include when making a layout of an outdoor activity:
Take photos of the activity and its progression so you can tell that story on the page.
Cut the photos in different shapes to make the pages interesting.
Use bright colors to create colorful and happy summer pages.
If possible cut the images out of the photo to make a unique layout.
SUMMER PHOTO IDEAS
If you want to make great summer pages you first need to take some awesome photos! Here are a few tips:
Take photos of the journey and how you get there and not just the destination. Photos on the plain, car, stops along the way etc.
Try to be different in your angles. For example if you're on a boat instead of taking a picture of everyone sitting inside the boat, go out to the deck and take the photo from the outside looking in or of someone popping out their head.
Let them be. Take natural photos of people and don't direct them to stand in a certain place. Take the picture while their doing something, walking and not looking at the camera.
Don't forget the day to day. Don't forget to photograph your meals, sleeping arrangements, and just hanging out and not just the amazing vies or activities.

OTHER SUMMER PAGES PROJECTS
Your summer pages don't have to be 12" x 12" layouts in a scrapbook. You can make mini albums for your vacation, special activity or any other summer memory you want to capture. It's usually better to make a mini album if you have a lot of photos that are hard to fit on a layout.
Here are a few video tutorials of mini albums to make:
Document your journey mini album
Save it for later - PIN IT!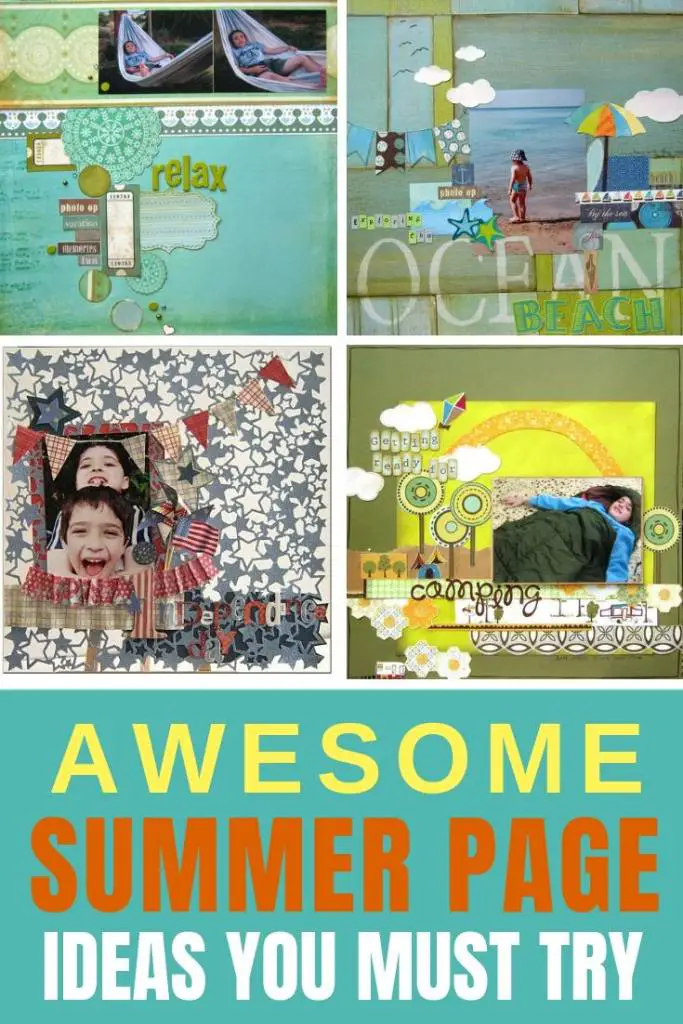 Have fun creating!