Inside: everything you need to know about making a junk journal and what to do with them
Everyday when I walk into my craft room I see my paper scraps drawer and I look away. I hate that drawer... it really bothers me that there is a pile of unused papers in it and I do nothing with them. So one day I decided to challenge myself to come up with a way to use at least some of them. What I came up with was a junk journal... actually a few of them!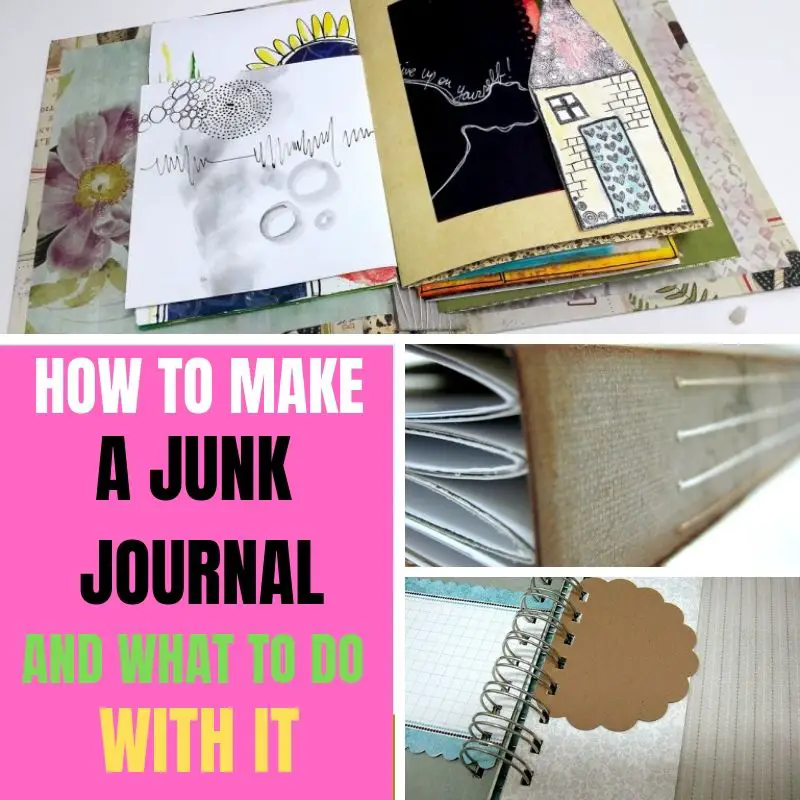 WHAT IS A JUNK JOURNAL
There is no one definition of a junk journal and they can vary from person to person however there is one main thing that is common to all junk journals: they are all made from a mix of found and recycled materials. They are called junk journals because they are usually books or journals made from the paper "junk", scraps and leftovers we don't use.
HOW TO MAKE A JUNK JOURNAL
To make an art journal of any design you need to follow a few steps:
CHOOSE A THEME
You don't have to have a theme but a general idea of what will be the purpose of the junk journal will help you narrow down the material choices for the journal. For example if you want to make a junk journal for your up coming vacation you'll probably choose different materials and papers than for an art journal.
GATHER PAPERS
Next start gathering papers that fit your theme. You can use:
Scrapbook papers
Tissue papers
Old book pages
Magazines pages
Notebook pages
Envelopes
Ephemera items
Tags
You can also use other materials like fabric, canvas, burlap, transparencies etc. Any flat and flexible material will work.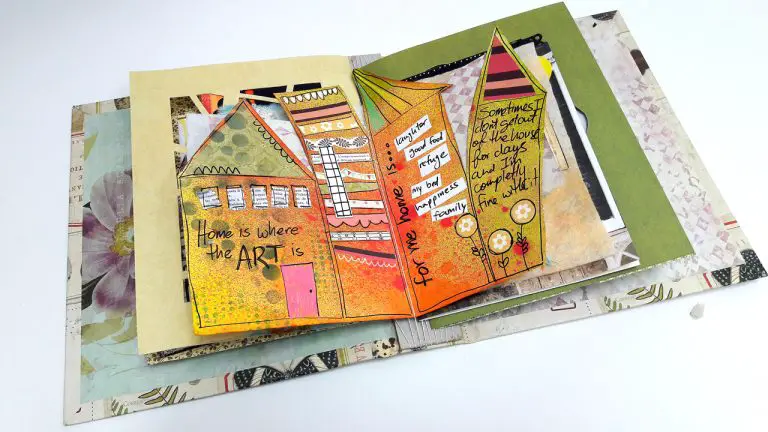 PAPER SCRAPS JOURNAL
the best way to use your paper scraps is to make a junk journal with them. Here's how:
CREATING SIGNATURES
Signatures are the sections of paper that go into a book. They are typically 4 or more pages folded in half and stitched together. Start taking the paper you've gathered, and put it together in piles of 4 pages that look good together. (What looks good is subjective so you decide how you like it to look!).
BIND THE JUNK JOURNAL
There are a lot of ways to bind these types of journals but here are the four popular ones:
STITCH BINDING
In this method you sew the signatures into the cover of the junk journal. There are many sewed binding techniques you can try but here's an easy one: How to stitch a junk journal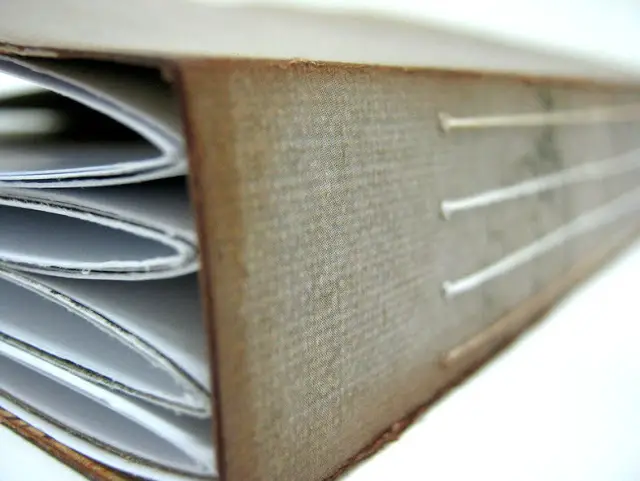 RING BINDING
A very friendly beginner way to bind journals and mini albums. All you need for this techniques is a set of rings, a hole punch and a cover.
To ring bind do this:
Cut all the signatures into separate pages
Punch holes in all the pages
Choose a material for the cover. You can use chipboard, cereal box, paper pad back or any material that is thick and sturdy enough
Punch holes in the cover as well
Bind all the pages together with the rings
You can also use a ring binding system like a Bind-it-All or Cinch. Here's a junk journal ring binding tutorial
Here's another idea for ring binding:
TWINE BINDING
This no sew method is not only easy to apply it's the only binding system that is not permanent. In this system the signatures are inserted under strings or twines attached to the cover spine. The great thing about this type of binding is that you can reposition the pages and change the signatures. Click here for a string binding tutorial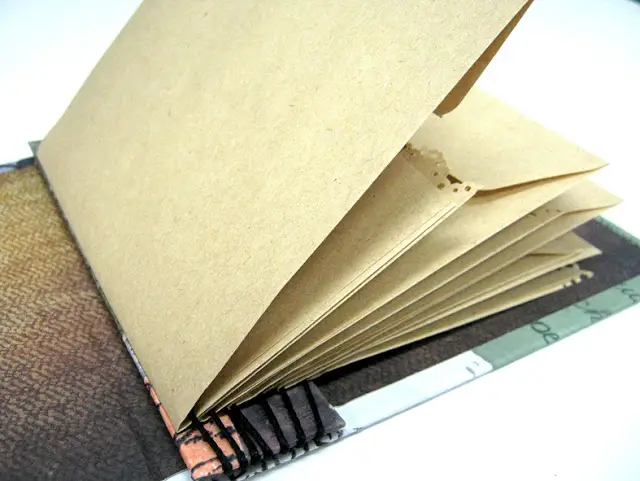 ALTERED BOOK
The last binding method is to use a notebook or book that already exist and adapt it to work as your junk journal. In this case you won't have to make signatures just add the materials onto the existing pages of the notebook or book.
MAKING THE JUNK JOURNAL PAGES
The most basic technique is to glue papers and pictures and maybe add a little writing. But if you want to explore, have fun and create a unique and personal junk journal here are some techniques to try:
Add pockets and envelope for extra space and hidden items
Use stamps and embossing to add patterns and texture
Add quotes,song lyrics, personal thoughts etc. Write them down or print them out
Print ephemera, images and pictures that fit your pages
Add staples, clips, bookmarks, tabs, washi tape etc.
Create see through windows pages
Make different size and shape pages
WHAT TO DO WITH JUNK JOURNAL
Weather you made a junk journal or received one you have to decide what to do with it. Here area few ideas:
Travel journal - a junk journal is a great way to keep all those little bits you've collected on your travels along side your photos
Gratitude log - write down what you're thankful for
Planner - you'll have to plan ahead when you make it and add some calendar pages
Scrapbook - document your family photos and memories
Art journal - turn your junk journal pages into art journal pages with various artistic techniques
Baby book - document the first months of a baby's life
Sketchbook - make sure you'll have blank pages for doodling and sketching
Journals - you can make any journal like: dream journal, business journal, daily journal etc.
I hope you're on your way to your paper scraps drawer/box...
Save it for later - PIN IT!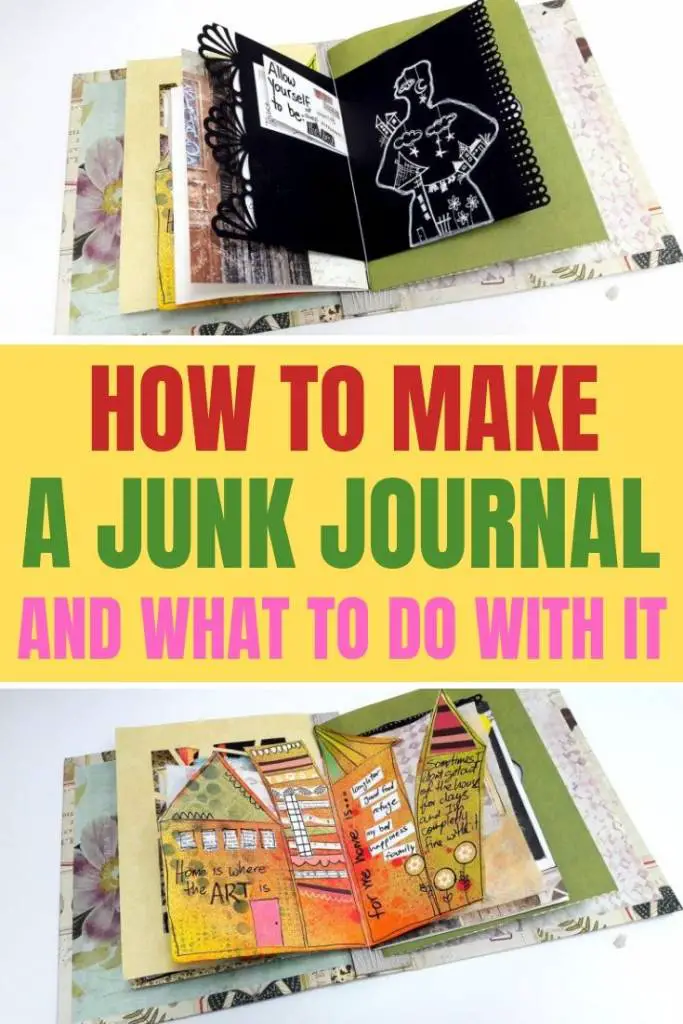 Have fun creating!