Inside: how to make a Christmas card in 5 minutes
Every year I want to start early and make Christmas cards for every one. And every year I end up waiting for the last minute. So I came up with a way to make a Christmas card in 5 minutes so I'll be able to make many cards in no time!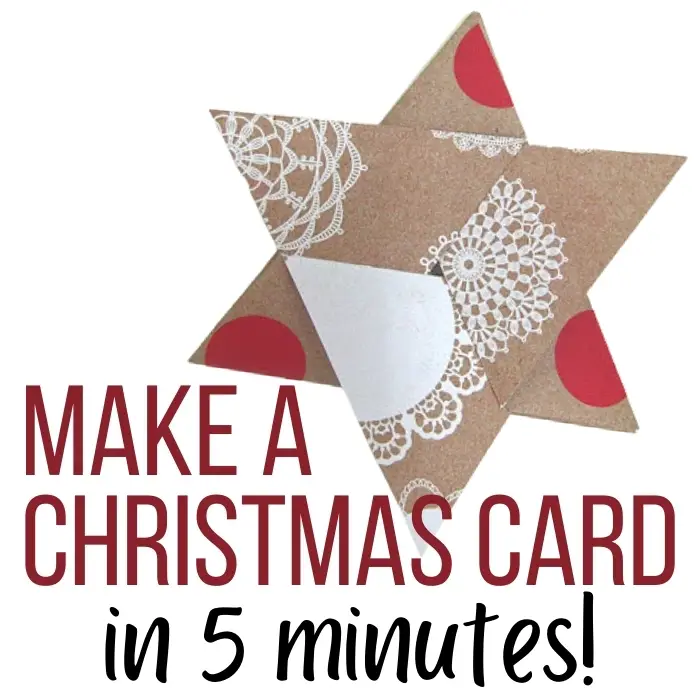 HOW TO MAKE A CHRISTMAS CARD IN 5 MINUTES
This card is so easy to make you'll not believe it! And the best thing about it is that it's great for Hanukkah and Christmas. You can change the pattern of the paper, the colors and the sentiment and you have a great card for both holidays!
Follow the steps in the video to see how to make an equal sides triangle which is the first step to make this card. The triangle sides will all measure 12". But can change the size of the card by changing the sides of the triangle as long as you make sure all sides are equal.
Measure the center of each of the triangle sides and draw a line between each two points (to make a triangle inside the triangle).
Fold the drawn lines.
Measure 2" from each of the fold lines and fold again to the other direction.
Tuck one edge of the star ander the other to secure it and keep it closed.
STAR FOLD CARD IDEAS
This veratile card can fit any occasion like Christmas, Hanukkah, birthdays, anniverssaries and more.
It can also be a gift card holder because when the card is folded it has an inside space for a gift card and money.
Make a custom made envelope to send it in the mail or even to personaly give it to someone special or insert it into a large square envelope.
Use a double sided cardstock and change the pattern or colors according to the event or occasion.
So check out the step by step video to make this card:
If you need more Christmas card ideas and inspiration check out the 48 Christmas Card Ideas EBook!
In this book you'll learn how to make 48 different Christmas cards with easy to follow video tutorials, colored photos and a complete supplies list.
Looking for more 5 minute craft projects? Here are some easy and quick ideas:
Sharing is caring - PIN IT!