Inside: how to make a faux tree trunk fairy house with supplies you have in your stash!
Have you ever put two socks in your washing machine and when it was finished only found one? It happens to me all the time! The explanation for this phenomenon is that the socks get sucked into the washing machine's pipes or get pulled under the drum. However there's another more controversial explanation which I like much better... the fairies stole one of the socks! You don't have to believe in fairies to make this faux tree trunk fairy house but... it won't hurt 🙂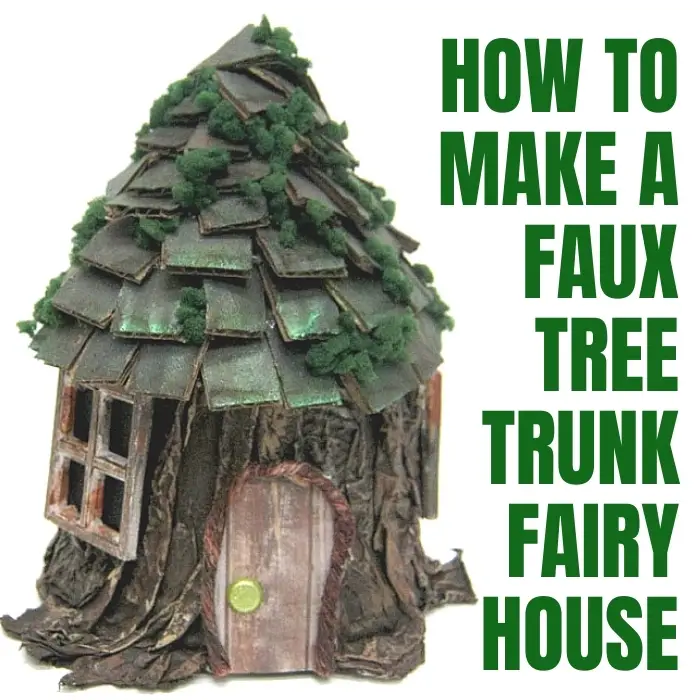 FAUX TREE TRUNK LOOK
Making a faux tree trunk look is a process of making one material look like another material. Tree bark has two distinct characteristics you need to consider:
Texture: the bark is not smooth but very coarse and has a lot of texture. So you'll need to add texture to the surface to make it look like tree bark.
Color: trees trunk don't have just one color. Like everything in nature plants have many colors and shades. You'll need to apply a few layers of different colors in order to avhieve a realistic look to your faux tree trunk.
HOW TO MAKE A FAIRY HOUSE WITH A TREE BARK TEXTURE
Before you start making your altered plastic pot fairy house you should get the free list of 10 extra tips and tricks. The tips on this list are exclusive and NOT on the video so you definitely want to grab them. These tips will make your work easier and open extra options to make your faux wood fairy house look even better!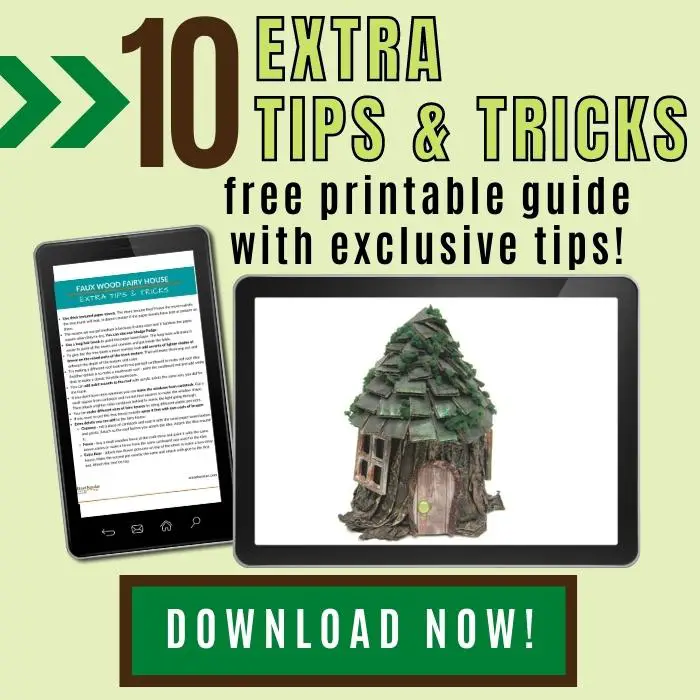 STEP 1
Start with an empty plastic flowerpot. To give it a faux bark effect you need to create the texture of the tree trunk. The way to do that is with a wet paper towel. Glue the paper towel on the flowerpot while sculpting it a little.
STEP 2
After the paper towel is dry paint it with a few layers of brown colors. I had only one brown paint so I added black and white to create more shades.
STEP 3
Create the roof from pieces of corrugated cardboard that I painted first with black acrylic paint. After the paint wa dry I sprayed the cardboard with green shimmer spray.
STEP 4
Cut the cardboard into small rectangles and squares and make them uneven. Then make a cone (like a witch's hat on Halloween) and cover it with the cardboard pieces. Add a little moss in between the gaps.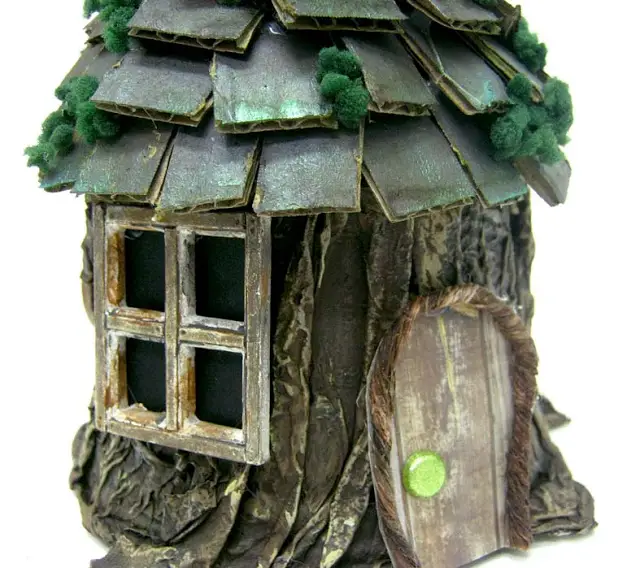 STEP 5
add windows and a door to the faux tree trunk house.
Check out the full step by step tutorial
Do you want to find out...
How to make your tree trunk look more realistic
How to easily make the windows
What materials you can use if you don't have the supplies on the video
What extra details you can add to this fairy house to make it even more amazing
And much more!
Grab the FREE Extra tips and tricks list!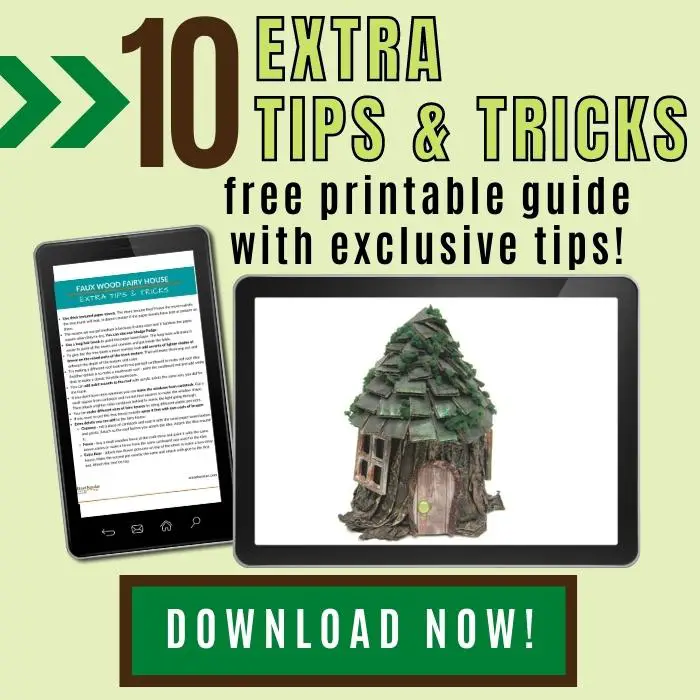 Sharing is caring - PIN IT!