Inside: how to make a festive steampunk Christmas tree canvas to decorate your home
If you're a steampunk fan then you would love this steampunk project. How to make a steampunk Christmas tree canvas to decorate your walls or as a special gift. All you need to "steampunk" your tree is to make it out of metal and industrial looking embellishments.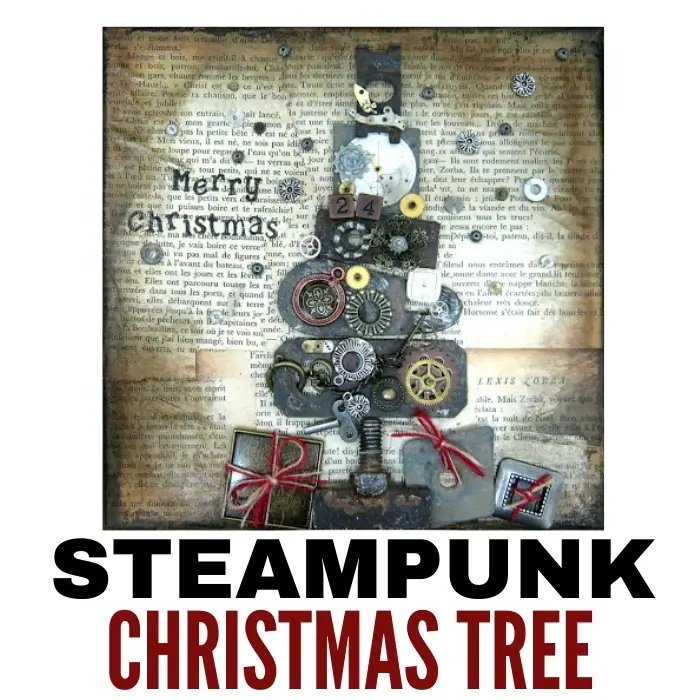 THE BASICS OF A STEAMPUNK CANVAS
Making a steampunk project requires a few basics:
Making the right background for the canvas: the background needs to complement the steampunk look so it can be with industrial colors, pattern or image. If you use a pattern paper with pink flowers for such a canvas it will not complement your canvas.
Paint or add the right colors: the best colors for a steampunk project are the colors of metals, rust and oxidation or corrosion.
Using the right elements: you can make a steampunk canvas with any subject as long as you use the right embellishments like: cogwheels, metal parts, clock parts, hinges etc.
HOW TO MAKE A STEAMPUNK CHRISTMAS TREE
The process of making a DIY steampunk Christmas tree is simple:
Use any size of canvas you want. I used a 8x8 canvas and didn't even prime it with gesso.
Create the background from old book pages. Ink all the edges with brown and black distress inks.
Add large metal pieces to create the base of the tree. Use gradually smaller pieces to create the triangle shape of a Christmas tree.
Add smaller pieces as ornaments on the tree.
For a final touch add metal squares with twine as gifts.
Add a title.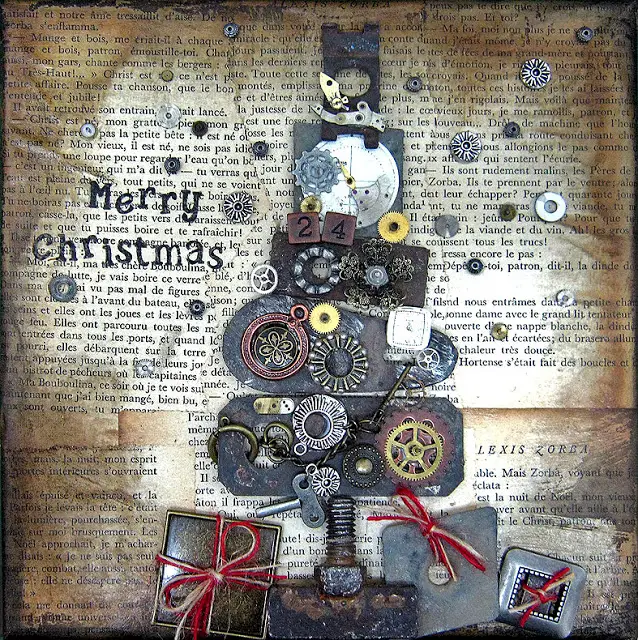 Making this steampunk Christmas tree idea is not only original, it is unique as a gift or a holiday decoration for your home.
Here is the full step by step video tutorial to make this canvas:
WHERE TO GET MATERIALS FOR A STEAMPUNK CHRISTMAS TREE CANVAS
My favorite ways of getting materials for my steampunk projects are:
Going to my local watchmaker. They always have parts they don't need.
Shopping at Home depot and DIY stores.
Gathering scraps from my mechanic.
Visiting the craft store.
Here are a few of my favorite items:
Check out the complete guide to make a steampunk project with tips, tricks and a detailed guide.
If you are looking for more steampunk project ideas here are a few tutorials:
Sharing is caring - PIN IT!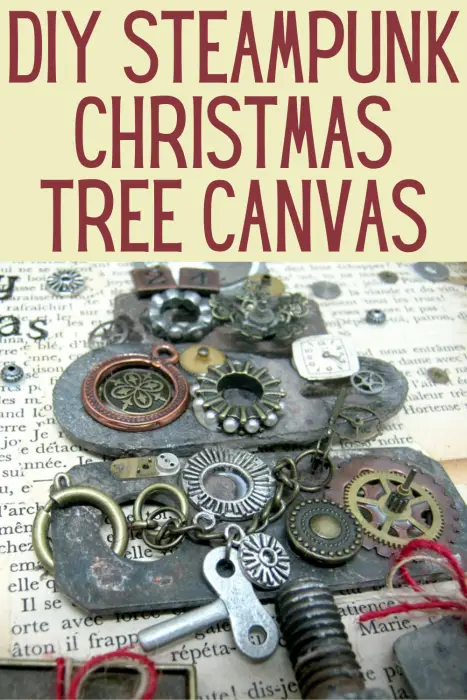 Have fun creating!