Inside: how to make a simple tree paper piecing card
I'm terrible at math but even I know that according to Aristotle, a philosopher in Ancient Greece, "the whole is greater than the sum of its parts". Apparently it doesn't only works in math or life it also works in crafts. In the crafts case a few simple paper pieces can create something truly pretty.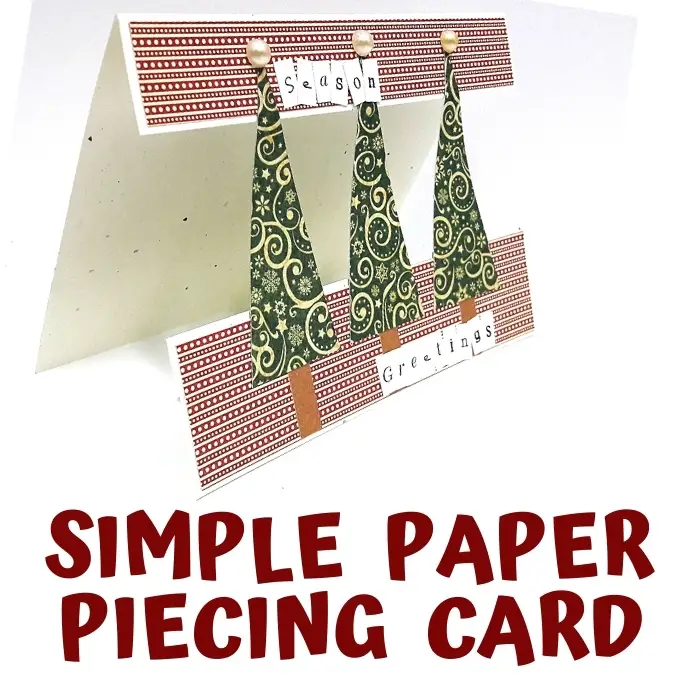 WHAT IS PAPER PIECING
Paper-piecing is a fun way to add texture, interest and patterns to your design. It's a great alternative to coloring stamped images and a fabulous way to use any scraps of paper that are just too good to throw away!
THE BASICS OF PAPER PIECING
Paper is usually a technique made with stamps and cut out paper pieces. However it can also be created just from pieces of paper to assemble a pattern or an image without the base of a stamped image.
Consider the scale of the pattern on the paper – dots, stripes, gingham, small flowers etc. all look particularly effective. It's good to use a variety of patterns on one image. However too many strong patterns may look too busy and distract from the overall design.
Be accurate when cutting the shapes. You can cut images from a pattern paper or just cut geometric shapes to build your picture.
HOW TO MAKE A SIMPLE TREE CARD
The effect of this card is achieved by cutting a part of the front of the card and reattaching it back together with triangles. The triangles are in fact Christmas trees in a row. Then just add a festive greeting and the card is finished.
VARIATIONS OF THE CARD
You can create this card in a vertical direction and re-attach the two parts with one large tree.
Change the colors of the paper and make this card for summer, camping, a Gardner etc.
Use a different paper piecing shapes to attach the two parts of the card. Instead of trees use hearts for Valentine's, cake pieces for a birthday or tools for a Father's day card.
Create the large paper piecing image from smaller parts like in this card.
If you are looking for more fun, unique and pretty Christmas card designs check out the 48 Christmas Card Ideas eBook.
In this book you'll find 48 different card designs complete with step by step video tutorials, colored photos and a supply list.
Sharing is caring - PIN IT!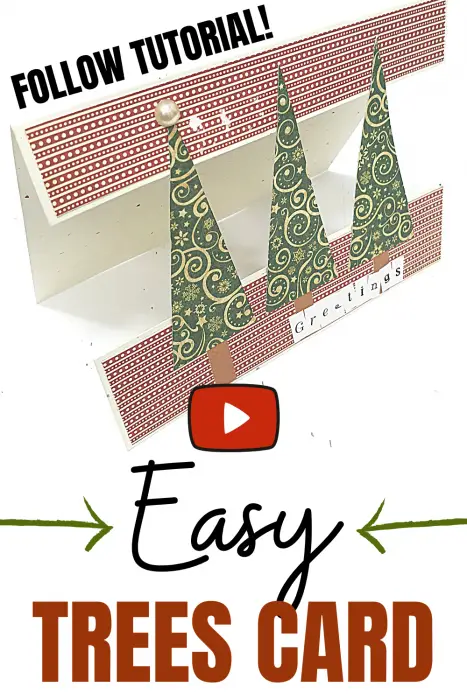 Have fun creating!