Inside: how to make altered matchboxes and easily recycle them into a drawer vanity.
I don't like to throw things away. I'm not a hoarder but when I throw some things away, especially boxes of all types it always seems like a waste. I always think to myself there must be something to do with them instead of throwing them away.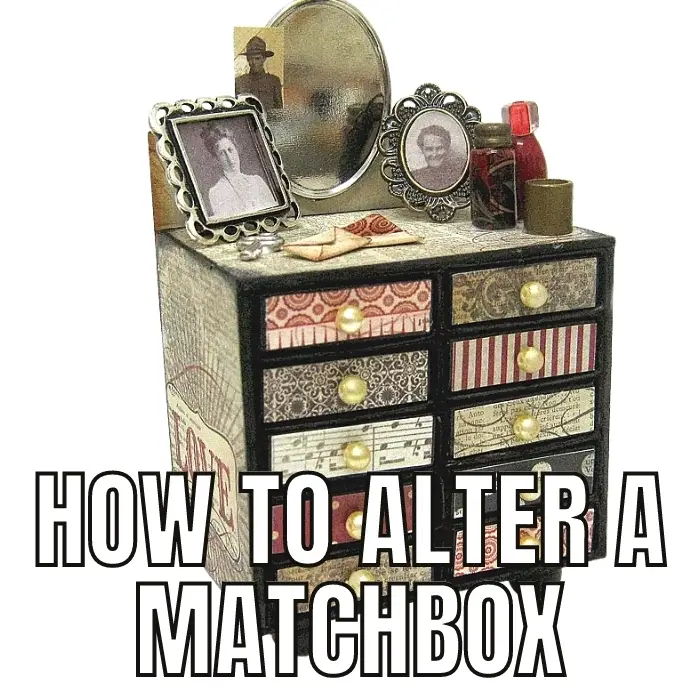 Usually I end up throwing them into the recycling bin, but every now and then I get a really creative idea - altered matchboxes! This time I took all my empty matchboxes and made them into a miniature drawer vanity.
WHAT IS ALTERED ART
Altered art is the transformation or alteration of ordinary, everyday objects into decorative pieces using a wide variety of different techniques and materials, for example, rubber stamps, fabric, paper, paint and fibres. It's a broad term that includes many artistic styles or genres, but at its most basic describes a way of recycling, and giving new life to, all sorts of commonplace and functional or perhaps even useless items for ornamental purposes.
WHAT IS THE DIFFERENCE BETWEEN ALTERED ART AND MIXED MEDIA
These two types of art are very similar and actually altered art is one form of mixed media. Mixed media art is a creation that is made from different materials and techniques, unlike a watercolor drawing that is only made with watercolors. However it doesn't nesseceraly means that this mixed media art was made from an existing object that was altered.
Altered art is one type of mixed media because usualy different materials and techniques are involved in altering an existing object.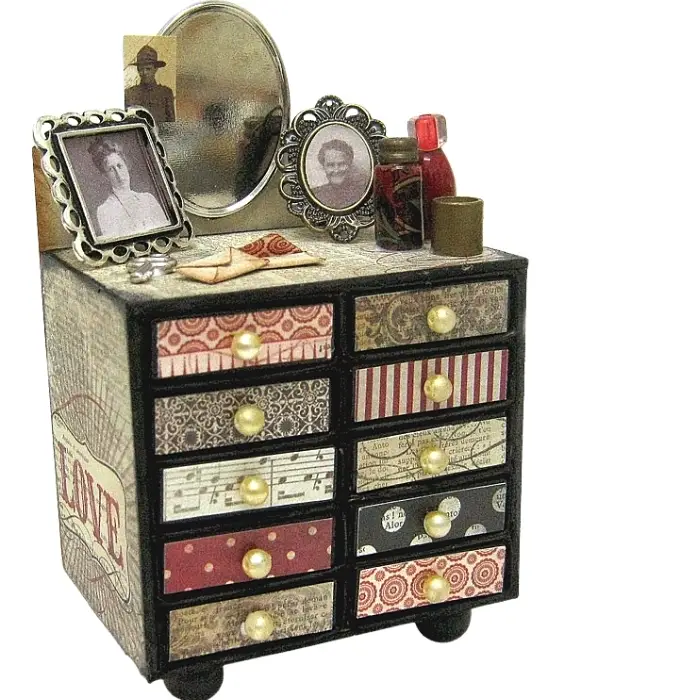 WHAT TO ALTER
The short answer is everything you can think of. You can basically alter or recycle anything you don't need or use. However when you want to do an altered art project usually there are items that are popular than others:
Books
Boxes
CDs and CDs boxes
Bottles
Dominos
Jigsaw pieces
Matchboxes
Photo frames
Playing cards
Tins
HOW TO MAKE ALTERED MATCHBOXES
When you alter matchboxes here are a few elements to consider:
Use the shape and benifits of the box - meaning create something for storage.
Utilize the opening effect by adding a surprise inside.
Take advantage of the identical and small size of the matchbox to stack it.
Use the drawer function by creating a small size drawer cabinet or vanity.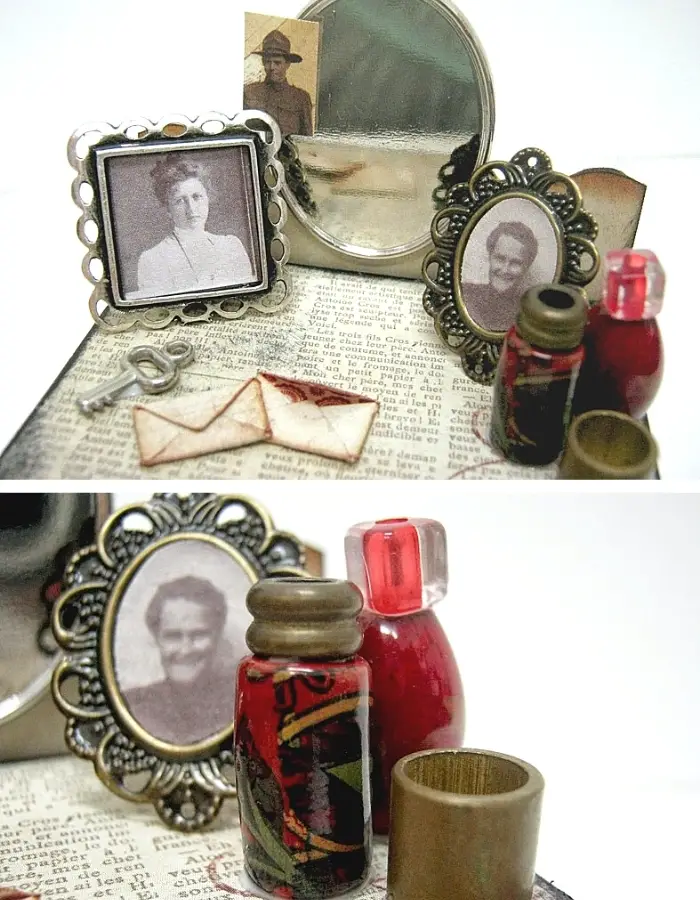 ALTERED MATCHBOX DRAWER VANITY STEPS
Prepare the matchboxes - color or ink the edges and cover the front with paper.
Stach the match boxes in two stacks of 5 and glue them together.
Cover all sides, except the front with chipboard.
Cover chipboard with papers.
Add embellishments to the top of the vanity.
Here's the full step by step video tutorial to alter matchboxes into a drawer vanity.
HOW I MADE THE EMBELLISHMENTS ON TOP OF THE ALTERED MATCHBOX
Photo frames - I attached small face images I cut from a pattern paper I had to small metal bezzels. These bezzels are usualy used for jewelry so I had to remove the little ring attached to it.
Mirror - Large oval bezzel that I attached to the vanity with a piece of chipbaord.
Letters - I made very small envelopes from paper scraps.
Bottles - I glues two sizes of wooden beads.
Here are some of the supplies I used:
Do you have more unwanted objects around the house? Here are a few more ideas for altered art projects!
Sharing is caring - PIN IT!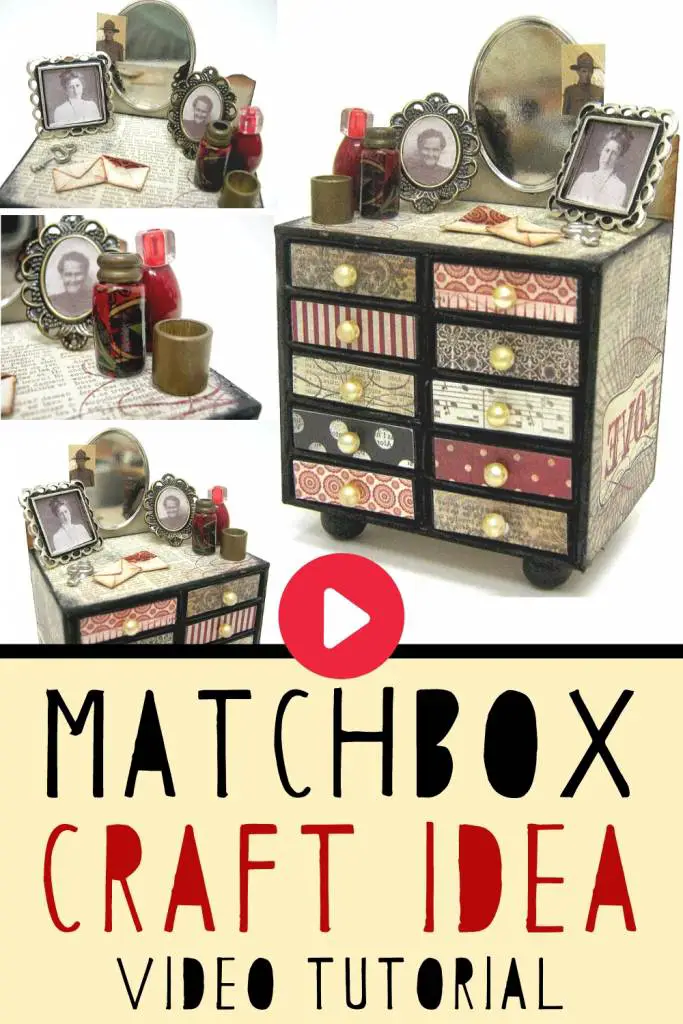 Have fun Creating!