Inside: how to make Christmas tags and gift card holders in one project from little paper bags.
You know I like to make life easy and creating something that can serve a few purposes is a great way to do that. I thought what if I can make a tag, a gift card holder and a card all in one project wouldn't that be great? This way I'll be able to choose what I want to use it for instead of making three different projects.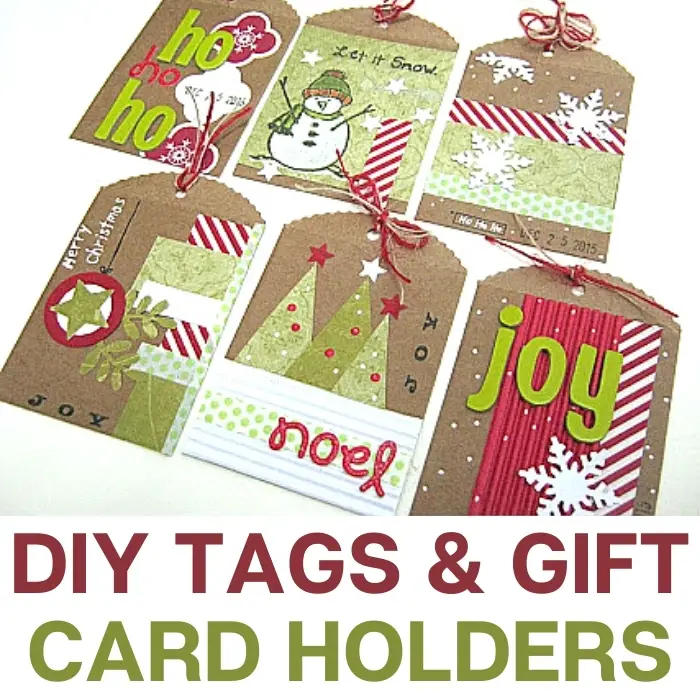 MAKING CHRISTMAS TAGS
Making Christmas tags is the second most popular paper project people make after cards. These handmade holiday cards change in shape, style, material and design so they can match any gift, decoration or table setting.
You can make Christmas tags and use them for many purposes:
Add gift tags to all your holiday presents and gifts
Put it on wine bottle as tags
Send or give it as party invitations
Using them at Christmas dinner as sitting cards
Turn them into greeting cards by writing something special on the back
Make mini album inserts from the tags
Join a few tags together to make banners and decorations
DIY CHRISTMAS TAGS
I made these tags with a dual purpose in mind because I wanted them to be a tag I can add to gifts and have the option to insert a gift card or even cash inside them. To achieve that I needed the tags to also have pockets so instead of making the pocket I used little paper bags thta have a built in pockets in them 🙂
Here's how I made them:
First I decided to leave their original color because it is a neutral color that goes well with the red, green and white colors of the embellishments.
I used paper scraps and washi tape to cover parts of the paper bag and also to punch out shapes.
The focal points on each card are all related to Christmas and winter:

Ornament - punched circles layered with a star and a drawn string.
Snowman - stamped with black ink and colored with white marker.
Snow flakes: punched flakes from white paper.
Ho, Ho, Ho: letter stickers that differ in shape, size, texture and color.
Christmas trees: cut triangles decorated with little stars.
Joy: Letter stickers on a contrasting background.

To finish each tag I added details like dots, stars, stamped words and text.
I tied strings to every tag with a different knot.
I created these tags as a series so they'll coordinate with each other so this way I can keep on adding more tags easily by simply using the same colors and papers I used to create the first six tags. The tags themselves can be a great gift, just give it around Thanksgiving so it'll be possible to use them for Christmas.
Here's the step by step video tutorial to make these Christmas tags:
I made these Christmas tags as part of the 12 cards of Christmas series of 2015 - if you want to see the other handmade cards in the series click here
This paper project is a great opportunity to use leftover supplies like paper scraps, unused stickers and small ribbon pieces or other embellishments. Because the tags are small using small pieces of paper or other supplies will be enough to decorate them so find your red and green leftover supplies and put them to good use!
MORE CHRISTMAS CARD IDEAS
If you need more Christmas card ideas check out the 48 Christmas Card Ideas eBook!
In the book you'll find:
48 video tutorials to make amazing and beautiful Christmas cards! From interactive designs, mixed media cards, pop ups, paper engineering and more.
Tips and tricks to make your cards look wonderful.
Full written instructions
Complete supply list and links where to get them
52 pdf download
GET YOUR COPY TODAY and ake amazing cards!
Sharing is caring - PIN IT!