Inside: how to recycle tp rolls and empty cardboard boxes into a desk organizer
I was recently asked by a fellow crafter to complete the sentence: "you know you are a crafter when: ___". Well the answer for me was easy... when everything I see I immediately think how I can make it into something else and what kind of craft project I can make of it.
This was true when I had to throw some tp rolls and empty cardboard boxes last week and I thought why don't I make something out of them instead of throwing them away.
So it happened I was in need of a new and improved desk organizer...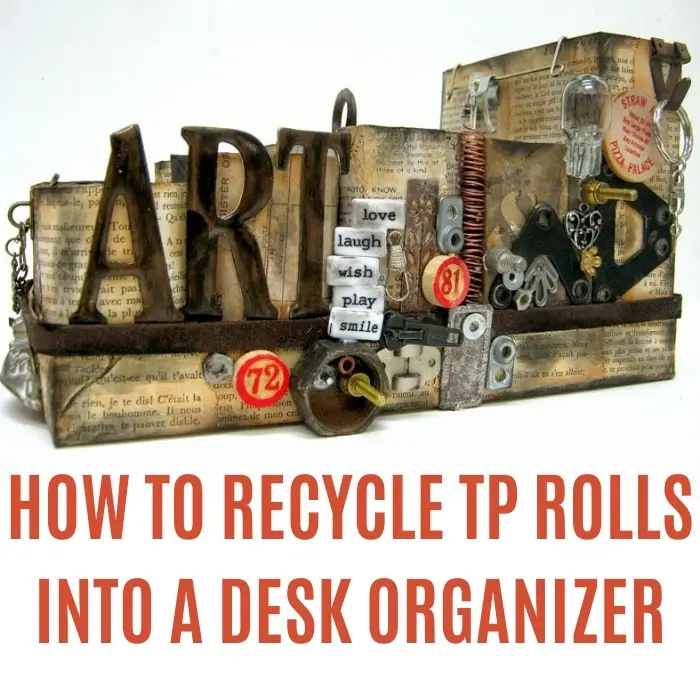 RECYCLE TP ROLLS AND CARDBOARD BOXES
When you're a crafter and you care about the environment throwing away tp rolls and food packages seem like a terrible waste. That's why recycling has become so popular and one person's trash is another person's treasure.
There are all kinds of toilet roll crafts you can try, ranging from wall art to wreaths to jewelry. Most of the projects you'll find with recycled tp rolls are kid related and my kids are all grown-up now so I wanted to make something else.
STEAMPUNK TP ROLL PROJECTS
The texture and color of the tp tubes makes me think of steampunk. They look rustic and industrial and the color fits metal and rust perfectly. So I came up with a recycled tp roll craft that is both in a steampunk style and not kids related.
If you want to learn more about steampunk and how to make steampunk projects, check out the ultimate steampunk guide!
TP ROLL AND BOXES DESK ORGANIZER
In order to make this project you'll need:
A large flat cardboard box - you can cut out a cerial box or use a chocolate box.
TP rolls.
Small cardboard boxes.
Papers o cover the boxes and tp rolls - you can use pattern paper, tissue paper or old book pages.
Embellishments - if you want to make the desk organizer in a steampunk style then scroll down to see where to get metal and steampunk embellishments. I you want another style you can use stickers, flowers and more.
HOW TO RECYCLE TP ROLLS INTO A DESK ORGANIZER
Start with covering all the boxes and tp rolls with paper. I used several patterns that have a steampunk vintage look. The best way to cover something with paper is apply Mod Podge or gel medium to the surface with a brush and attach the paper.
Next paint the inside of the tp rolls and boxes with black acrylic and add a nice washi tape border.

Assemble all the the desk organizer: Attach the pieces to the flat box and secure by also attaching the pieces to each other. 

Then it's time to embellish! Add steampunk theme metal embellishments like gears, screws, cogwheels and more.

Ink the exposed areas with brown and black Distress inks for an industrial look.
Check out the video for a step by step tutorial and tips.
WHERE TO GET STEAMPUNK EMBELLISHMENTS
Looking for more ideas to recycle tp rolls and make tp roll crafts?
Here's a two part tutorial on how to make a tp roll mini album with pocket pages
Sharing is caring - PIN IT!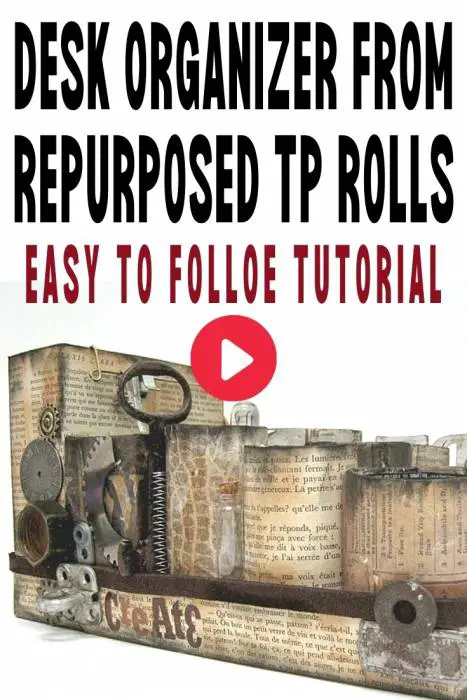 Have fun creating!