inside: how to use leftover sticker sheets in your art journaling.
One of the most annoying things in crafting is sticker sheets! I'm not against them at all, they are useful for almost any type of craft but for some reason you are always left with letters you don't need and need the letters that you already used. I don't know who plans these things but they obviously doing a terrible job!
I have a few of these half used sticker sheets and I decided to put an end to it and find a way to use them!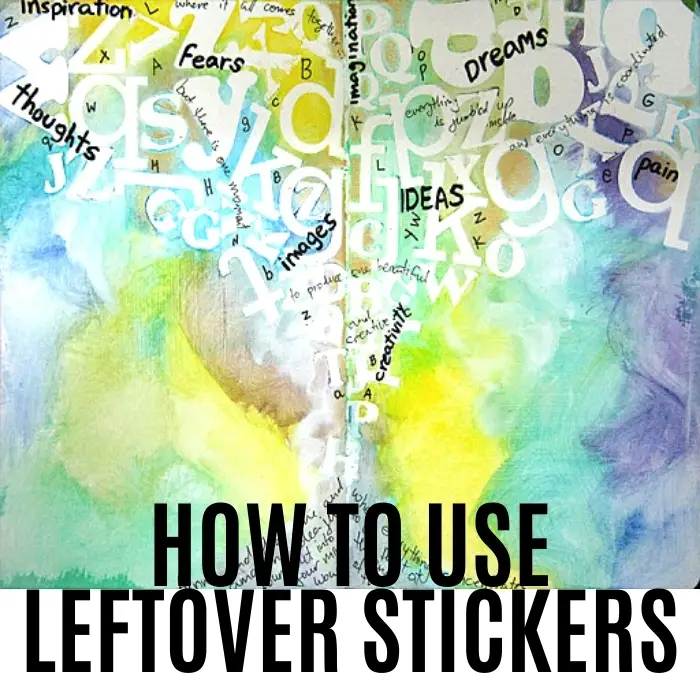 HOW TO USE EVERY LEFTOVER STICKER
The idea behind this technique is not to look at the letters as letters, but to look at them as a graphic shape. When you eliminate the meaning of the letter then it becomes a shape you can use in a different context and not in a word.
The technique I came up with to use my leftover stickers is to use them as masks!
WHAT IS A MASK
I'm not talking about Halloween masks... I'm talking about a mixed media technique. Masking technique is when you cover a part of the surface with a shape and color around it, so you are left with that shape un-colored on the surface.
WHAT IS THE DIFFERENCE BETWEEN MASKING AND STENCILING
While in stenciling you are coloring the negative part of the stencil, where there is a hole. In masking you are working with the positive part, that is basically what you removed from the stencil. Of course masks stand on their own and don't have to be a part of a stencil.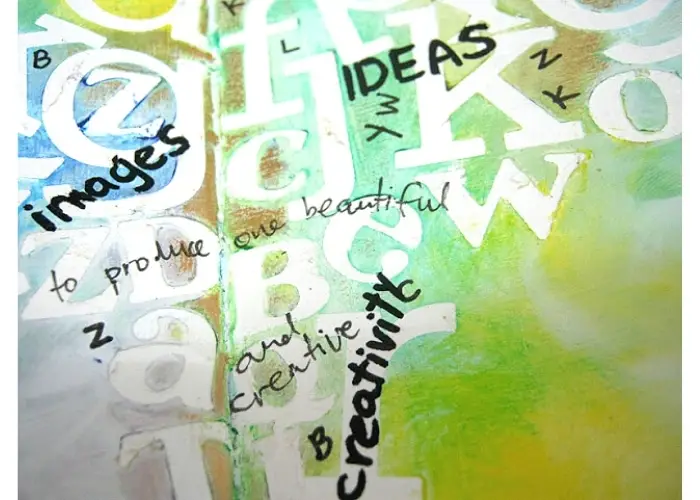 HOW TO USE A MASK
Regular masking: place the mask on the surface and color around it. You can use any type of paint, spray or crayon.
Reverse masking: rub some paint on the surface and place your mask over the paint. Then use a baby wipe to rub away any paint that's extending beyond the mask. This is reverse masking, and it'll give you an interesting positive shape from your mask.
Mask prints: cover the mask with a thin layer of paint then spray it with water. Press the mask onto the surface like a stamp to get a print of the mask.
MAKING MASKS FROM LEFTOVER STICKERS
Use any leftover sicker sheet you have. There is no importance to the color, texture or size of the letters since we're not trying to spell words with them so they can be completely mismatched.
Arrange the letter stickers on the surface in a random order. Attach some of them upside down or on their side.
Paint the surface with any type of paint you want.
Once the paint is dry carefully remove the stickers to show the un-painted surface under them.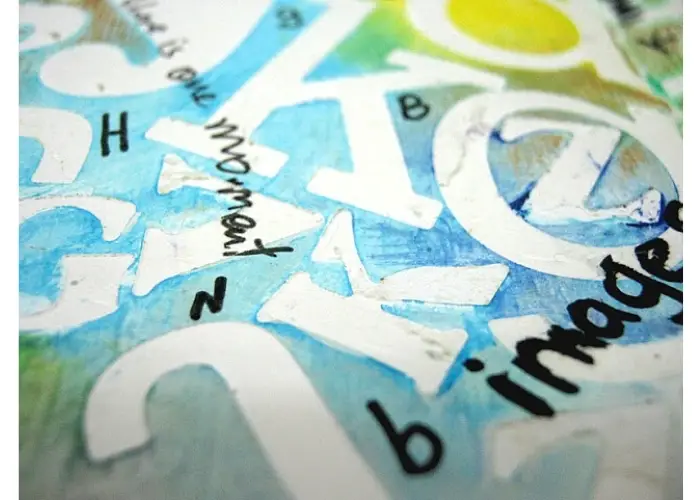 ART JOURNAL PAGE WITH LEFTOVER STICKER MASK
I used this technique to create an art journal page:
I wanted to describe the creative process as a funnel of ideas, images and words going through the artist's head and come out as an art piece on the other side. So I arranged all my leftover stickers in a funnel shape.

Then I covered them with some gesso.

I painted the page with Gelatos and created a colorful background.

After it was dry I removed the stickers from the page.

Then I added some more letters and sentences with a black pen. I wrote my journaling on the bottom of the page in an upside funnel shape.
If you're like me you probably have many more craft supplies leftovers and paper scraps that you really want to find a use for. Check out the 20+ Clever Ideas to Use Paper Scraps and Craft Supplies Leftovers eBook. In this eBook you'll find creative ways to use not only tour piles of scrap papers but also your ribbon, stickers and rub-on leftovers.
The eBook is full of step by step tutorials and tips how to maximize your supplies without being left with piles of leftovers!
So re-use your leftovers today!
Here ar some of the products I used to make the art journal page (you need to provide the leftovers...)
Sharing is caring - PIN IT!