Inside: how to use watercolors in art journaling and how to make art journal page backgrounds with watercolors.
I was always kind of scared to use watercolos because I don't know how to draw. All the amazing creations I saw online with beautiful watercolor images really discouraged me from trying because there was no way I could make these art journal pages. I was so wrong! Watercolors are so easy to use! I just couldn't believe it! 
You can do it too! Just follow the steps in this video tutorial and start making amazing art journaling pages using watercolors!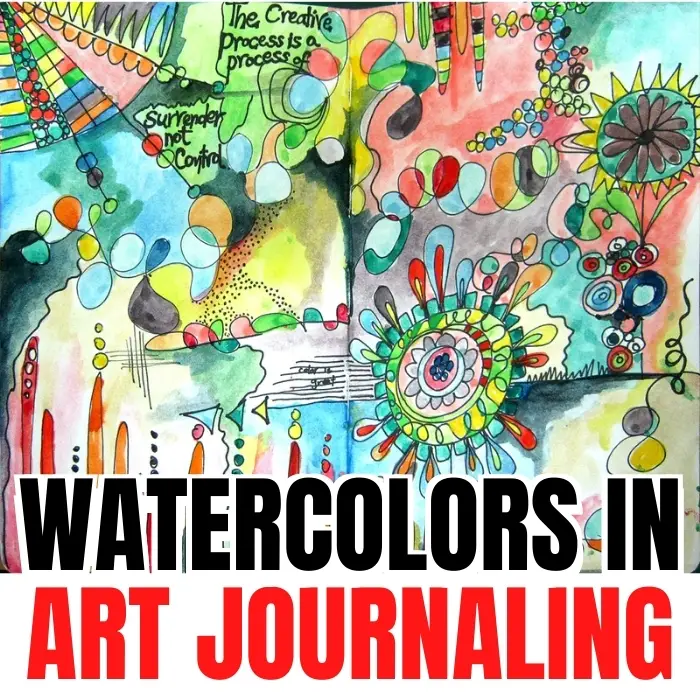 WHY USE WATERCOLORS IN ART JOURNALING
That's a good question! If watercolors are so difficult to use then why bother?
Watercolors is a very forgiving medium - when you use watercolors for backgrounds, for covering the page or for coloring abstract shapes this medium is very forgiving. You don't need to be accurate or follow a specific method - just upload a wet brush with some watercolors and spread them on the page.
No special skills required - YES...you read correctly - you don't need to have previous experience, skills or know special techniques to use watercolors in art journaling!
Different look - watercolors gives an artjournal page a unique look you can't get with other materials or paints.
Watercolors are easy to use - once you change the thinking that you need to know how to draw and embrace a different frame of mind you'll see that watercolors are in fact very easy to use! By using them for background, painting and abstract shapes you basically eliminate all the rules - and without strict drawing rules... everything becomes very easy!
Inexpensive material - before you jump and say that watercolors are expensive - you're right. The quality watercolors are expensive but the great thing is for art journaling you can use the less expensive even the student grade watercolors.
ART JOURNALING WITH WATERCOLORS IDEAS
You can use watercolors in art journaling in so many ways! Here are a few ideas:
Draw squares with different colors and then doodle or write on the squares.
Doodle abstract shapes or simple shapes like circles and paint them with watercolors.
Cover your art journaling with curved watercolor sections. Check out a background like that HERE
Draw random lines and shape and then add watercolors between them.
Use the brush to draw shapes with the watercolors like you would do with acrylic paints. Here's an example how to do it.
HOW TO USE WATERCOLORS IN ART JOURNALING
I started with doodling on the page with a black pen. It's very important that you use a permanent waterproof pen that will not smear or bleed when you use the water colors. You don't need to know how to draw. I certainly don't! I just scribbled and doodled on the page like a two year old. What you need to create are shapes and spaces to color later with the watercolors. The shapes don't have to be accurate or symmetrical, they have to be fun and creative. Draw flowers, circles, abstract shapes with no definite name to them or even straight lines if it's more in your comfort zone. Just as long as you have enough spaces on your page to color.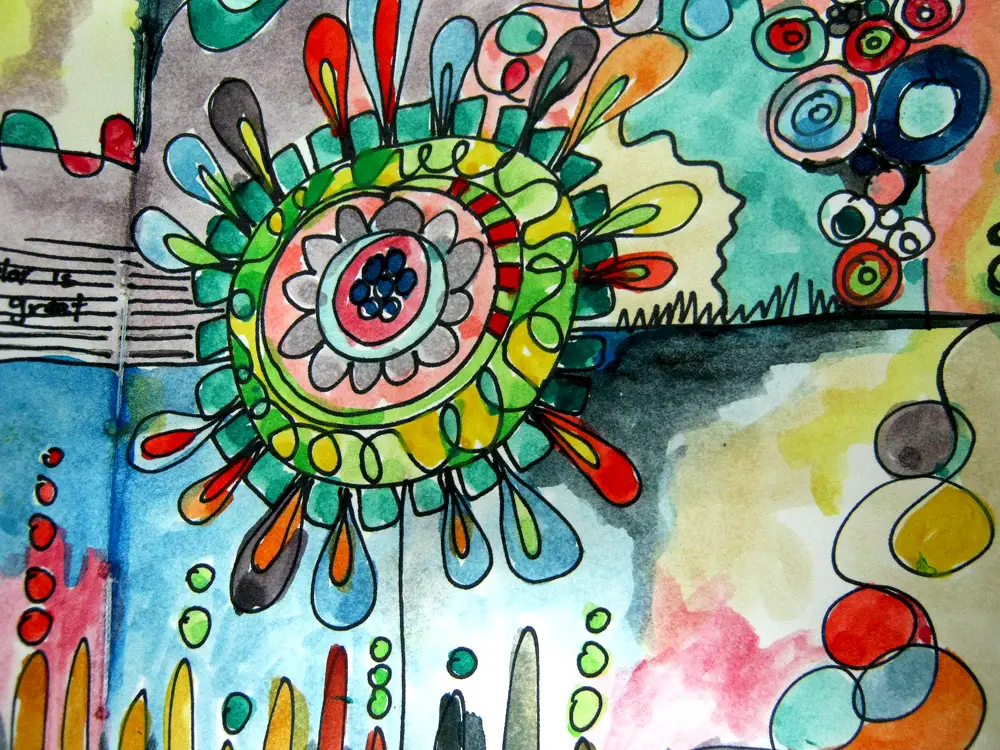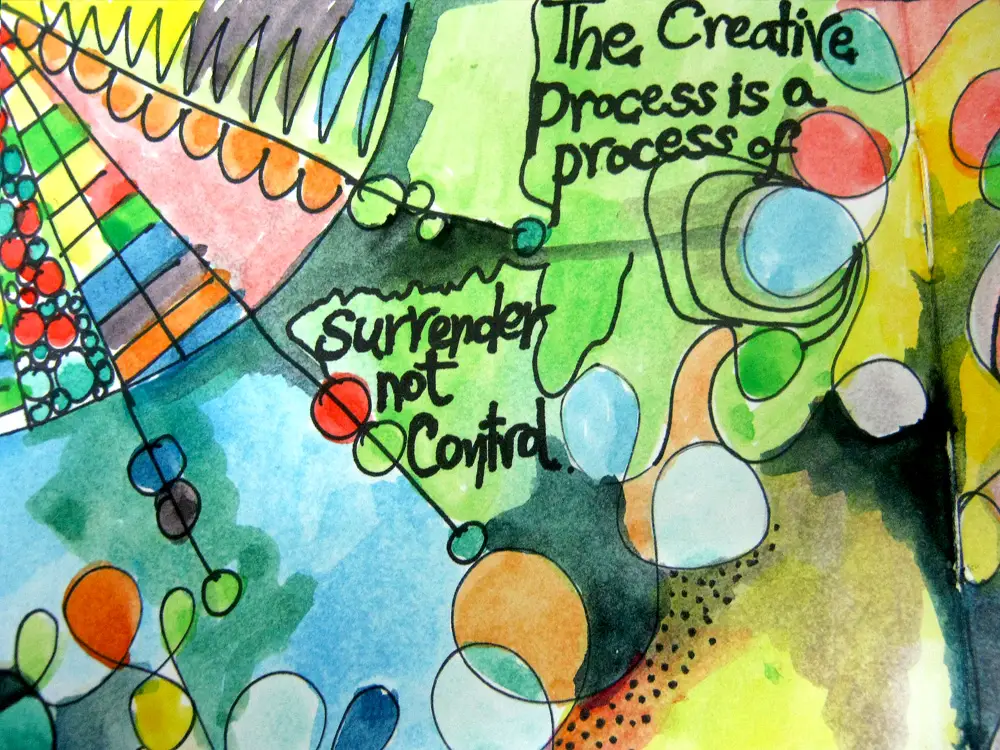 2. Then comes the fun part. The drawing doesn't look like much until you start adding color. Go in with your water brush and start coloring the shapes and spaces. Change colors and consistencies so you'll get different transparency degrees of the paint. The black pen lines will be visible through the paint so don't worry about coloring inside the lines. The point is to have a colorful creation so play and mix the colors and create spots and areas of different colors. When the color is dry you can go back with the black pen and add more details like dots, lines and words. I added a quote too, just to give the page a little more meaning.
Remember that art journaling is a personal journey so you have to create the page in a way that feels comfortable to you and gives your imagination a place to play. Don't be afraid to step out of your comfort zone and try new things, draw new shapes or use water colors for the first time. I promise it'll be lots of fun creating this watercolor art journal page!
If you want to learn more about watercolors in art journaling you can check out the Watercolor Art Journaling class. You can get it for FREE if you click on the pink button that says Start Free Trial. By clicking that button you get a free week when you can take as many classes as you want.
START YOUR WATERCOLORS IN ART JOURNALING CLASS NOW
Sharing is caring - PIN IT!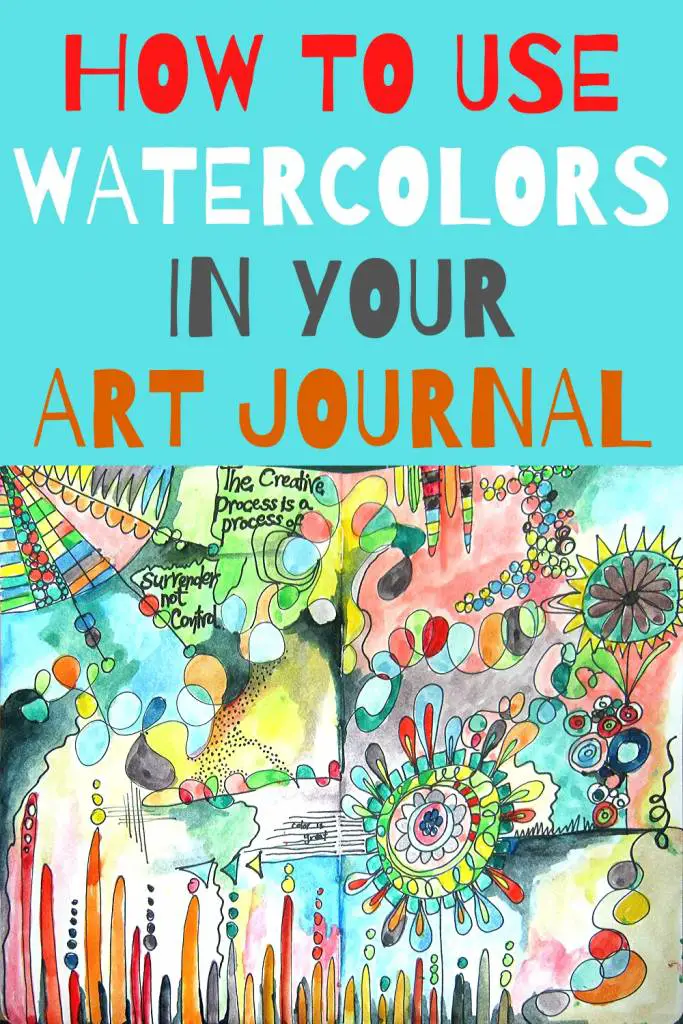 Have fun creating!