Inside: how to make a realistic mixed media canvas art
There are two main methods to make a mixed media canvas. The first is to make a mixed media art canvas with an abstract look and no actual scene or person. The second methods is to create a canvas with an actual scene, person or real image.  It might surprise you, but the second method is a little more difficult because it's not just adding layers of paint and texture you have to create something that exists in reality, with real elements.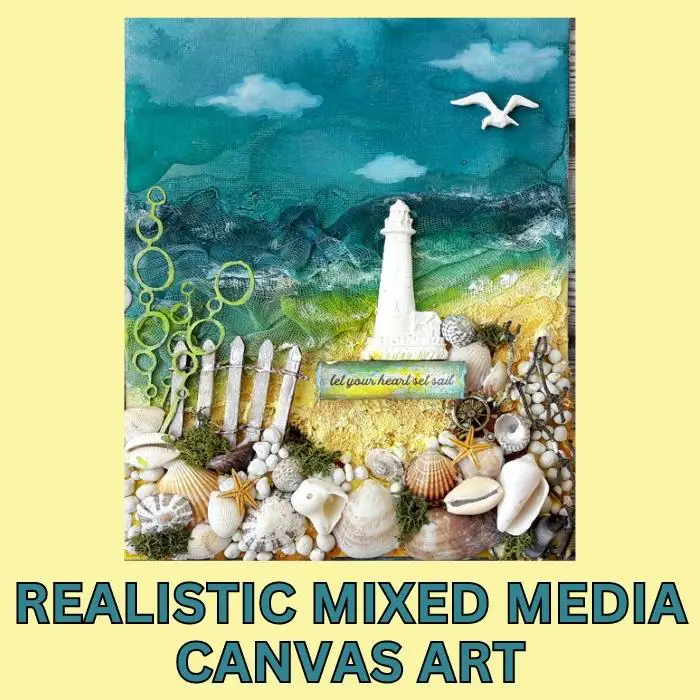 HOW TO MAKE A REALISTIC MIXED MEDIA CANVAS
PICK YOUR SCENE
First, you need to decide what scene you want to create on your canvas.
You can create:
Landscape: a scene with a view of nature or an urban setting
A scene with a person: use an image or photo with an actual person on your canvas
Real place: you don't have to actually create a real place, but a representation of a place such as a beach with a lighthouse, a street with tall buildings etc.
REALISTIC MIXED MEDIA CANVAS: LIGHTHOUSE ON THE SHORE
In this canvas I created a light house standing on the shore by the sea. The scene is a representation of such a landscape somewhere and has realistic elements like the lighthouse, sea shells, sand and more.
HOW TO MAKE IT
First I sprayed the canvas with colors of sea and sand.  The top part of the canvas is sprayed with blues and teals, the bottom with yellows and the part between them is sprayed with greens.
Then I added texture with pieces of gauze I sprayed with the same colors.
The next step was to create the realistic look of the beach, water and sky. For the beach I added sand which I sprayed to give it color, stones and seashells. I also added some tall plants, a crackled wooden fence and moss.
To make the water more realistic I added a little gesso to mimic the froth of the waves and for the sky I painted white clouds and added a seagull. To make it even more magical I added a fishing net, a metal rudder helm and a lighthouse to the beach that is standing on the title of the canvas.
TIPS FOR ADDING REALISM
Start with realistic colors. While in abstract mixed media art you can use any color you want in a realistic mixed media canvas the colors matter. If you make a sky you need to use colors of the sky and not orange or purple.
The secret to creating a realistic mixed media canvas art is to add real items that match your theme. In this case adding seashells, moss and a net made the beach look real.
Add texture. Life is not flat and adding texture livens up any scene. On this canvas I added sand and texture to the waves and sea.
The more details the better. Add as many details as possible to enhance your scene. On this canvas I added clouds and a seagull to the sky.
The best way to practice making this type of canvas is to start small with a familiar scene like a field of flowers. Adding flowers is easy, and all you need to make sure is that you make the sky and grass below. After you feel comfortable with the technique you can try creating more complex scenes.
Have fun creating!