Inside: everything you need to knaow to make this romantic mixed media canvas
I have to admit I'm not a very romantic person, so when I came up with this idea for a canvas I was a little surprised with myslf. I almost never use pink colors in my art, and in my life, but this time I was inspired to be romantic all the way. It actually makes sense because mixed media is constantly pushing the boundaries and stepping out of one's comfort zone.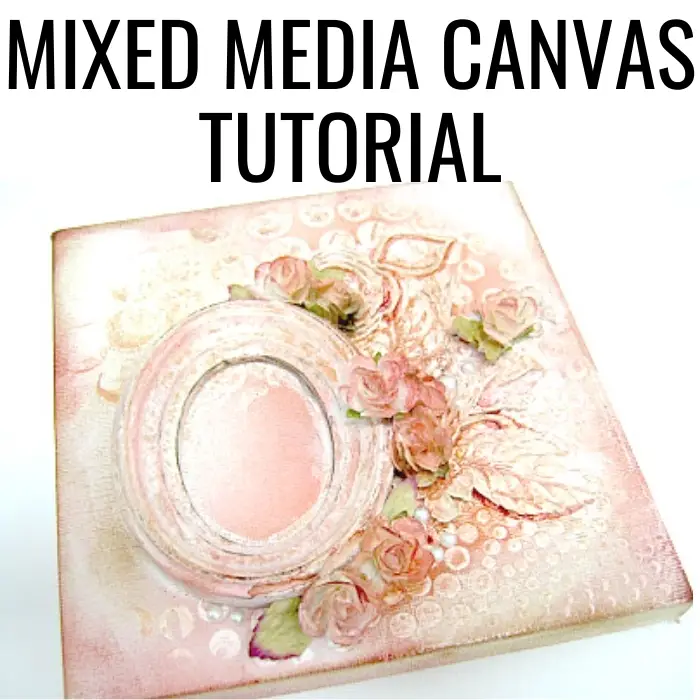 WHAT IS MIXED MEDIA
Mixed media art refers to a visual art form that combines a variety of media in a single artwork. For example, if you paint with acrylic paints, then stamp over it with ink, then add some highlights in colored pencil - that's mixed media!
There are 4 essentials things you need to know about mixed media, how to start making it and how - check out what they are in this FREE MINI CLASS!
WHAT YOU NEED TO MAKE A MIXED MEDIA CANVAS
In principle you can use any medium you want starting from paints, inks to pencils and crayons. The idea is to combine more than one medium on your canvas.
The materials you need depends on the effects you want to achieve on your canvas and the way to decide that is first starting with what you know. Imagine in advance how you want your mixed media canvas to look and then "translate" that look into materials and techniques.
In this canvas I wanted to create a romantic canvas with 3D photo frame and flowers. To achieve that I needed:
Romantic color like pink or other soft color - I used sprays but you can use acrylic paints.
3D photo frame in an oval shape which is a more romantic looking than a square frame - I got a resin photo frame at the craft store but you can make your own frame with a mold and resin or clay.
Flowers and leafs
These materials are the basic materials I need to make this canvas, but I wanted to add texture to the canvas as well so I also used a stencil with modeling paste and some pearls.
HOW TO MAKE THIS PROJECT
If your canvas isn't primed cover it with gesso to prime it.
Add texture with stencil and modeling paste.
Also glue leafs and chipboard pieces to the background for extra texture.
Add the photo frame and flowers.
Cover everything with gesso.
Start spraying the canvas.
Add pearls.
Follow the step by step video tutorial to see how to make this mixed media canvas.
You can create a bigger canvas and add more frames if you need to showcase more photos. You can also change the color scheme if pink is not exactly your cup of tea.
Sharing is caring - PIN IT!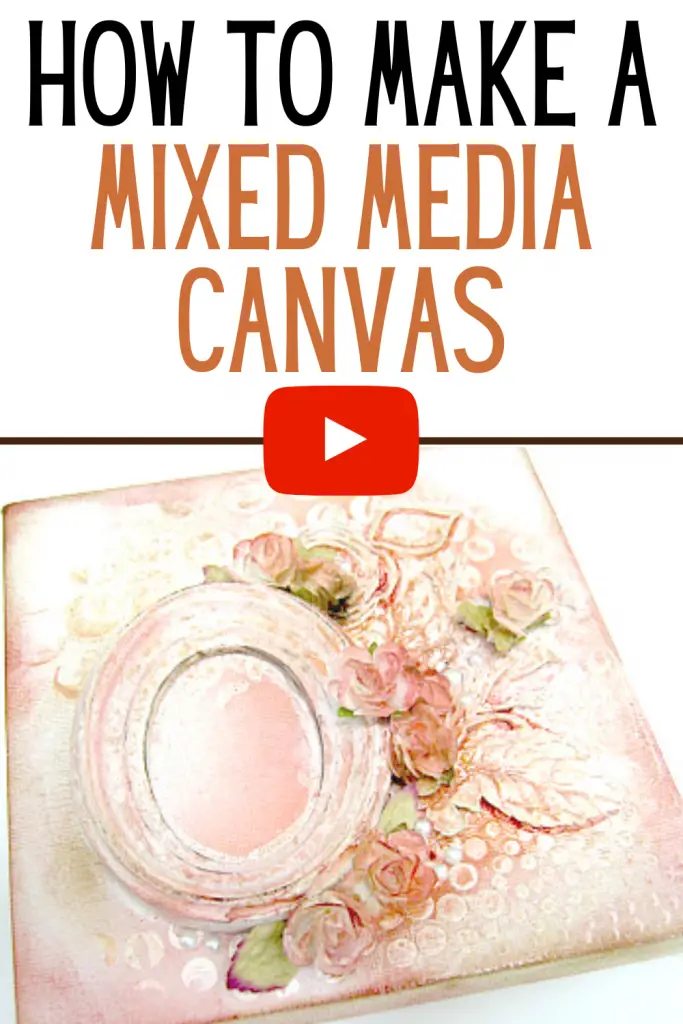 Have fun creating!