Inside: a cool way to repurpose old plastic toys and use them to make a configuration box
I'm a sentimental person and it's hard for me to let go of things, especially if they remind me of good tikes. So when I had to get rid of some old plastic toys because my boys grew out of them I wanted to find something to do with them instead of throwing them or giving them away. I couldn't keep all of the toys so I did end up giving them away, but I kept a few for a craft idea I had - use them in a configuration box.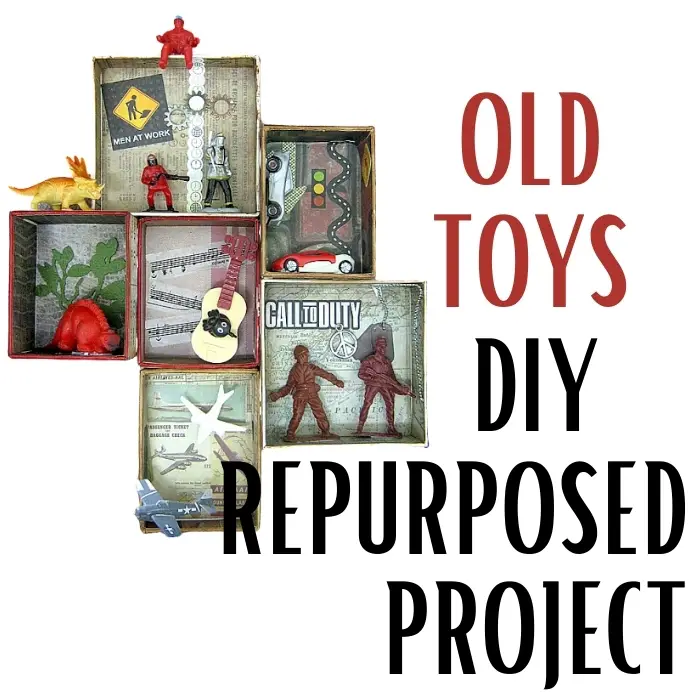 WHY REPURPOSE OLD TOYS
Plastic is not good for the environment and you what to do what you can to help.
You don't like throwing things away.
You have unused, broken toys that you can't really give away in the condition they're in.
The children are out of the house and you want to hold onto the memories of them being younger.
You want to make a memorable and special project with these toys – something to treasure from their childhood that won't actually look childish.
You're feeling nostalgic and want to find a modern way to still keep your old childhood toys nearby.
The toys are cute and you want them.
There are many ideas online on how to repurpose and upcycle old toys. Here are a few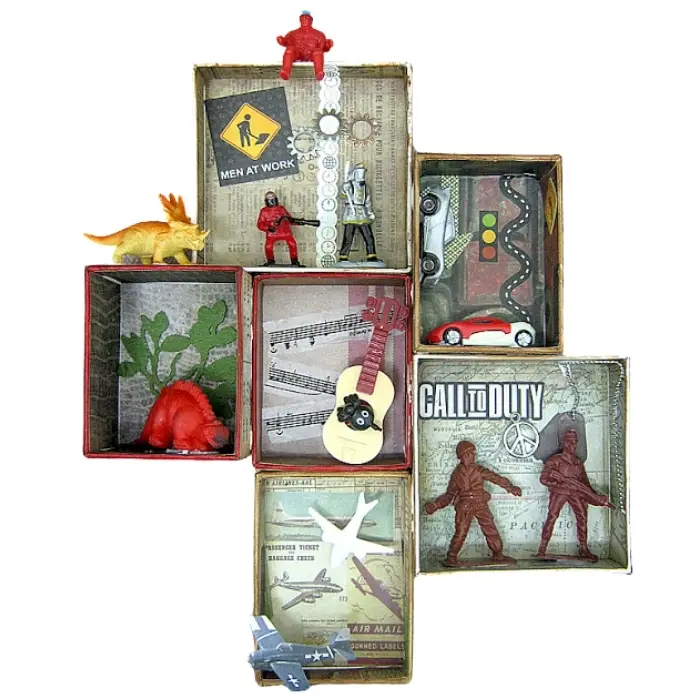 DIY REPURPOSED OLD TOY SHADOW BOX
My way to recycle old toys was to display them in a shadow box I created from connected boxes.
Here's how I did it:
I used some old jewelry boxes as the base of the shadow box. The boxes were different sizes and I used both the base and the lid when I could.

To make all the bxes match each other I covered them with paper on the outside and inside. On the inside I tried to match the paper to the toys so I'll get a complete look.

I attached the boxes together to make a configuration box. I attached the boxes unevely on purpose because that's how I like it. If you're a more symmetrical person you can attach the box into a square or a rectangle shape.
Then I added embellishments to each of the boxes. I matched the embellishments to the toy for example: a plant sticker for the dinosaur, traffic light sticker for the cars and a peace symbol for the toy soldiers.
Follow the step by step video tutorial to make your own old toy configuration box.
My old toys box is with boys' toys but you can make the same box for girls. Instead of soldiers and cars you can use small dolls, butterflies, ballerinas or princesses. In fact you can make such a configuration box for every type of old toy that you have and want to keep.
Do you have more household items you want to repurpose or upcycle? Check out:
How to make altered art from everyday items
How to make a masterpiece from a milk carton
Sharing is caring - PIN IT!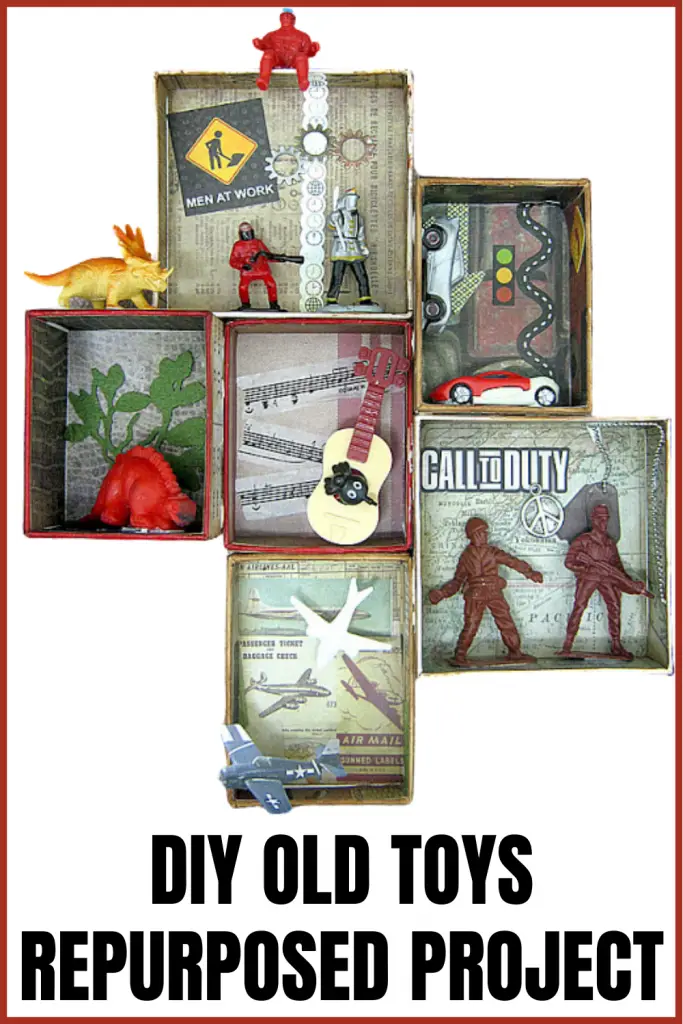 Have fun creating!