Inside: the best ways to overcome a blank page in your art journal
I'm a creative person but even I have days when my mind is blank. One day I wanted to work in my art journal and create something but I had no ideas! I sat in front of my art journal and nothing... To tell you the truth, it was scary - how is it that someone as creative as me has no inspiration and can't make one page in an art journal?
I decided to create a "bank" of ideas that I can always go to when I'm faced with this situation again!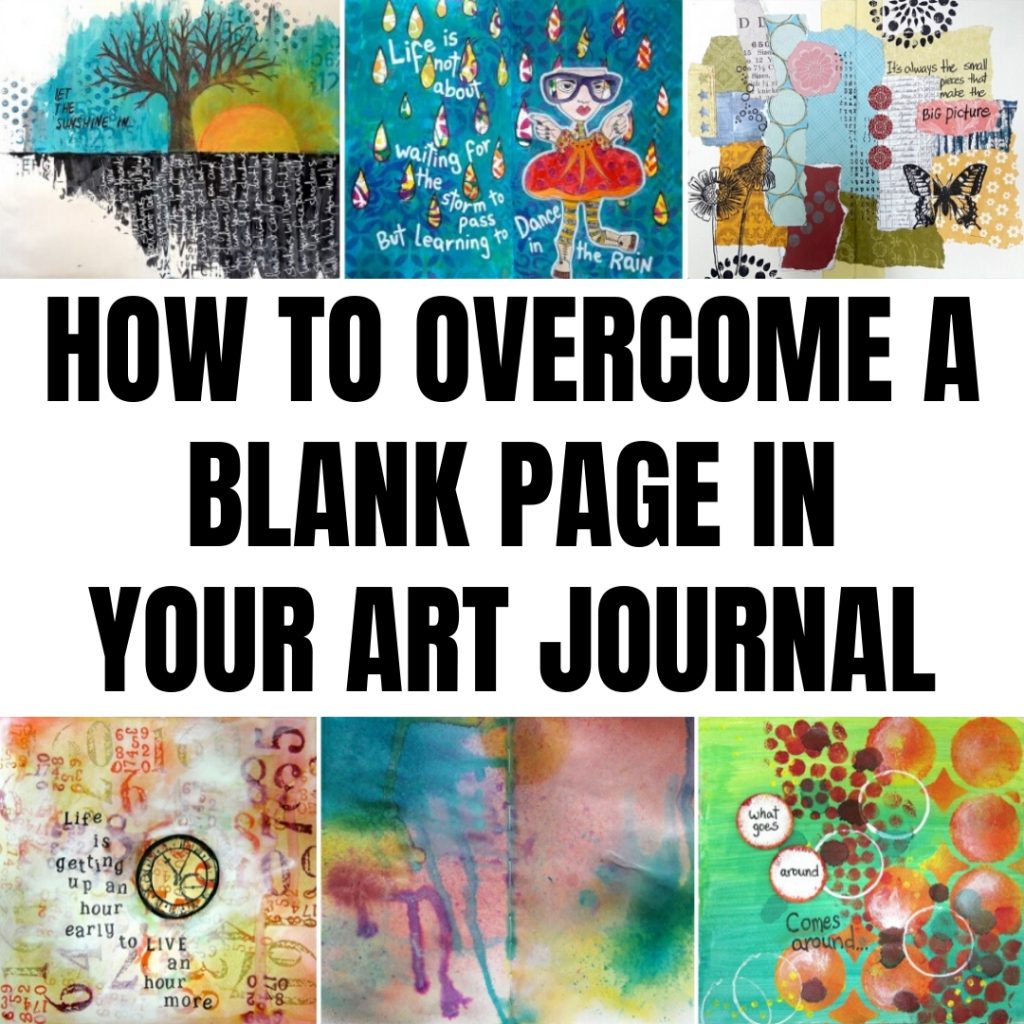 HOW TO START AN ART JOURNAL PAGE
The method I use is to start with one element. That element is not necessarily on the page, it's usually in your mind. What I mean is that once you have an idea for one element to start with then the rest soon follows. This one small idea is the doorway for your inspiration.
START YOUR ART JOURNAL PAGE WITH A WORD
Try and think of a word that has meaning for you or makes you happy. Once you come up with the word think how you can describe it in color, shapes or images. You don't have to have all the details of the page in your head but these basic first ideas will pave the way for the rest.
HOW TO ADD A WORD
Stamp a word with letter stamps or a word stamp
Hand write the word with a marker, pen, brush or crayon
Add stickers or cut out letters
Use stencil to spell a word or add a complete word
Add chipboard letters or word
Cut out letters or words from paper, magazine or other paper products

START THE ART JOURNAL PAGE WITH A QUOTE
Starting your art journal page with a quote is an extension of starting the page with a word. However a quote can give you a wider context and more creative ideas for your page.
HOW TO BE INSPIRED BY A QUOTE
Find a quote that you love or inspires you. You can find quotes online - my favorite site is https://www.brainyquote.com/
Think about the elements that relate to your quote. For example "life is not about waiting for the storm to pass but learning to dance in the rain". The elements you can use are - rain, drops, blue or grey colors, umbrella, puddles, water, wet etc.
Create a page with the elements - color the page, doodle drops or rain, add images and words.

START YOUR ART JOURNAL PAGE WITH A SHAPE
Start your art journal page with a shape. I love circles so I have a few pages with circles as a main theme. You can start with any shape you want  like clouds, sun or heart and build your page around the shape. You can color it, draw it, paint it, use stickers or tissue paper, add a word or a quote.
IDEAS TO ADD SHAPES
Add a pattern with a stencil or stamps
Draw the shape by hand
Cut a shape from a paper, magazine or other paper
Stamp shapes with stamps or household items like tp roll or bubble wrap

START WITH A TECHNIQUE
Art journaling is a great opportunity to experiment with new techniques. So when you don't know where to start simply start the page with a technique.
ART JOURNAL PAGE TECHNIQUES TO TRY
Spraying the entire page with different colors
Color the page with acrylic paints
Create a paper collage from torn or cut paper pieces - a great way to use your leftover papers!
Draw or doodle shapes
Use stencils and paint or ink to create pattern. You can layer a few patterns.
Stamp the page with different stamps and colors

Once you overcome the blank art journal page with the first step the rest of the creative process will flow. If you are still stuck continue with these steps and add more elements from the ideas specified here. before you know it your page will be done!
Are you looking for more art journal page ideas? Check out these 30 art journal page tutorial eBook you can download and create amazing art journal pages! In the eBook you'll find links to video tutorials and step by step photo tuorials, comlete supply list and full written instrucions.
SHARING IS CARING - PIN IT!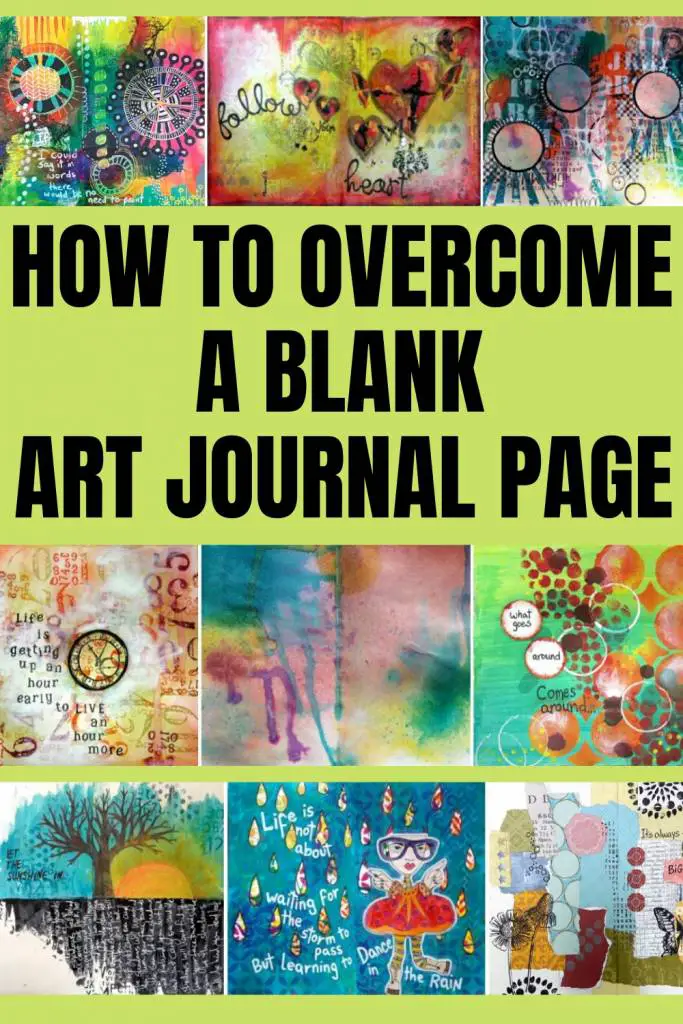 Have fun creating!