Inside: a comprehensive glue guide to help you figure out which glue to use for what material.
This is a sponsored conversation written by me on behalf of Polaroid Photobar.
This post includes affiliate links. When you click and purchase from these links we may get a commission from the seller. The cool thing is, this doesn't cost you any extra money!
In one of the corners of my craft room there is a drawer cabinet with drawers full of supplies. One of these drawers is full of glues and adhesives. The reason I have so many is because I'm always looking for the best glue that will hold what I need and will last forever. Wishful thinking... because as it turned out there's no such thing! I found out that i need different glues for different materials so I started experimenting and here's what I found out...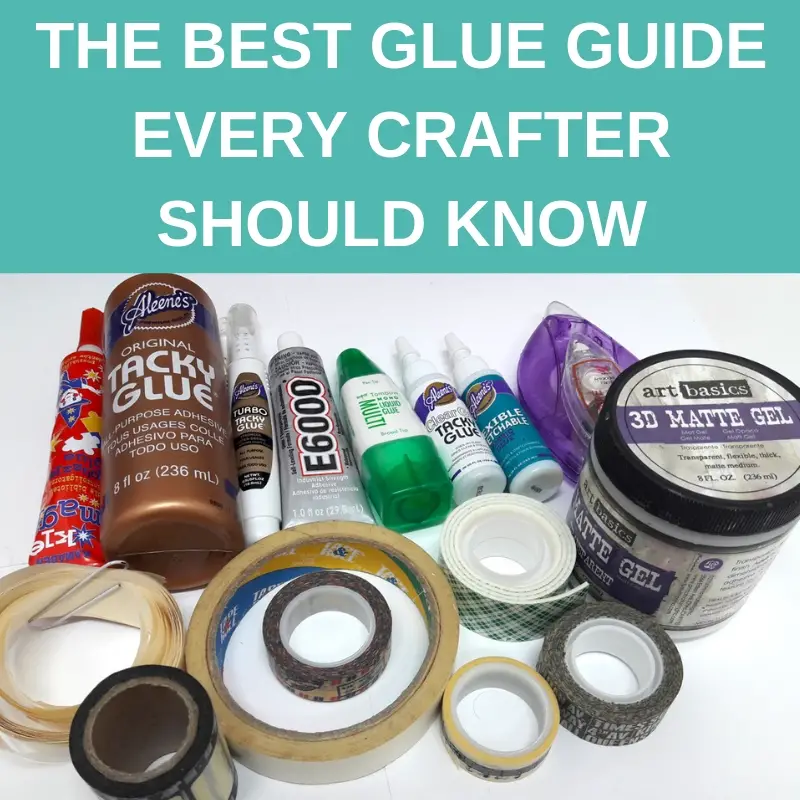 TYPES OF GLUE
When you go to the craft store there are so many types of glue to choose from that it's confusing. You want to get the best glue but you also want it to not be expensive, not turn yellow and not dry over time. So which kind should you get? This is not an easy answer because not all glue types are the same.
GLUE TYPES REVIEW
I tried most of the glues out there, so I have a pretty good idea what is the best glue for a specific project. The glues listed here are the ones I like to use (or not) and I think every crafter should have. These are my views according to my experience and I don't take any responsibility for the way the glues work.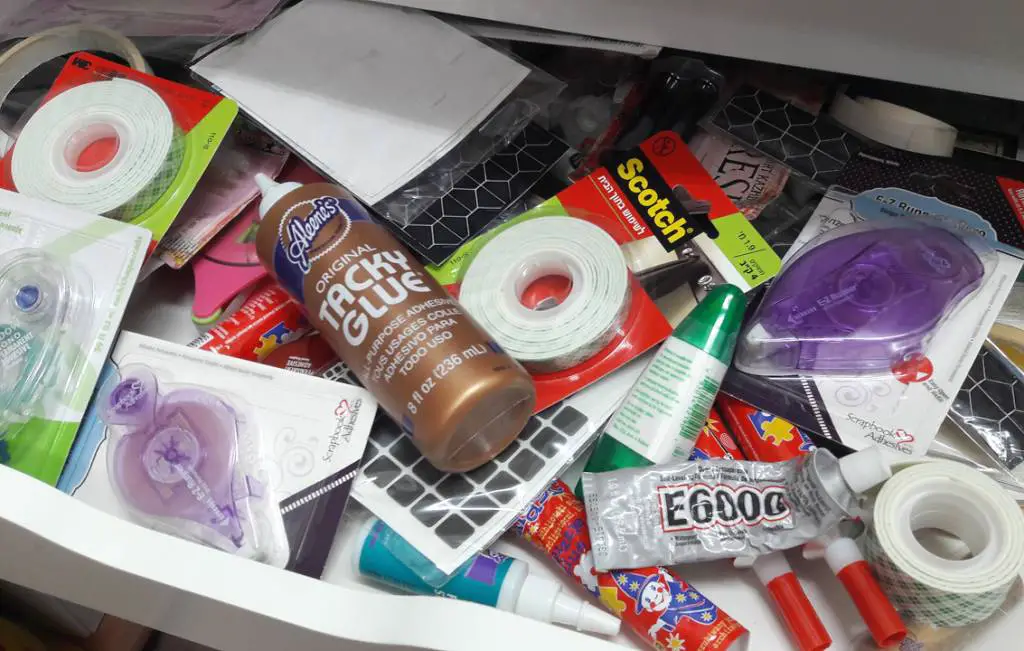 TACKY GLUE
This Is my favorite glue for many things and materials. It has been around forever but it keeps on updating with the times. The best improvement is the upside down bottle which in my mind is absolutely genius. Instead of waiting for the glue to reach the nozzle and press the bottle like crazy, you simply keep the bottle upside down and the glue flows all the time. This glue is great for paper, wood, fabric, felt and plastic.It dries clear and remains flexible.
WHY I LIKE IT: Applicable to wide range of materials while remaining entirely transparent, non-toxic and quick drying.
WHY I DON'T LIKE IT: It can get thick after awhile because the air dries it and the small cap is easy to loose.
HOT GLUE GUN
It's something almost every crafter owns. First there are the high and low temp hot glue guns and second you have the cordless gun which is the most comfortable. I prefer the small guns because my hands are small. Make sure your comfortable with the size you have. Glue guns heat the sticky stuff so it's more malleable and easier to shoot into cracks and crevices and it's great for porous and non-porous surfaces. It does work well with your average craft projects when you need quick and fast adhesion. However do not expect it to hold in high temperatures or if you need an incredibly strong bond.  Over time it tends to dry and the adhesion becomes less strong. I also really hate the annoying strings it gets when using it. Also, glue guns get really hot so you need to be careful when using it... it's really easy to burn your hands.
Check out my 10 tips to use a glue gun
WHY I LIKE IT: it works with every material on every surface.
WHY I DON'T LIKE IT: It tends to weaken over time, it has annoying strings and it gets hot so I often burn my fingers.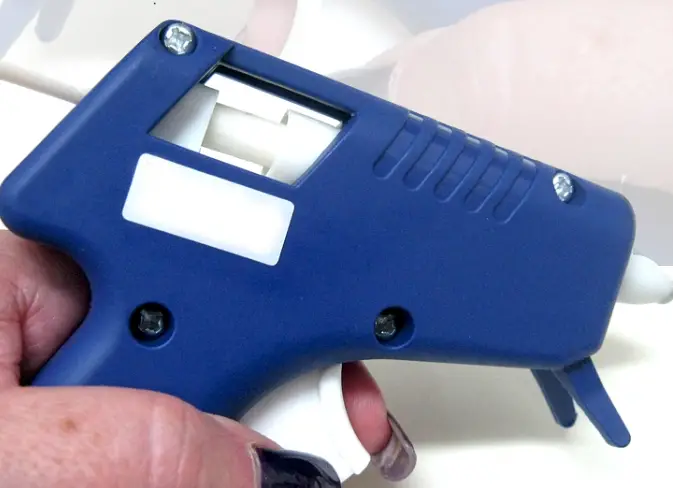 GLUE DOTS
The dots are free of any acid or lignin, non-toxic and safe to use on photographs. They are also highly sensitive to pressure and super sticky, and their design makes them dry almost instantly and cause no mess at all. Glue dots are great for any paper craft and the best for adding bling to your projects. They come in different sizes to fit different embellishments, rhinestones etc.
WHY I LIKE IT: They are super sticky, affordable and small enough to use with small embellishments. They are great for layering elements and you don't need to wait doe them to dry.
WHY I DON'T LIKE IT: Once you use them to attach an element it's impossible to reposition it.
FOAM TAPE
Foam tape is excellent for adding dimension to a project. It is a double sided tape made from foam and is thicker than regular scotch tape. It works best with paper, cardstock and chipboard. You can easily cut it to any size you want and it's a dry glue so you don't have any wet mess.
WHY I LIKE IT: you can stack it for extra dimension, it's strong and you can customize the piece's size.
WHY I DON'T LIKE IT: It works best on dry surfaces so it doesn't work on wet mixed media projects.
GLUE PEN
Glue pens have tips that allow the crafter to apply a fine line of glue with exact precision. If you are a card maker or work with digital die cuts or intricate shapes, you will want to have this tool in your kit. You can also use glue pens for glitter applications to paper projects. Write words or draw line art and cover with glitter to add instant sparkle to your paper projects.
WHY I LIKE IT: very precise and allows you to work with very small shapes or edges and glitter or other powders.
WHY I DON'T LIKE IT: dries very fast and comes in a relatively small tube.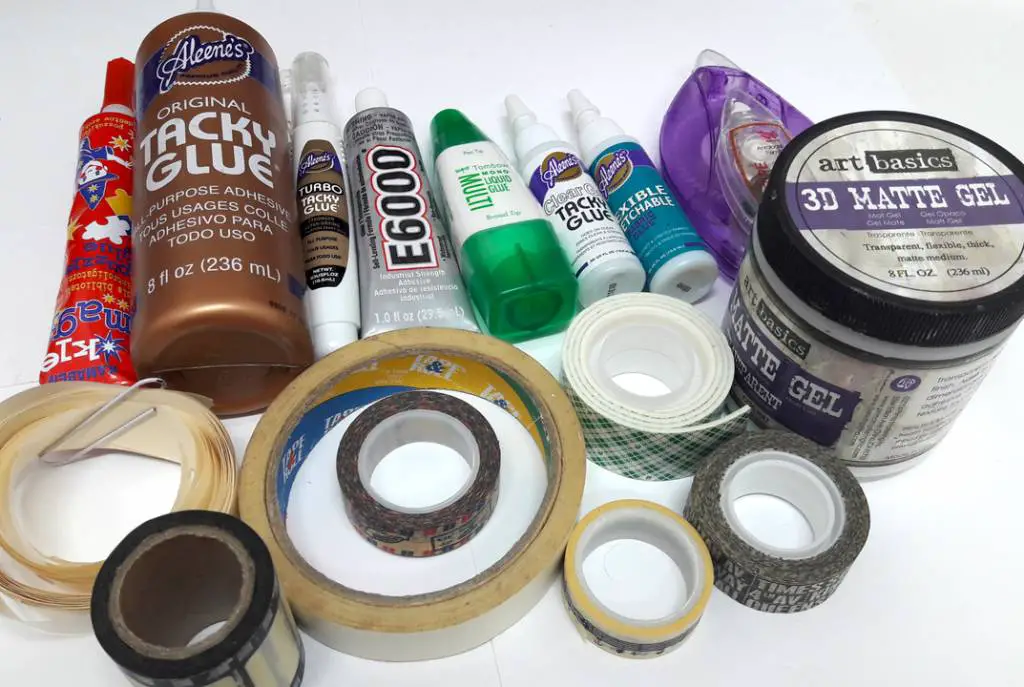 E6000
E6000® Craft Adhesive is the glue often favored by crafters. It can be used to bond wood, fabric, leather, ceramic, glass, metal, paper and more. A plus to this product is that you have about five minutes time to re-position your materials until a permanent bond is secured. This glue is super strong, waterproof, flexible, dries white and is paintable after it dries. It is great for attaching small embellishments from all materials like rhinestones.  Click here to see tools specialist top 10 rhinestone glue list.
WHY I LIKE IT: It's very strong and stays strong forever (I have things glued with it for years)
WHY I DON'T LIKE IT: takes a long time to dry.
TAPE RUNNER
Tape runners are rolls of sticky tape encased in plastic that are used for paper crafting. They are used to bond paper, ribbon, photos and many other materials. There are portable, convenient, and give you excellent control and there is no drying time. As you run the dispenser along your paper, the tape comes out in a smooth line.
WHY I LIKE IT: it's portable and very fast and easy to use for paper crafts.
WHY I DON'T LIKE IT: Since you need to buy refills once you pick a brand you need to stick with it unless you buy a new dispenser. Also once attached it's very hard to reposition (unless you use a temporary tape) in which case you need to add a permanent tape after you are happy with the composition.
GEL MEDIUM
Gel Medium is essentially a binder without pigment. It is used in many different ways but for the purpose of this post I'll only address its quality as a glue. It can be used as a glue, sealer, and finish. You can brush it onto paper, fabric, wood, printed material and more. One of the most popular gel mediums is Mod Podge, which comes in 23 different formulas.
The type to use depends on what you're attaching: Soft Gel Matte or Gloss Gel Mediums are the type most often used for paper or lighter objects. Heavy or Extra Heavy Gel Medium is more suitable for metal objects and heavy objects. They are both very flexible and does not add texture to surfaces and dry clear.
WHY I LIKE IT: it glues everything to every surface and it's super strong. It's great for heavy elements and metal parts in mixed media projects.
WHY I DON'T LIKE IT: it comes in a container so you need to apply it with a palette knife and it's hard to do when you want to attach small items.
GLUE STICK
When you need to attach  teeny-tiny polka dots to a card then a glue stick is your glue to use. This adhesive is water-based and dries clear, so if you make a mistake, no harm done. Glue sticks are washable, non-toxic and easy to grasp, so they're perfect for kids. They're frequently acid-free too, which makes them great for scrapbooking. However it's not very strong and only works on paper.
WHY I LIKE IT: I don't... I never use it.
WHY I DON'T LIKE IT: it's not strong, hard to apply on small surfaces, only works on paper and there is always a lot left inside the dispenser.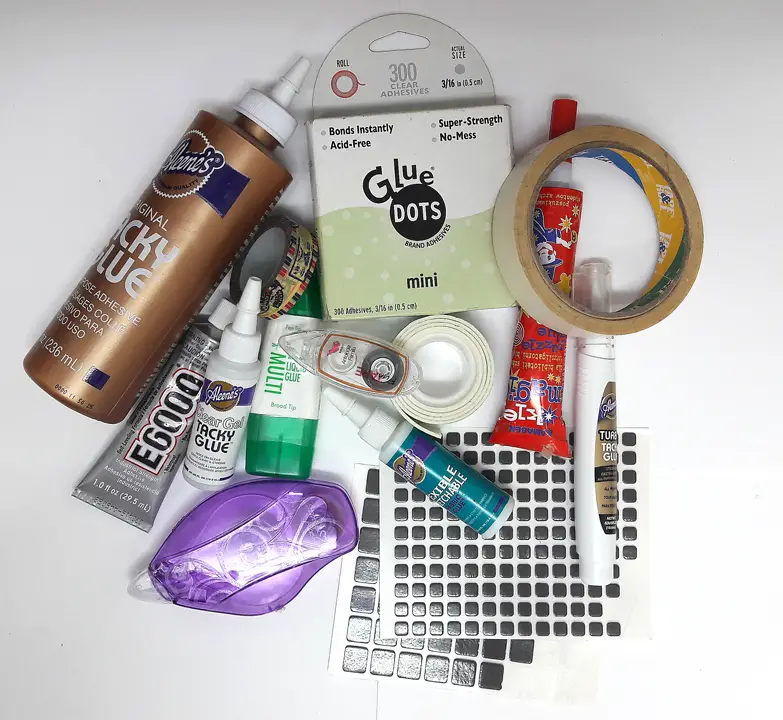 MASKING TAPE
Masking tape, also known as painter's tape, is a type of pressure-sensitive tape made of a thin and easy-to-tear paper, and an easily released pressure-sensitive adhesive. It is available in a variety of widths. It is used mainly in painting, to mask off areas that should not be painted. The adhesive is the key element to its usefulness, as it allows the tape to be easily removed without leaving residue or damaging the surface to which it is applied. The tape is available in several strengths, rated on a 1–100 scale based on the strength of the adhesive.
I use masking tape in my art journals and mixed media projects as texture or a design element.
WHY I LIKE IT: it's removable and I love its texture.
WHY I DON'T LIKE IT: over time it sometimes gets too sticky or looses some of its stickiness so it's a little unpredictable.
OTHER TYPES OF GLUE
There are other types of glue which I didn't list here because i don't use them as a crafter:
Specialized adhesives that are suitable for a specific material like: fabric glue and wood glue.
Spray adhesive: great for large surfaces and projects.
Super glue: all purpose glue which is very strong and not recommended for crafts because it's too aggressive and acidic.
Here's a printable guide of all the glue types and what to use them for that you can print and hang in your craft space. CLICK THE LINK BELOW to get it directly into your inbox!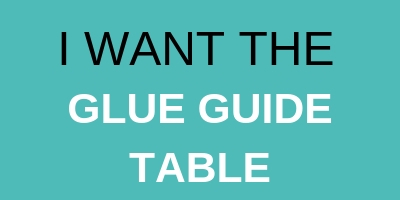 SAVE it for later - PIN IT!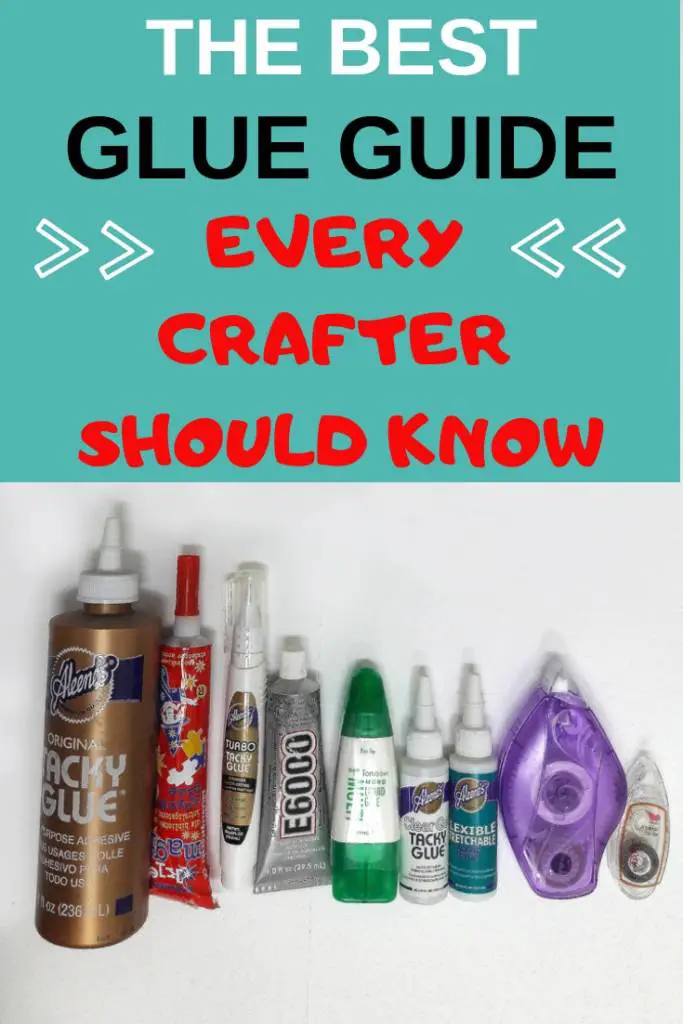 Have fun creating!